If you're looking to add some flavour and variety to your rice, this is the recipe for you. This tomato rice is so delicious and it takes about 25 minutes to make. So simple!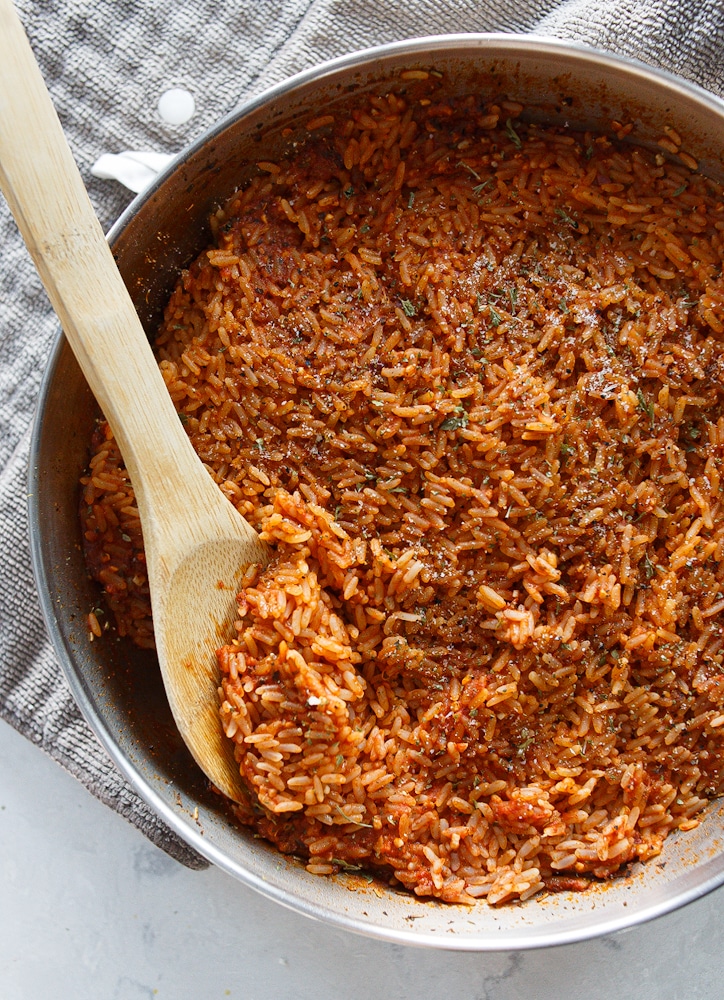 What you will need to make tomato rice
White rice
Olive oil
Paprika
Italian Seasoning
Cumin
Chilli Flakes
Parsley
Chicken Boullion cube
Chicken Broth
Tomato Juice
Salt/Pepper
If you have a stacked pantry, these should already be in there – but if not, these ingredients are fairly easy to find at a local grocery store!!
Making this simple rice recipe takes no time at all!
Truthfully, this rice recipe is SO easy to make! Essentially you just need to add all the ingredients to a pan, bring to a boil and cover for 20 minutes.
One thing that I do before I turn on the stove is to add the olive oil and rice to the pan before mixing it so that the olive oil coats each grain of rice. For me – this helps so it won't stick later on once the rice has been cooked.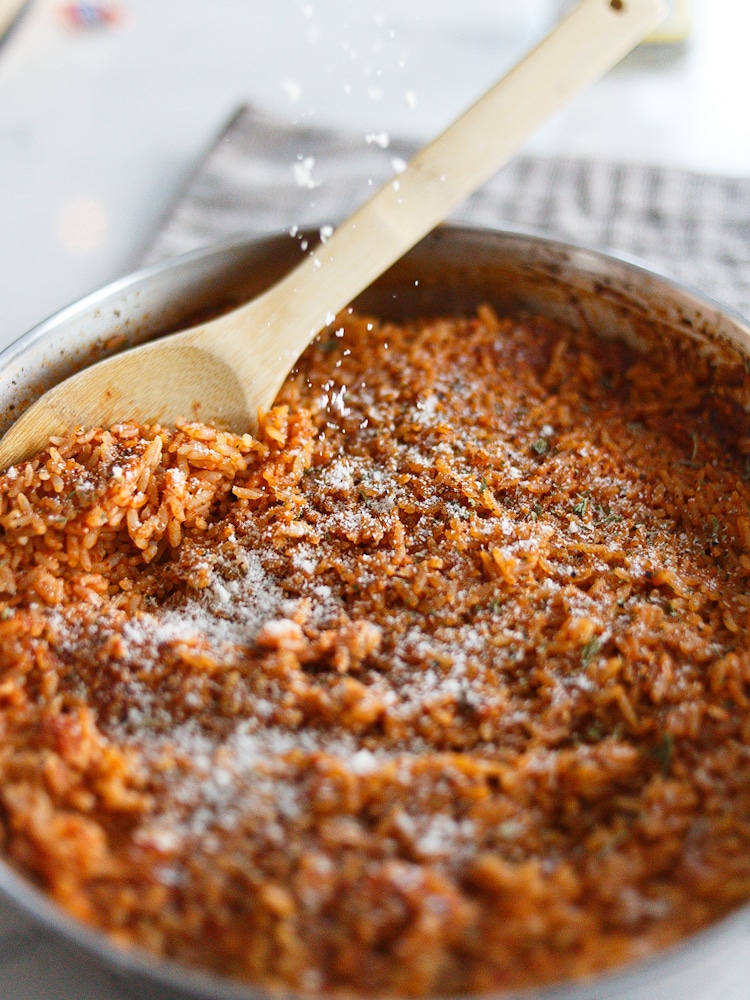 After you mix the olive oil and rice, add the seasonings, boullion cube, chicken broth and tomato juice. Bring that to a boil.
Now, covering the rice as it cooks is a VITAL step that should not be ignored. It's a tip that my aunt used to use to make Armenian pilaf – and any Armenian will tell you – it cooks the rice PERFECTLY if you do not remove the lid in the cooking time.
After 20 minutes you should have fluffy tomato rice ready to eat! I like to top it with a little parmesan cheese, salt and pepper.
So good!
If you enjoy this recipe – try making it in the oven with some chicken on top – it steps up this rice dish to the next level!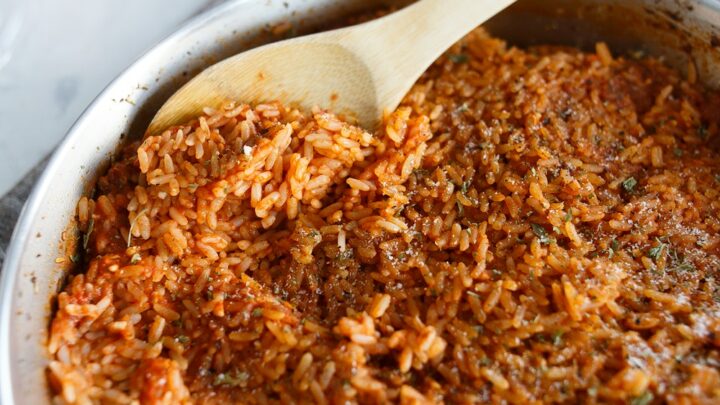 Yield:

5-6
Tomato Rice Recipe
Super simple rice made in 30 minutes. This tomato rice makes a perfect side dish to some chicken!
Ingredients
1.5 cups rice
1.5 cups chicken broth
1.5 cups tomato juice
1 tbsp olive oil
1/2 tbsp paprika
1/4 tsp chilli flakes
2 tsp dried parsley
1 tbsp minced garlic
1/2 tsp cumin
1 chicken boullion cube
salt/pepper
Instructions
In a pan, add the olive oil and rice. Mix so that the olive oil coats the rice.
Spoon in the seasonings, minced garlic and crush in the boullion cube. Mix thoroughly.
Pour in the chicken broth and tomato juice and bring to a boil over medium heat.
Once boiling, cover and turn the heat to low for 20 minutes.
Once 15 minutes is up - take off the lid, stir and enjoy.