Last week I was SICK. Just all out feeling awful – but there's one thing that will always make a cold feel a little better – soup! Especially broth based soups. So while I was feeling under the weather, I made a massive pot of my easy homemade chicken noodle soup.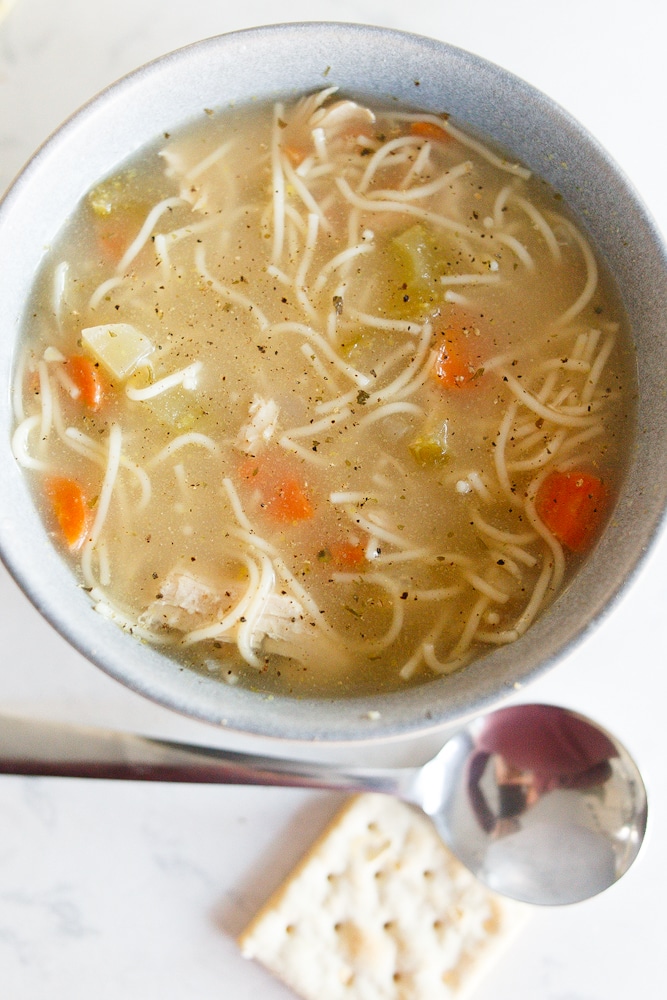 Why does broth make you feel better when sick?
Immediatey after eating my soup, I started to feel better. Now I'm not saying that it is a cure for the common cold, it definitely isnt – but it provides your body with valuable nutrients and hydration that may help fight off an infection. It also helps with congestion, clearing your airways and making it a little easier to breathe.
How to make homemade chicken noodle soup
When making broth based soup – it is highly recommended to use homemade broth. Not only will you know exactly what ingredients are going into it, but you also have all the delicious gelatin/collagen.
However most of us don't have the time to put chicken bones on the stove to make broth. Sometimes you can get it at the butchers – straight off the pot.. Or you can get the storebought containers. I recently found out about sipping broth, which contains more protein and a little extra flavour.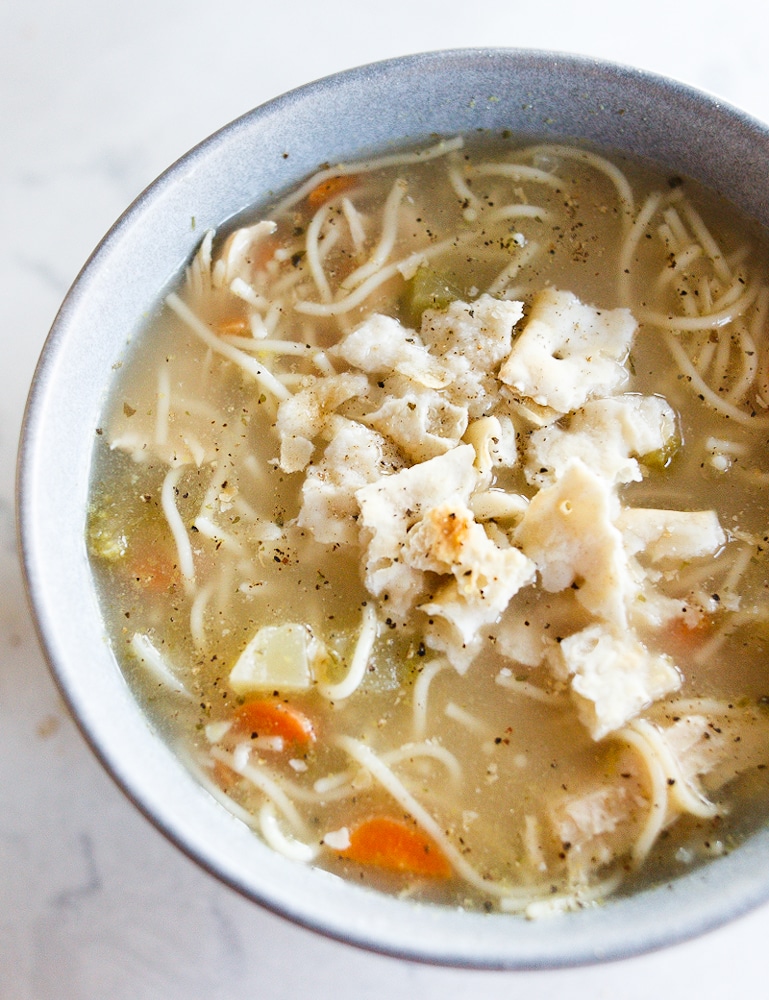 The first thing to do when making this chicken soup is to saute the vegetables and herbs until the onions are translucent and soft. Otherwise they might be too hard and bitter later on.
Afterwards, you just have to add in the broth and cooked chicken and bring to a boil!
Adding the egg noodles last is best as if you cook them too long they may be too mushy. I like to add them to the boiling broth and cook for an additional 2-3 minutes before serving!
I also have a keto friendly and low carb version of this recipe up on my other website The Hungry Elephant. Check it out here.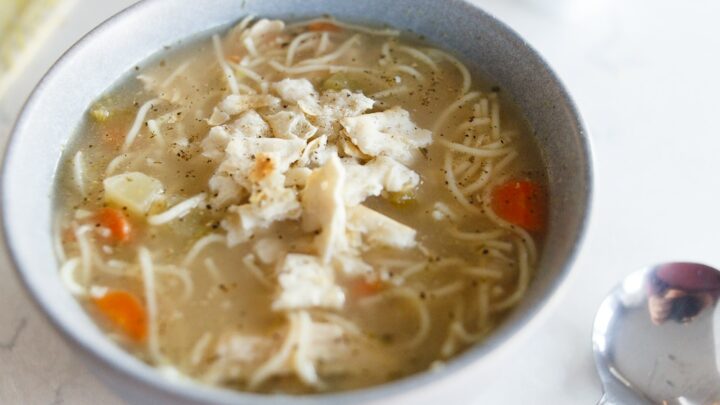 Yield:

8
Easy Homemade Chicken Noodle Soup
This easy homemade chicken noodle soup is the perfect remedy for the common cold! Full of nutrients and totally delicious!
Ingredients
1 yellow onion - chopped
1 cup carrots - chopped
3 ribs of celery - chopped
1 tbsp garlic - minced
1 tbsp parsley
2 tsp Italian seasoning
1 tsp basil
2 chicken breasts - cooked and shredded
1 boullion cube (chicken)
1 cup thin, short, egg noodles
4 cups chicken broth
salt and pepper
Instructions
In a deep pot, add the garlic, parlsey, basil, salt, pepper, celery, onions and carrots.
Cook until the onions are translucent and soft.
Pour in the chicken broth and bring to a boil.
Add in the extra bouillion cube and the shredded chicken.
Once the liquid is at a boil, pour in the egg noodles and cook for 2-3 minutes until the noodles are soft and flexible.
Take off heat and enjoy!
Notes
*hint* enjoy it the next day and it is even more tasty as the flavours combine.