If you've ever been t Jack Astors, you probably have tried two of their signature dishes – the beer and cheddar soup, and the garlic pan bread. Both equally delicious but it's also summer, so today I figured I'd try my hand at the garlic pan bread – and boy was it delicious.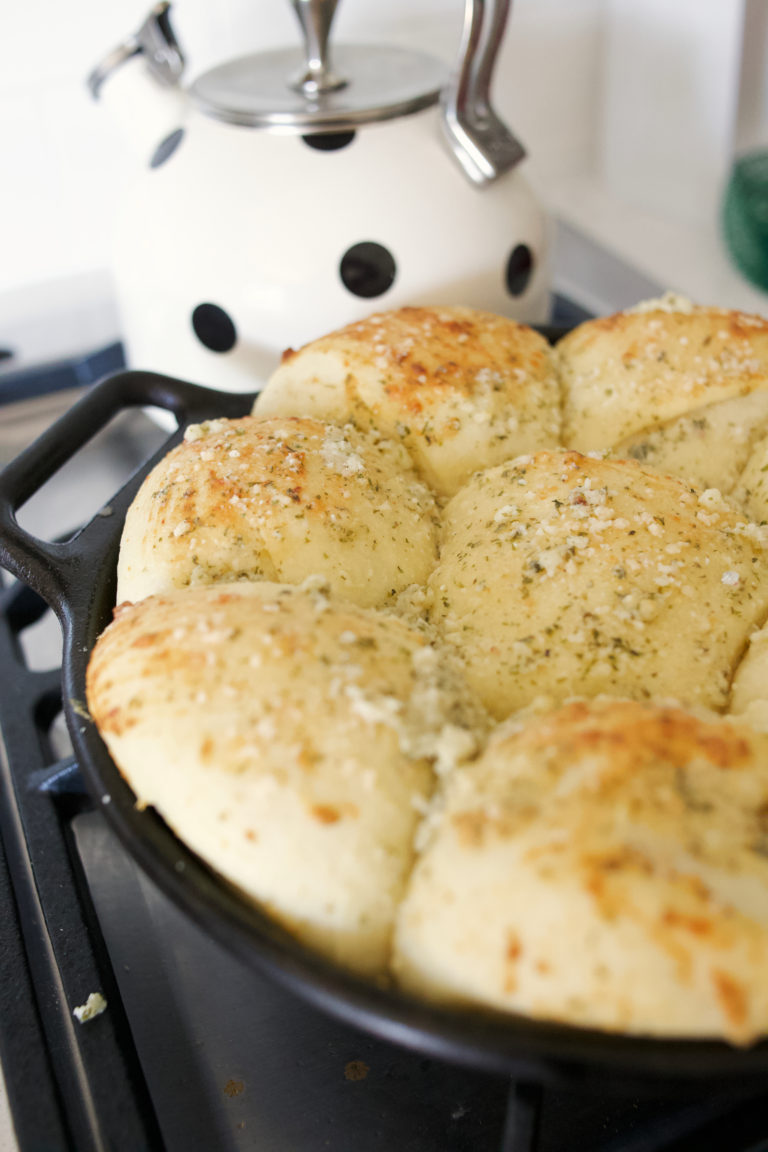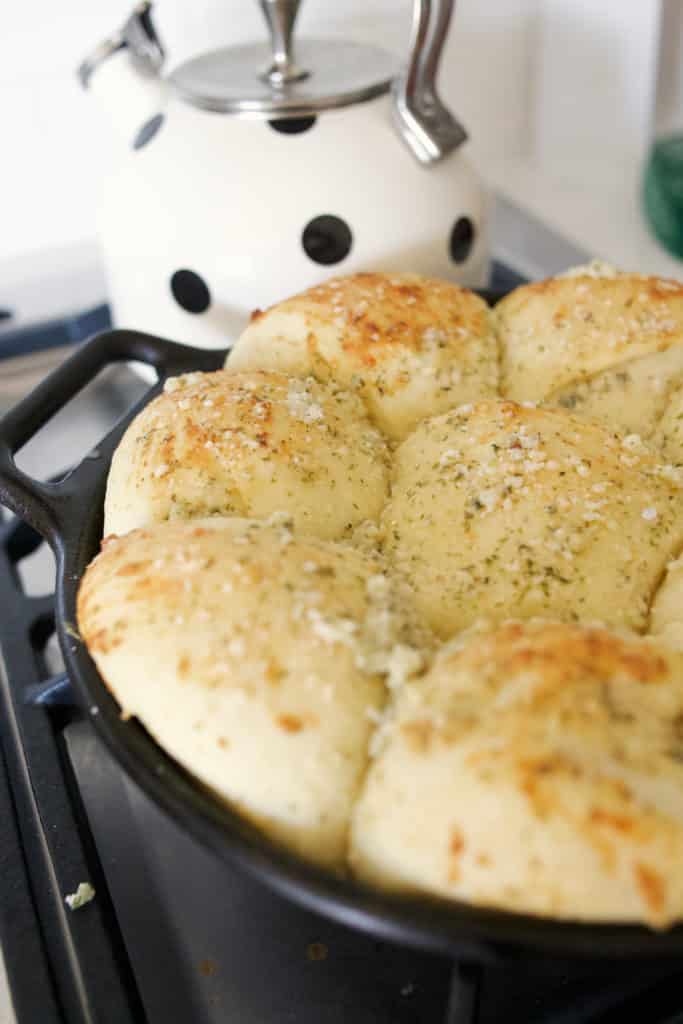 There's just something about homemade bread that is a perfect snack. So moist and delicious! The good thing about this pan bread recipe is that just about anyone can make it – it's super simple!
I highly recommend using a stand mixer for this recipe if you have one. I, for one, can only take about 5 minutes of kneading before I get bored. However you can definitely hand knead if you prefer!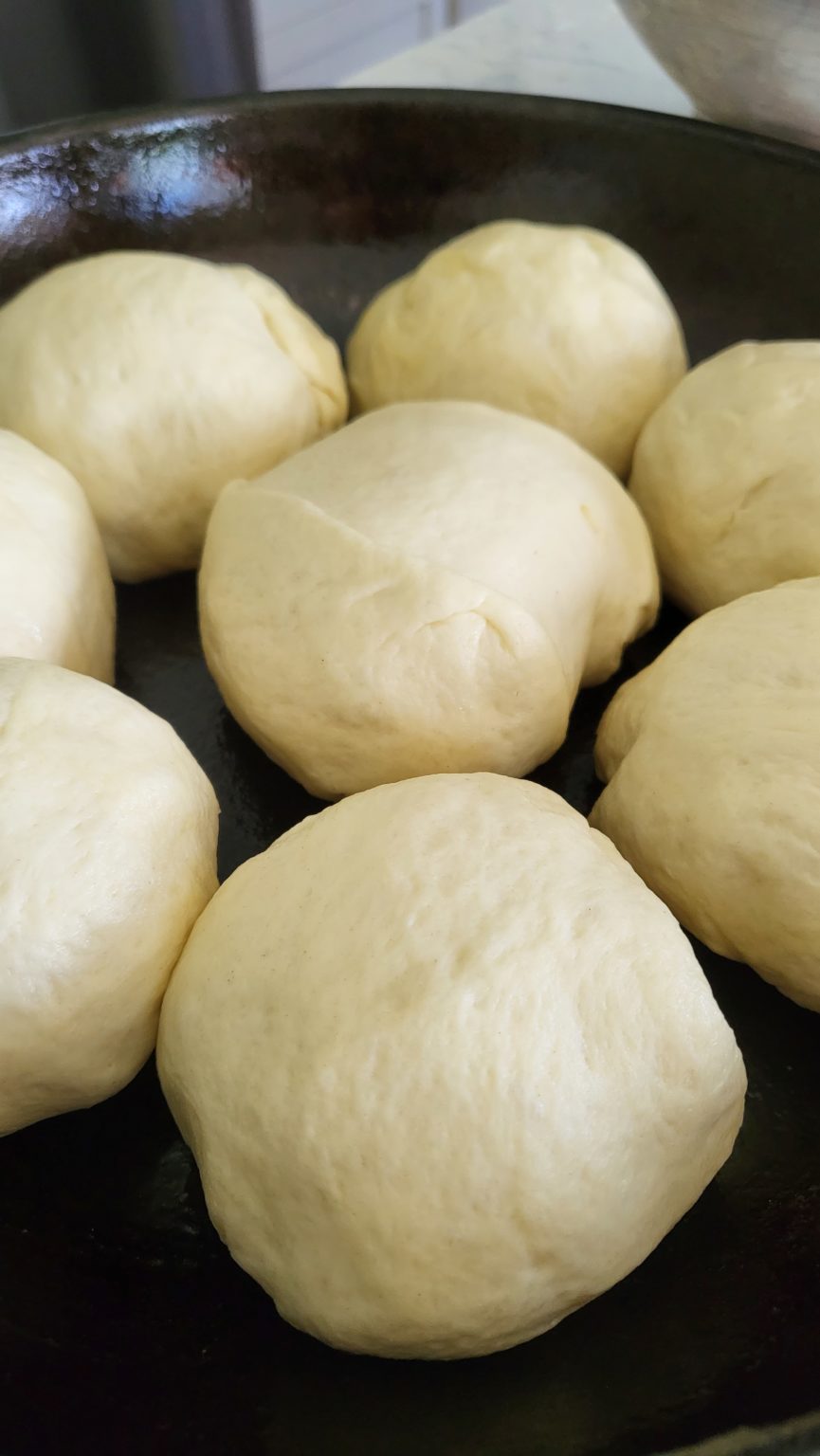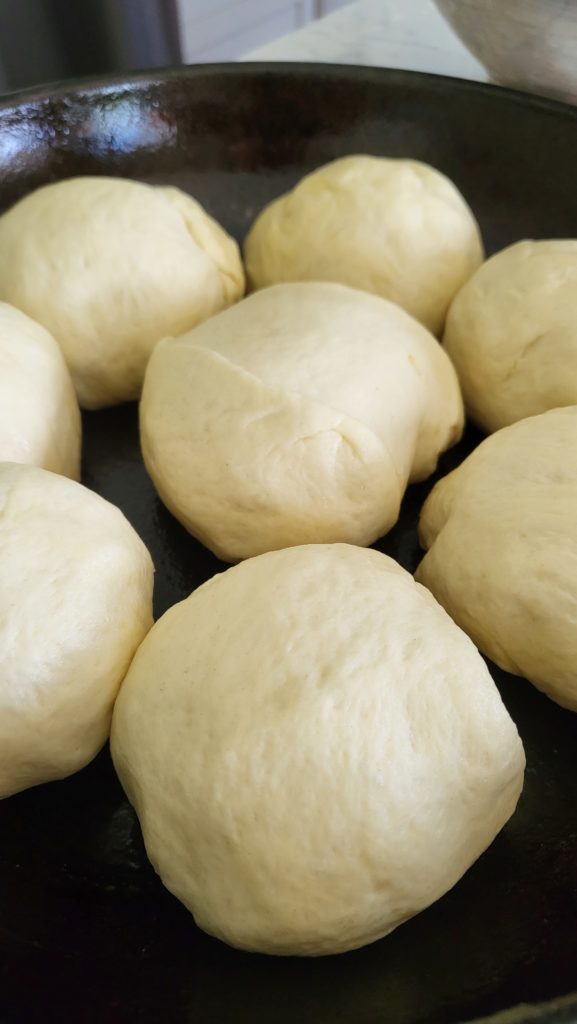 Again, this recipe is so simple and there's no wild ingredients that you'd have to go on the hunt for.
A few tips on pan bread
Yeast
For this recipe, I used 'quick yeast'. Meaning I added the yeast to the flour instead of proofing it in water. You can use instant yeast like I did, or you can use regular yeast.
If you do use regular yeast, just add the yeast and sugar to the warm water and let it sit for about 15 minutes before adding it into the flour. Make sure it starts to get bubbly – that means it has activated!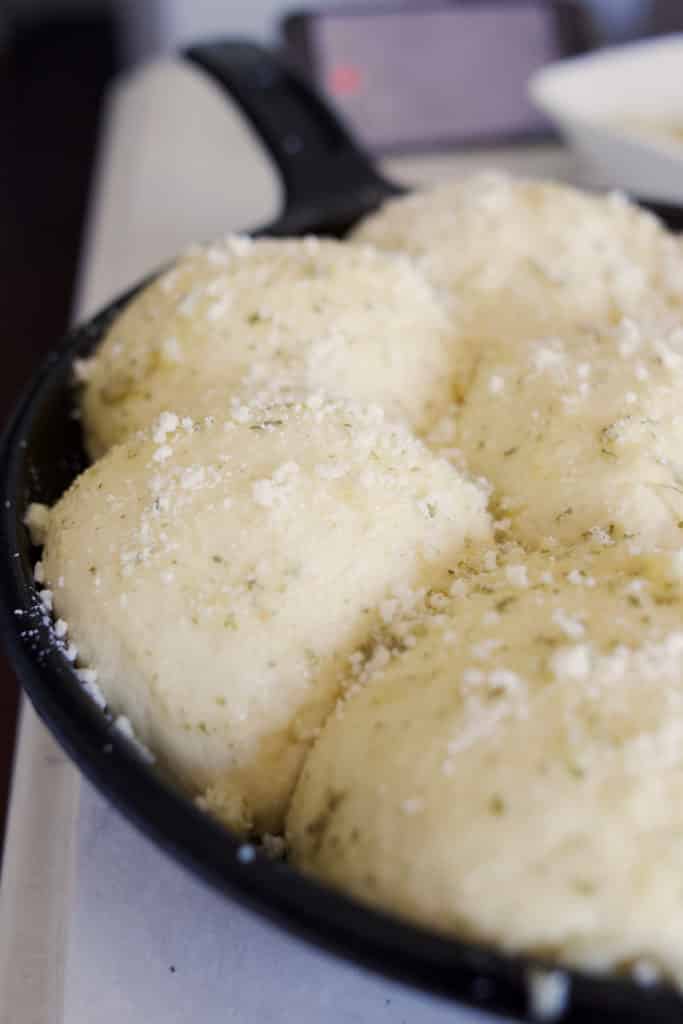 Kneading
If you're like me, and use a stand mixer for this pan bread – try not to knead it higher than level 2 (on a Kitchenaid). Kneading it on a high level will increase your chances of over kneading and that bread would be uneatable.
Garlic Butter
Use store-bought garlic butter or make your own! It's so simple, just mix minced garlic, butter, parmesan cheese and parsley. Delicious!
The key to getting the best pan bread – is salt. I know some people don't like to use a ton of it – and this recipe doesn't have a LOT… but it is the key to a good pan bread.
If you like this recipe, make sure to check out my focaccia recipe, or ciabatta!
Looking for a low carb bread? Check out my simple recipes on The Hungry Elephant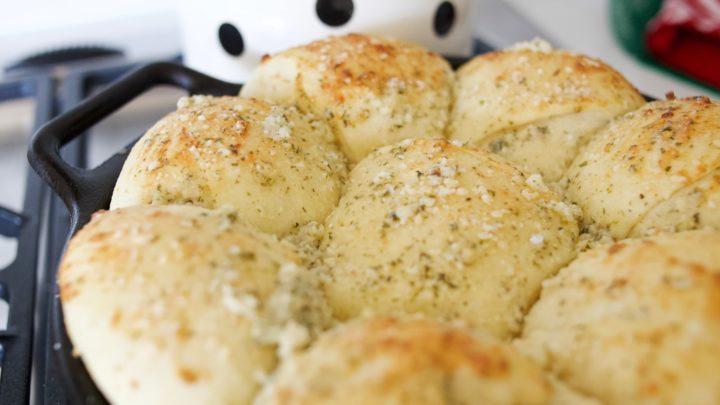 Yield:

8 buns
Garlic Pan Bread (Jack Astors Copycat)
Garlicky, cheesy, delicious pan bread. Just like from Jack Astors, this is addictive. You always want more!
Ingredients
Bread
4 cups all purpose flour
350ml warm water
1 tbsp sugar
1 packet (2 1/2 tsp) yeast
1/2 tsp salt
1 tsp softened butter
1 tsp olive oil
Garlic Butter
1/4 cup (50g) butter
3 cloves garlic, minced
3 tbsp parmesan cheese
tsp dried parsley
salt (to taste)
Instructions
*If you are using regular yeast, stir the yeast, warm water and sugar together - let it sit for 15 minutes.
In a stand mixer, pour in the flour and salt. Mix
*If you are using quick yeast, add it in, along with the sugar, after you mix in the salt
Pour 300ml of the warm water and the tsp of softened butter.
Using a dough hook, begin to knead the dough on low.
Once the water is beginning to be incorporated into the flour, pour in the rest of the water.
Knead on a mix of low and speed 2.
Once done - the dough should be smooth, not sticky, and you should be able to easily stretch a piece without it breaking.
Place the dough in a greased bowl and spread a small amount off olive oil over the dough, so it won't dry out.
Cover with a towel and place in a warm-ish area for 1 hour.
In an hour - the dough should have doubled in size. Punch it down.
Take the dough out and cut it evenly into 8 pieces.
Roll each piece into a ball and place it into a greased cast iron pan.
Spread some olive oil onto the dough again - like earlier, so it won't dry out.
Cover and let rise for 1 hour.
During the last rise, mix together the butter, garlic, parmesan cheese, parsley and salt.
With 30 minutes left in the last rise - pre-heat the oven to 350°
Melt the butter in the microwave (15 seconds on high).
Once the dough has risen for an hour, use a brush to spread half of the garlic butter onto the top of the dough balls.
Bake for 30-35 minutes, or until nice and golden brown.
Once the pan bread is done, pour the rest of the melted garlic butter on top (you may need to reheat to melt)
Let sit for a little bit to cool off.
Enjoy!