When it's winter out, it's time to bust out all the soup recipes to warm yourself up during those cold nights. This butternut squash curry soup is one of my favourites to make – it's perfect for a cozy night in!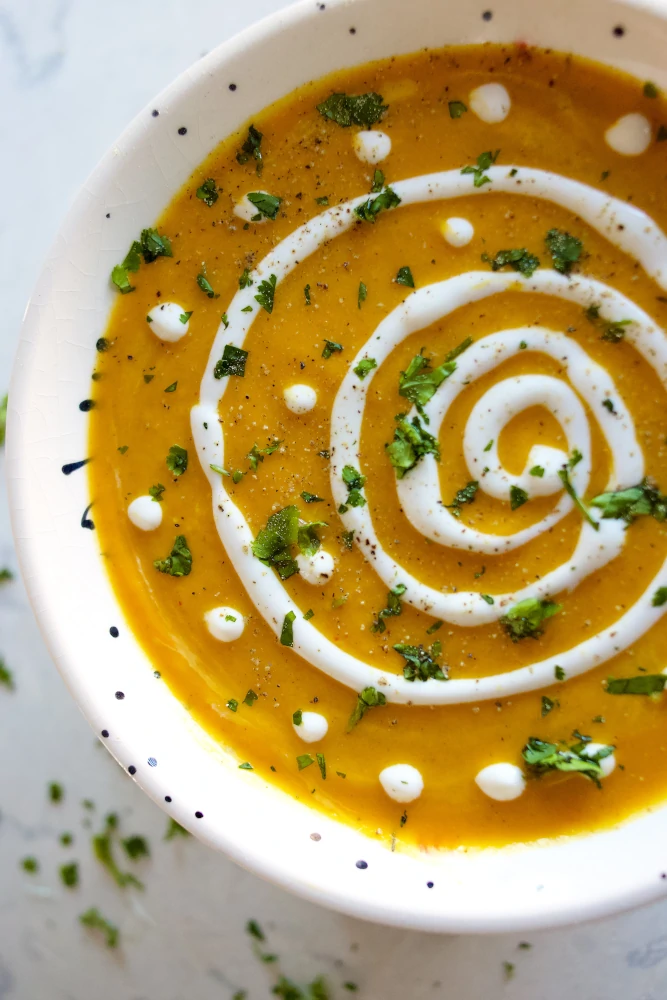 What you will need to make butternut squash curry soup
Minced garlic
minced ginger
Garlic chilli paste
Red curry paste
Sugar
Shallots
Cinnamon
Curry powder
Butternut squash
Coconut milk
Vegetable broth
Cilantro
Salt and Pepper
Like I mentioned above – this easy peasy recipe is make entirely in one pot. No extra pans to wash – even the butternut squash is cooked right in the soup!
One thing I will mention is that I would prefer next time to use pre-cubed butternut squash. Not that I minded peeling and cubing it myself, it was just a tedious task and I could save a little extra time next time by buying it pre-cubed.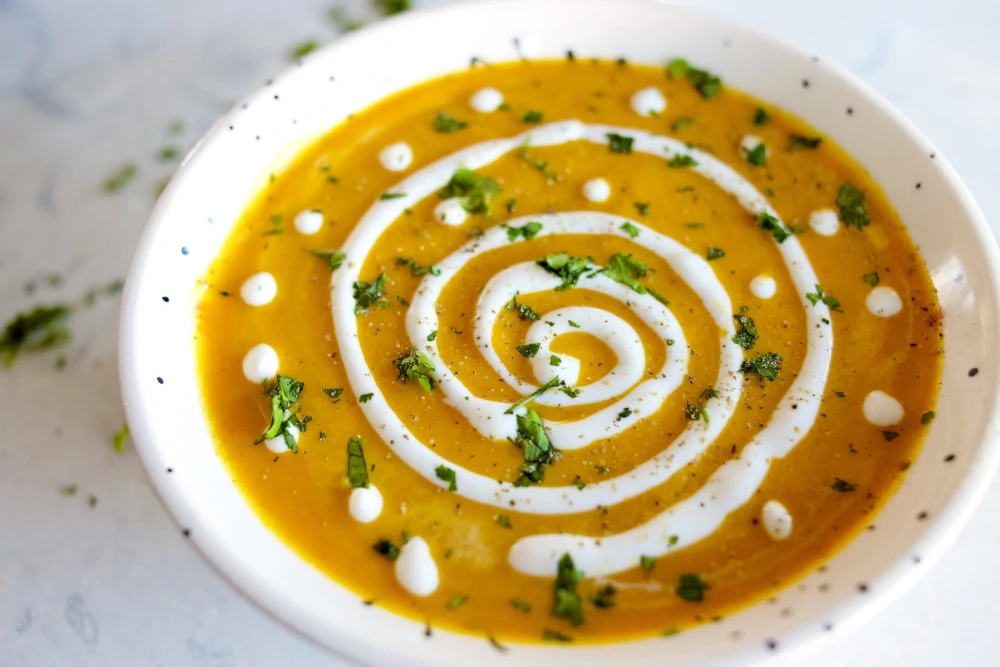 When making this delicious butternut squash curry soup – all you have to do is cook the herbs and spices along with the shallots until they are nice and translucent.
Once those are cooked through – just add the rest of the ingredients and bring to a boil. Cover for 15 minutes and voila! You're almost there.
I used an immersion blender to form a smooth soup but alternatively, you could use a blender or food processor.
Enjoy with a slice of bread or some crispy onions. This soup is incredibly filling and can even be frozen to be served later.
If you want the 'low carb' version of this recipe – make sure to check it out on my other website – The Hungry Elephant. The recipe is nearly identical but with swapping out just one ingredient.
Yield:

6-8
Butternut Squash Curry Soup
Super simple and made only in one pot. This butternut squash curry soup is my favourite for winter nights.
Ingredients
1 medium sized butternut squash - peeled and cubed
2 tbsp minced garlic
1 tbsp minced ginger
2 shallots - chopped finely
1-2 tsp garlic chilli paste
2 tsp sugar substitute
3 tbsp red curry paste
1 tsp cinnamon
1 tbsp curry powder
1 can coconut milk
2 cups (500ml) vegetable broth
Cilantro
Salt and pepper
Instructions
In a deep pot over medium heat, add the garlic, ginger, chilli paste, sugar substitute, red curry paste, cinnamon, curry powder and shallots.
Cook until the onions are translucent. About 2-3 minutes.
Add in the cubed butternut squash, coconut milk and vegetable broth.
Bring to a simmer.
Turn the heat down and cover for 15 minutes.
Remove the cover after 15 minutes and use an immersion blender to make a smooth soup.
Season with some salt and pepper.
Serve with some chopped cilantro.