Think of it as a super-thin crust pizza… with a blended meat topping. Ok that's not a great description of Armenian Lahmajoun but it's the best I can come up with.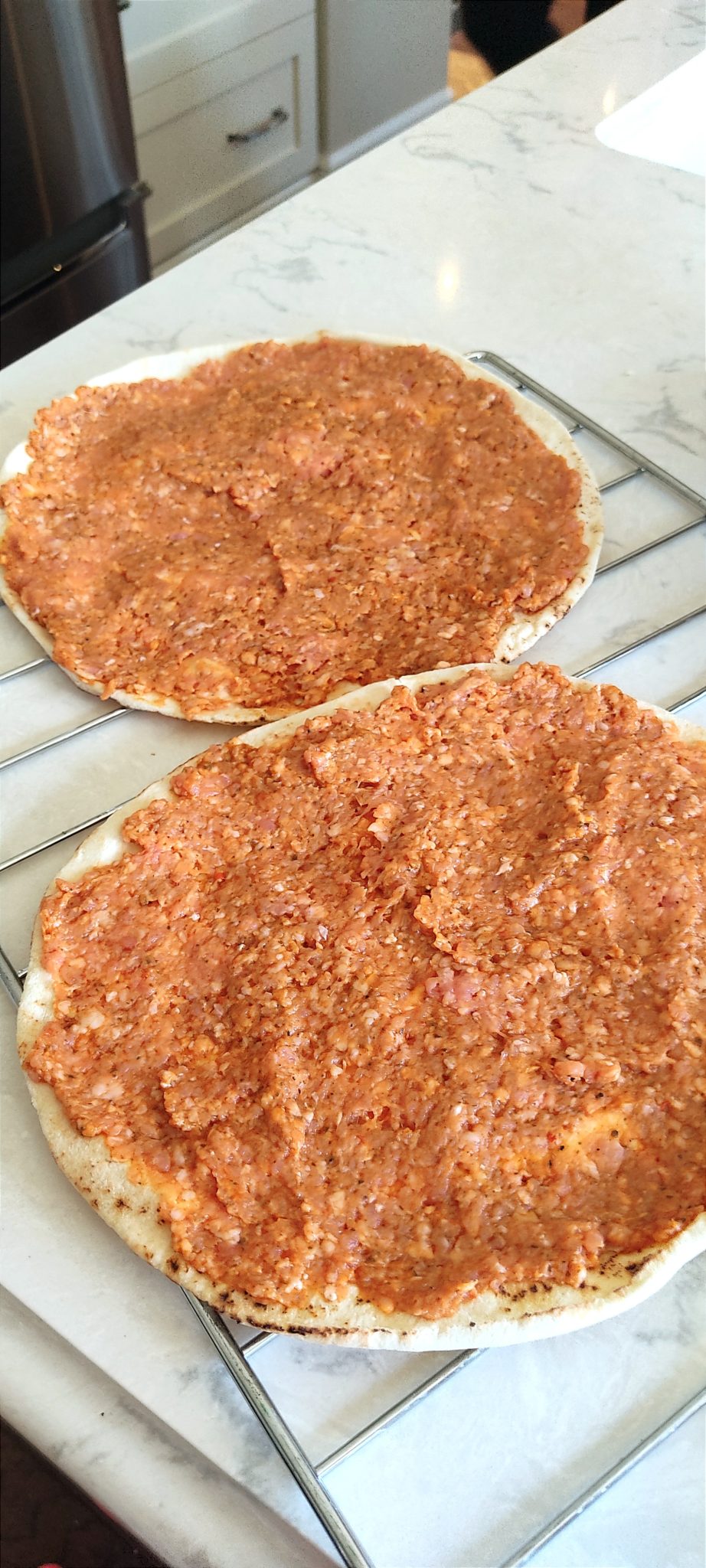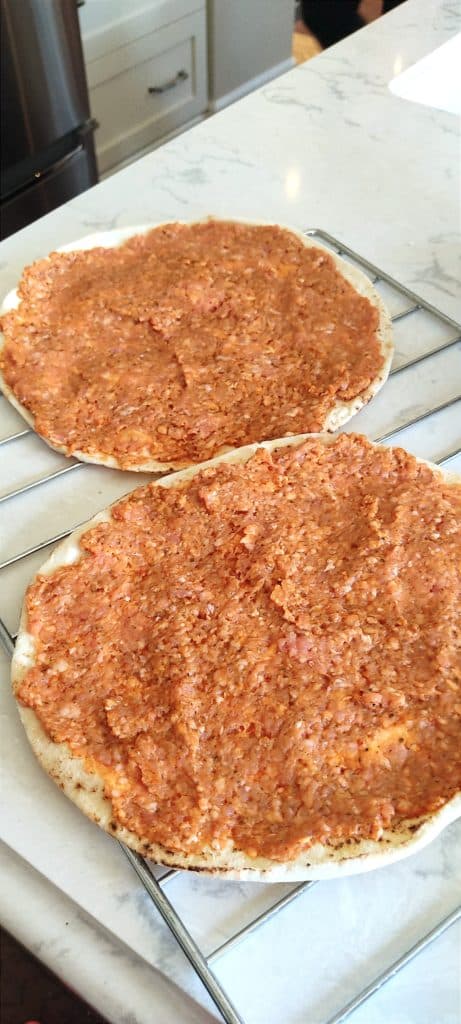 Armenian lahmajoun can be known by several other names: lahmacun (Turkish), lahm bi' ajin (Syria, Palestine) or some English speakers call it a "Middle Eastern pizza". All essentially mean the same: meat with dough.
The type of dough can vary by location. For example, my Armenian family always uses really thin dough, similar to pita bread. While others use a thicker dough, which could be compared to the thickness of naan.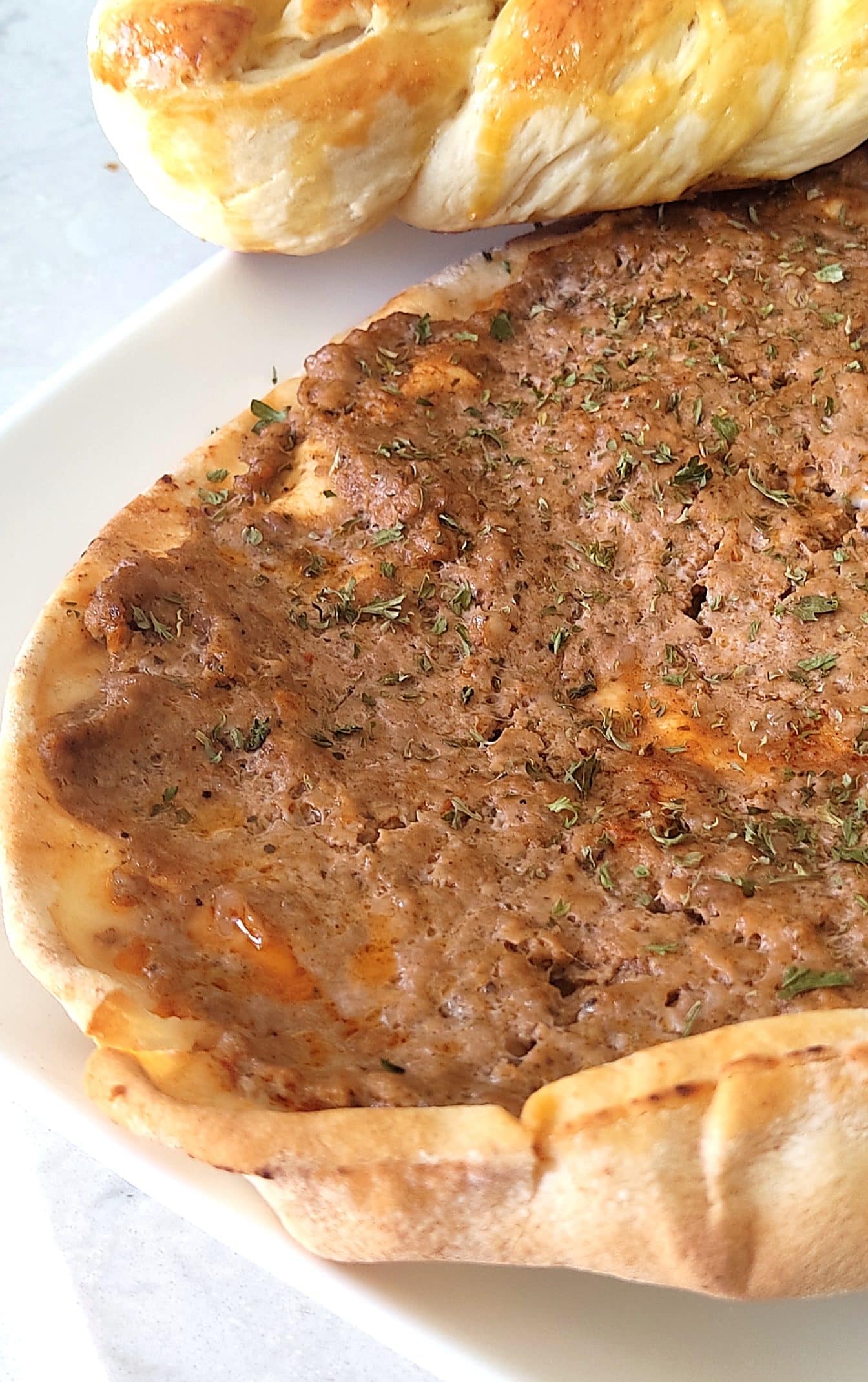 Lahmajoun is typically made using minced lamb, tomatoes, red peppers, some herbs and spices along with mint. It's usually blended into a thick paste and then spread on top of the dough and baked.
How to make lahmajoun
This west Asian pizza is so easy to make. Just blend the meat, herbs, spices and vegetables in a blender.
Spoon on top of a pita bread and bake!
Alternatively, if I'm feeling lazy, I like to buy just the lahmajoun sauce from the grocery store, along with some Lebanese pita breads. All you have to do is mix the meat with the sauce and spread on the pita bread and bake.
I gotta admit, lahmajoun is the best with a little labne. SO SO yummy.
Have you ever tried lahmajoun? Leave a comment below!
If you like this recipe, make sure to check out my other Armenian recipes – or if you want to make a low carb version of lahmajoun, check out this recipe.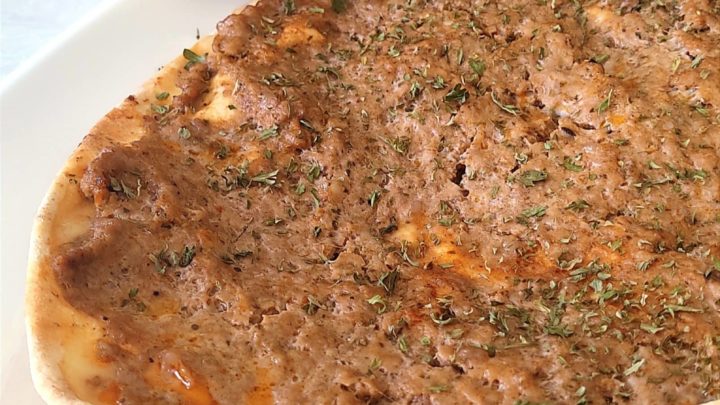 Yield:

6-8
Armenian Lahmajoun Recipe
Armenian lahmajoun a.k.a. Middle Eastern Pizza. This delicious dish is enjoyed in other places like Syria, Lebanon, and Turkey.
Ingredients
1 tsp paprika
1 tsp cumin
1 tsp cayenne pepper
15 oz can of drained diced tomatoes
1 onion, chopped
1 red pepper, chopped
1/2 bunch parsley, chopped
1/4 cup chopped mint
2 lbs ground lamb
1 package Lebanese pitabread
Instructions
Preheat oven to 450°F
Place the spices, herbs, onion, pepper and tomatoes in a blender.
Blend until mixed thoroughly.
Add in the ground lamb and blend again until it is a thick paste.
Use a spoon to scoop out some of the meat sauce and spread it on top of the Lebanese pita breads. Best to spread it right to the edges.
Continue to spread the meat mixture on pita breads until you run out of meat or bread.
Place on a cookie sheet lined with parchment paper. You may need bake in several batches depending on how many fit or how many cookie sheets you have.
Cook for 10-15 minutes until the edges are nice and crispy and the meet is cooked on top.
Enjoy with labne or by itself!