The distinctive Armenian Cheese Boreg goes by several names, depending on where the recipe originates from. Whether you call it, bereg, borek or boreg, it's hard to resist this amazing phyllo delight. It's nice and crispy on the outside, with a cheesy centre.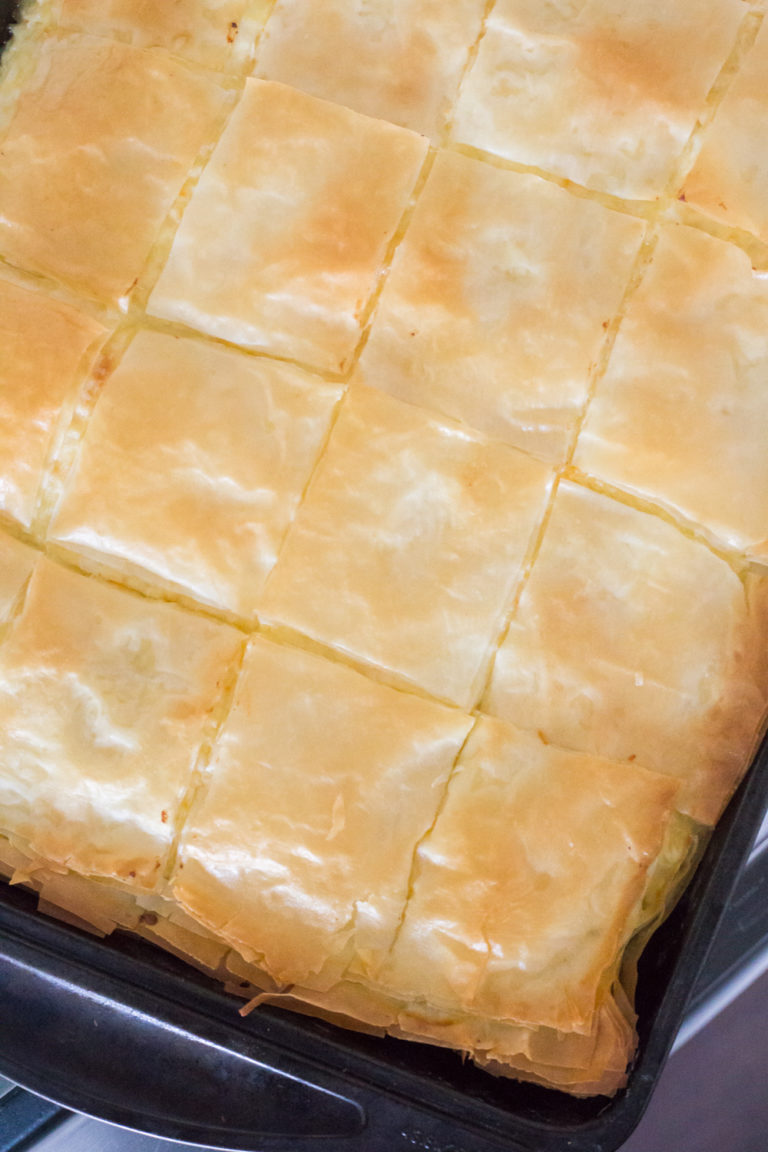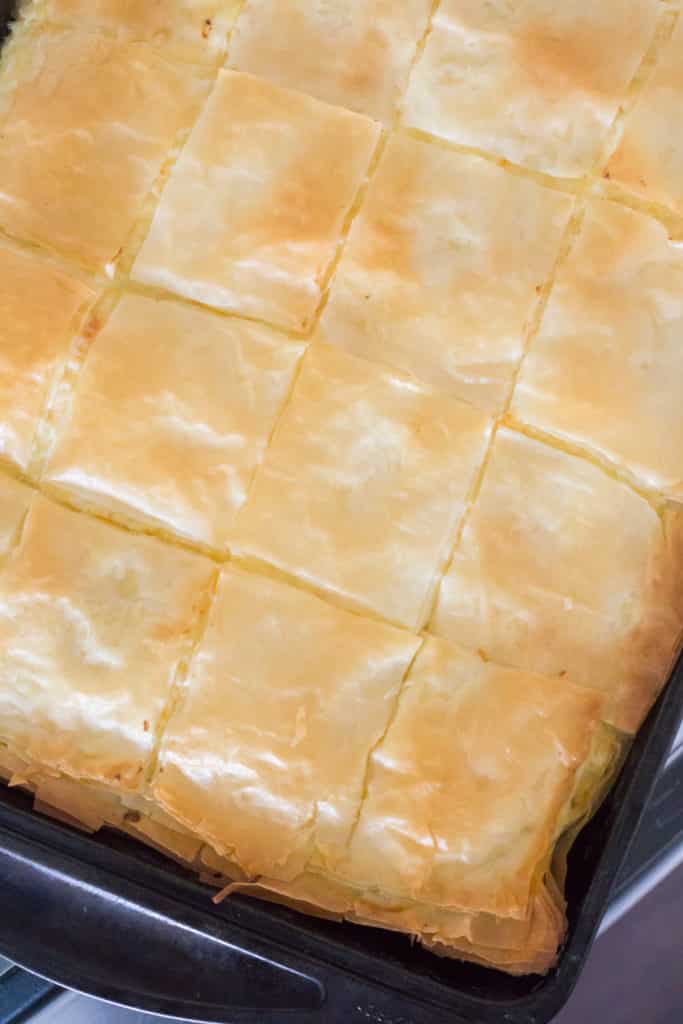 It's so easy to make that my late-aunt made and served this at nearly all family functions up into her 90's.
The Armenian boreg is so versatile. Some enjoy it as an appetizer, others enjoy it sprinkled with a little sugar for dessert. Either way, you can't go wrong. Me and my family, we love this as a snack, or an appetizer.
The way it is served is also up for discussion. When you google boreg, most are in tiny phyllo triangles. However, the way my aunt taught me – serve and cut it on a cookie sheet. So, in honour of my late and great aunt, this is boreg – Masrobian style.
Some women, whether back in the day – or modern day – like to use a homemade phyllo dough… but if you're anything like me.. It's way above my baking skills, so I use store bought phyllo dough which cuts down on time.
Make sure the unused phyllo dough is covered at all times with a cloth that's slightly damp. Too wet and it will make the dough stick together. Covering the dough will allow it to retain its moisture and not dry out which will make them tear easily.
Move fast. Place the dough onto the cookie sheet and quickly brush with butter before moving onto the next one.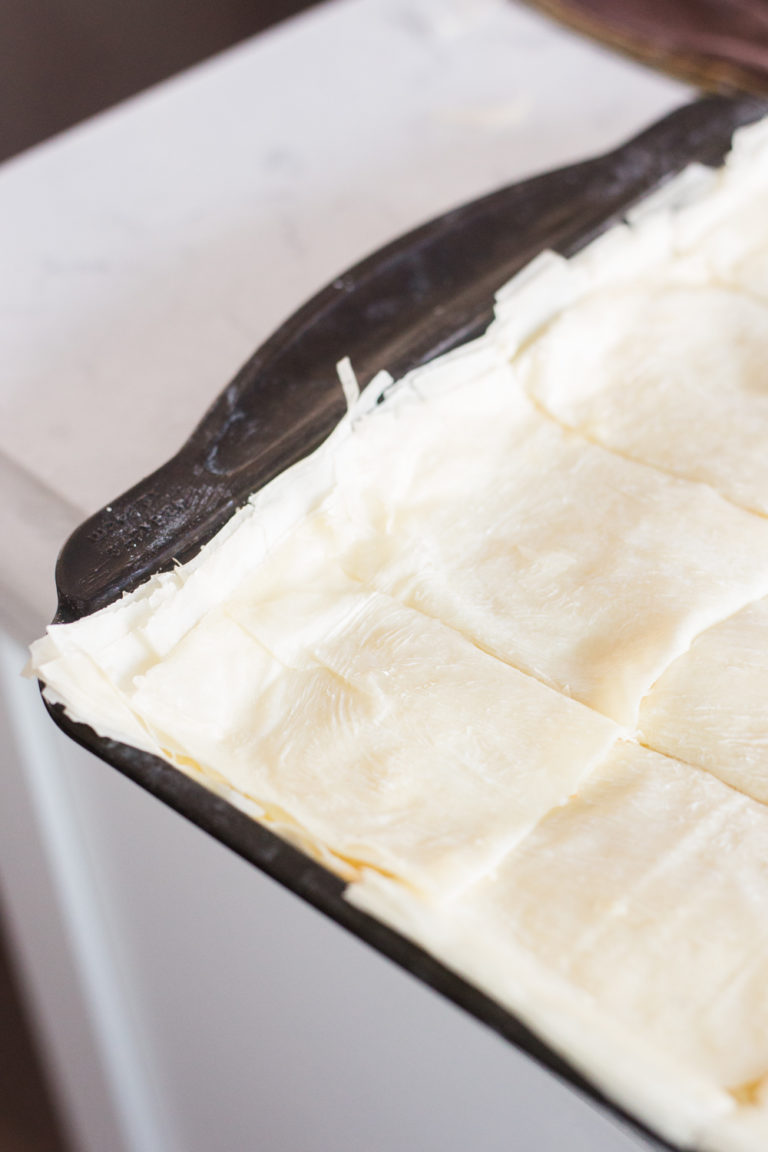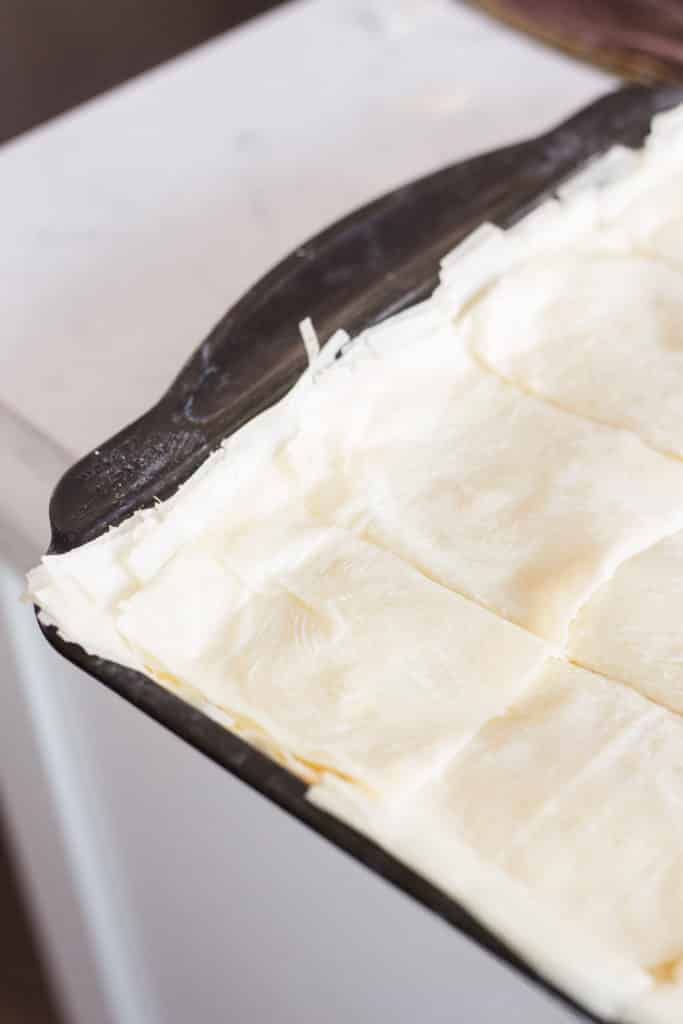 One other thing that varies from region-to-region and household-to-household… the cheese! When I make boreg, I will always always always use either muenster cheese or brick cheese. However, some people like to use monterey jack, but I found that to be a little too greasy.
When you cut the bored, make sure to do it pre-oven. The boreg will be very crispy when taken out of the oven, which means it will be difficult to cut without breaking the top layer of dough into 5000 little pieces. Best to cut it before you put it in the oven.
A delicious appetizer enjoyed by millions of Armenians around the world. Boreg is a phyllo pastry filled with cheese.
Ingredients
1 package phyllo dough - thawed
1\/2 cup (100g) butter - melted
1lb Munster or Brick cheese - grated
1 cup (250g) cottage cheese
2 eggs
Instructions
In a mixing bowl, combine the grated cheese, cottage cheese and two eggs.
Set the bowl aside.
Place the phyllo dough on the counter and cover with a lightly damp cloth.
Set one sheet of phyllo dough onto a cookie sheet and brush lightly with butter.
Place another sheet of phyllo over top the first one and brush again with butter.
Continue to layer with phyllo and butter until you have used HALF the sheets.
Spread the cheese mixture evenly over top the phyllo layers.
Continue to layer with phyllo and butter until you run out of dough.
Cut off any excess phyllo around the sides.
Brush the top with a little extra butter.
Bake at 350°F / 175°C until the top has browned nicely. Approx 30 minutes.