Yall – have you EVER tried Mexican street corn? It is absolutely delicious. We make it so often but especially in summer because it goes amazing as a party plate or as a side dish salad alongside BBQ.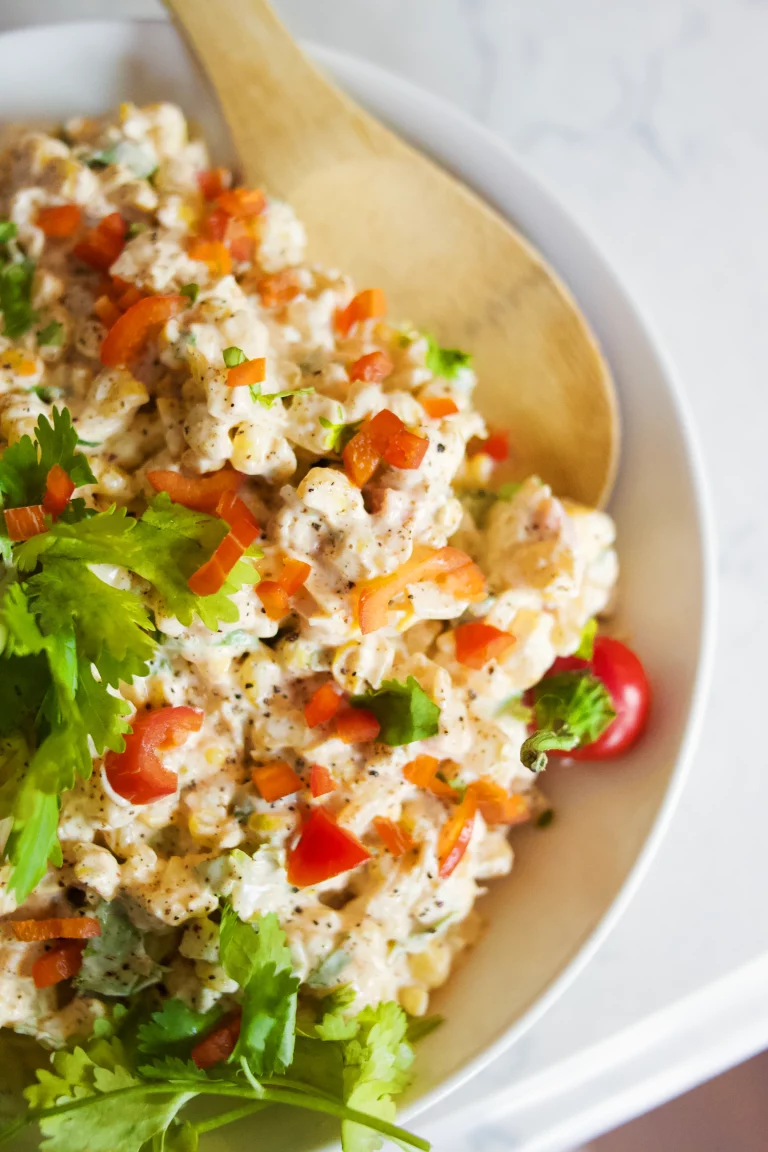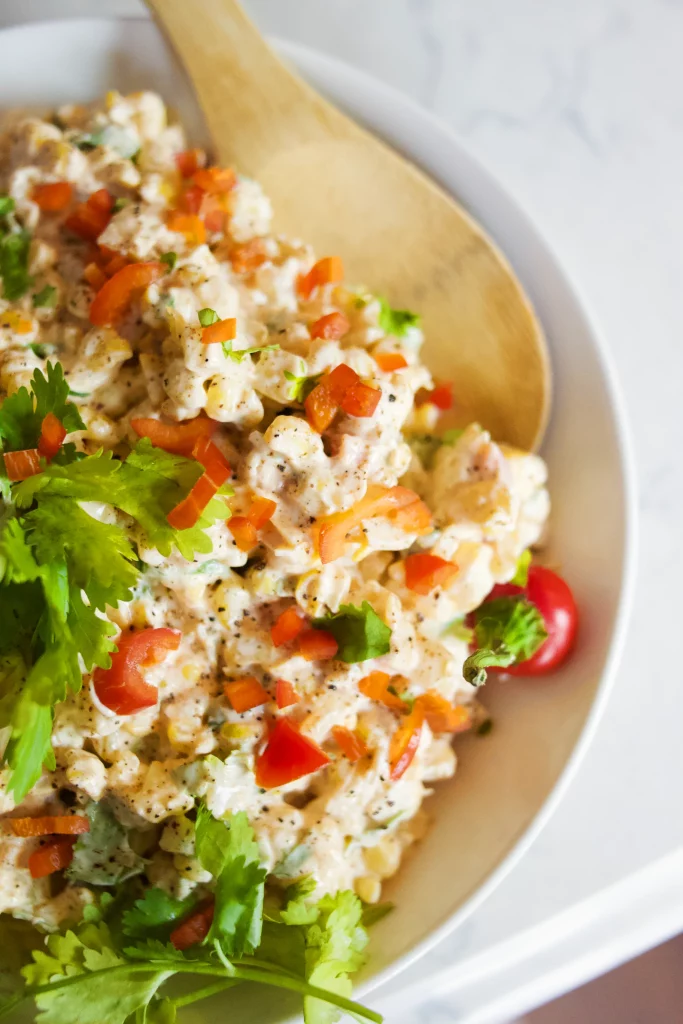 Mexican corn salad is usually served in cups by street vendors. You can find it in Mexico (obviously) as well as places like California where there is a large Mexican population. Some places have different toppings but the base of the salad is pretty much the same.
The history of Mexican street corn salad, also known as esquites, is a bit murky but apparently it was invented around the late 1800's by the Emperor and Empress Carlota of Mexico. They were apparently trying to make some French recipes but replaced the wheat with corn. I gotta say – even if it was a mistake – it was a GOOD one.
I cannot recommend this recipe enough. It is truly a favourite in this house.
What you will need for this Mexican street corn salad recipe:
Corn
Sour cream
Mayonnaise
Onion
Jalapenos
Cumin
Chilli powder
Paprika
Lime juice
Feta cheese
Not a lot goes into this dish but it is incredibly flavourful, crunchy and so so refreshing.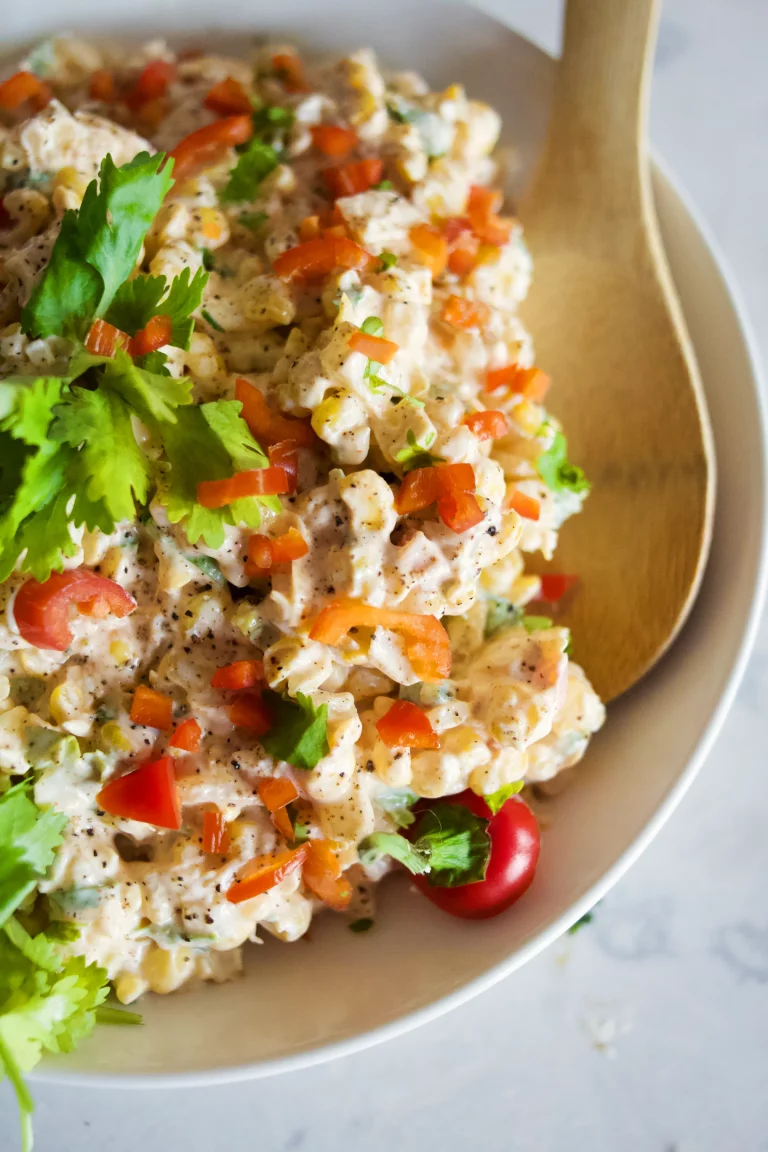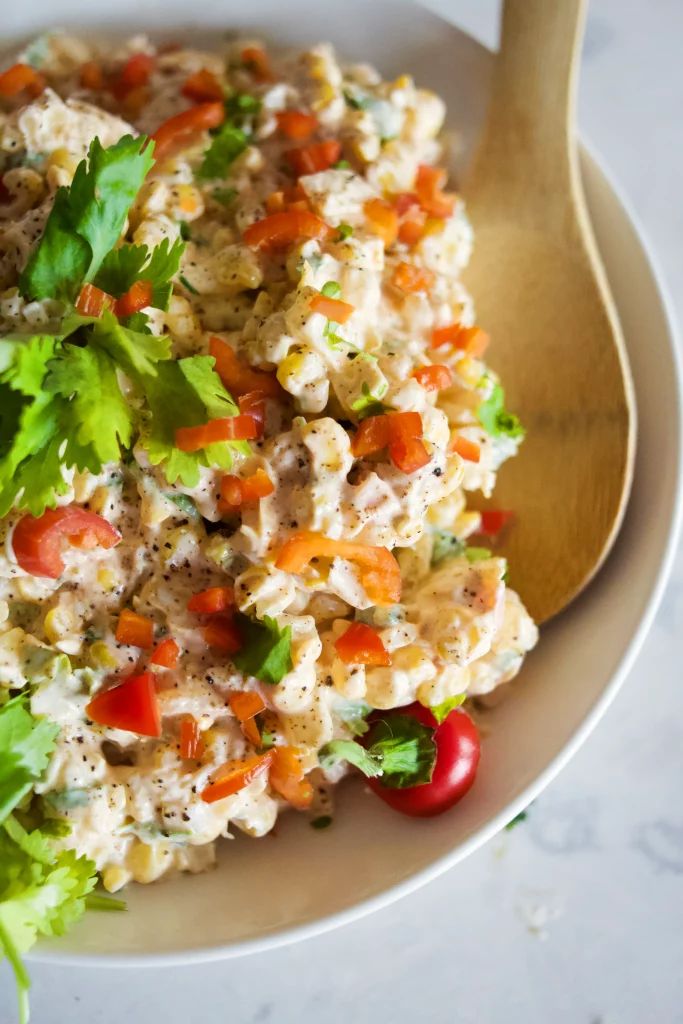 Now I think some people like this salad to have a little less sauce, but I don't mind it to be covered in sauce as long as it's not drowning. I think it adds extra flavour but also calms the spicy jalapeños a little bit.
If you like this esquites recipe, make sure to check out my whipped feta dip!
If you are looking for some low carb recipes – make sure to check out my other website The Hungry Elephant!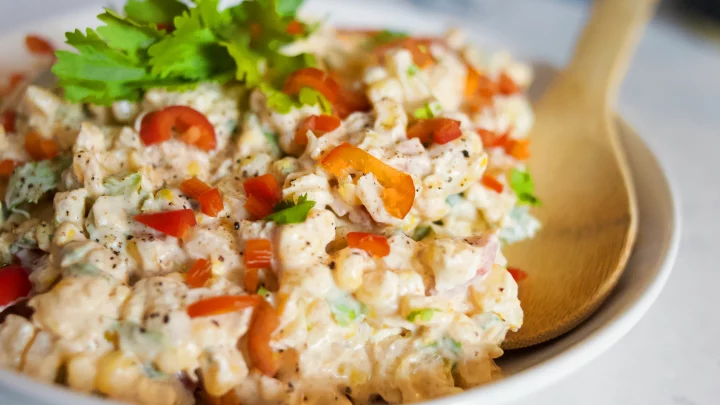 Mexican Street Corn Salad (Esquites)
Spicy, refreshing and totally delicious. This Mexican street corn salad is perfect for dipping or great as a side dish.
Ingredients
4 cobs of corn
1 tbsp butter - melted
1 small white onion - chopped
2-3 jalapenos - chopped finely
1 tbsp mayonnaise
4 tbsp sour cream
1/2 tsp cumin
1/2 tsp chilli powder
1 tsp paprika
lime juice
1 cup feta cheese - crumbled
Instructions
Brush each cob with the melted butter.
Wrap each cob in aluminum foil.
BBQ on medium for 20-25 minutes (or bake in the oven at 400°F for 15 minutes - or until tender)
Using a knife, cut the kernels off the cob and place them in a large bowl.. (You can either let the cobs cool prior to this step or use an oven mitt)
Add the rest of the ingredients and mix thoroughly.
Enjoy as a dip with tortilla's or as a side dish!