In an effort to reconnect with lost culture, I'm making a ton of Armenian recipes! Today it's dolma, also known as tolma. One of my dads favourite.. and boy was it a hit and quite easy to make!
This dish is actually enjoyed in a lot of places outside Armenia – Turkey, Bulgaria, Syria – all enjoy a variation of dolma… but whether you call it dolma, tolma or dolmades – it all means the same thing really – stuffed – as in stuffed grape leaves.
Another, and probably more popular name, especially in Armenia, is sarma – that means wrapped – as in meat wrapped in grape leaves. In countries outside Asia the stuffed grape leaves usually go by dolma or dolmades, which is Greek.
Where to buy grape leaves
If you are one of the unlucky ones (like me) who don't have grape vines nearby – you usually can buy them at a grocery store! I found mine in the Greek section but it could also be in the 'international foods'. Alternatively most Middle Eastern or Greek stores should have them.
If you are in Canada – I got them at Fortinos (Loblaws) or if you are in Ireland – I found them at the English market in Cork City.
If you want to use your own leaves, I recommend placing them in VERY hot water for about 10 minutes OR you can blanche them in boiling water for 1-2 minutes and then submerge them in ice cold water.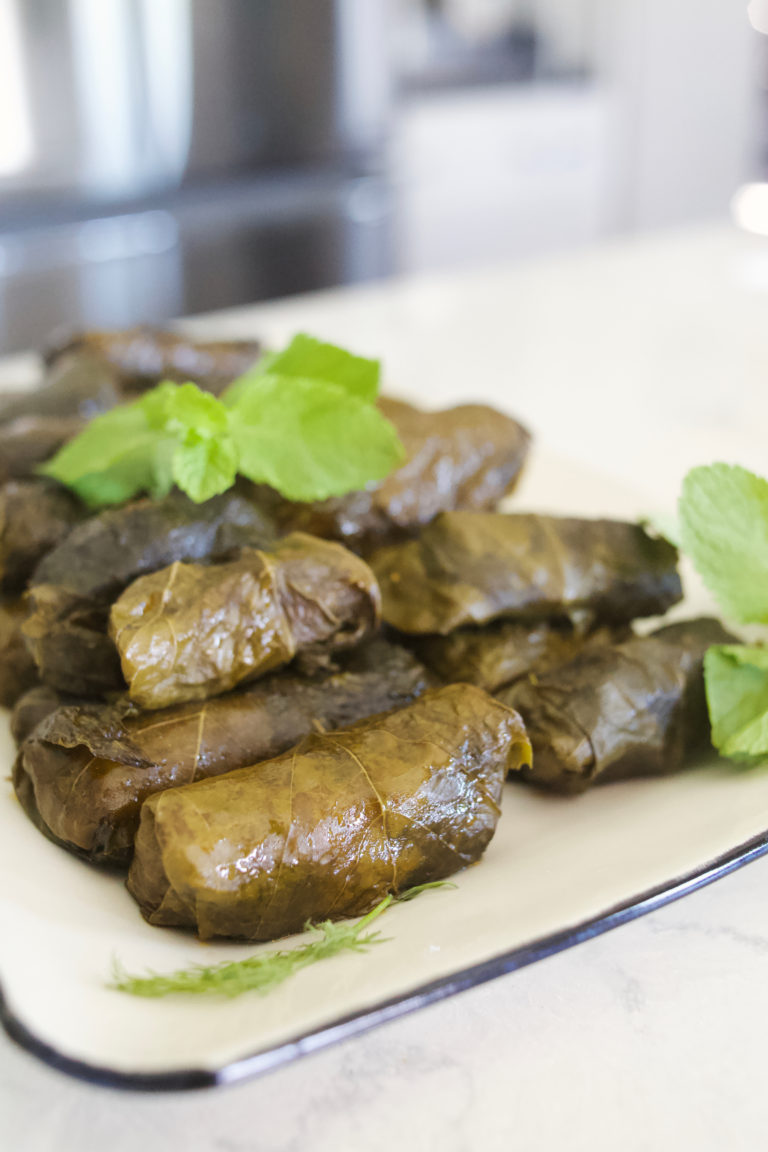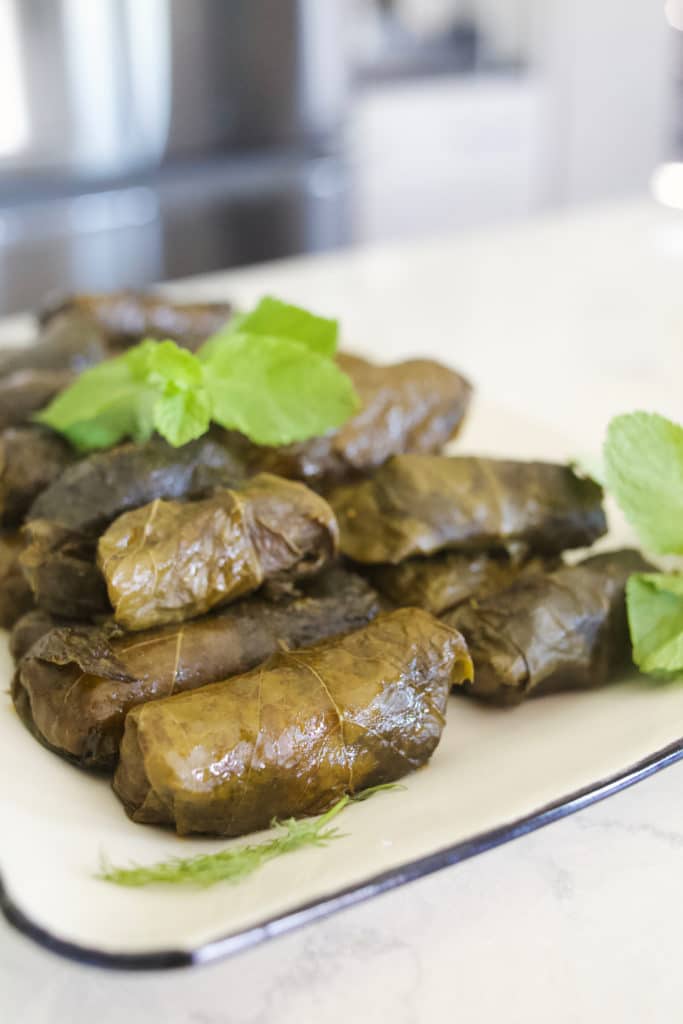 How to make dolma
Dolma couldn't be easier to make – truly. However there are a few preparation steps that need to be taken care of before hand.
First – rinse and soak your rice. I rinsed my white rice for about a minute and then soaked it in water for 30 minutes. This will help the rice cook faster when it's inside the dolma.
Secondly – if you used store bought grape leaves in brine – it should be fine to use out of the jar (unless indicated) but if you have fresh grape leaves you may want to blanch them in boiling water before using them. That will allow it to become tender enough to roll.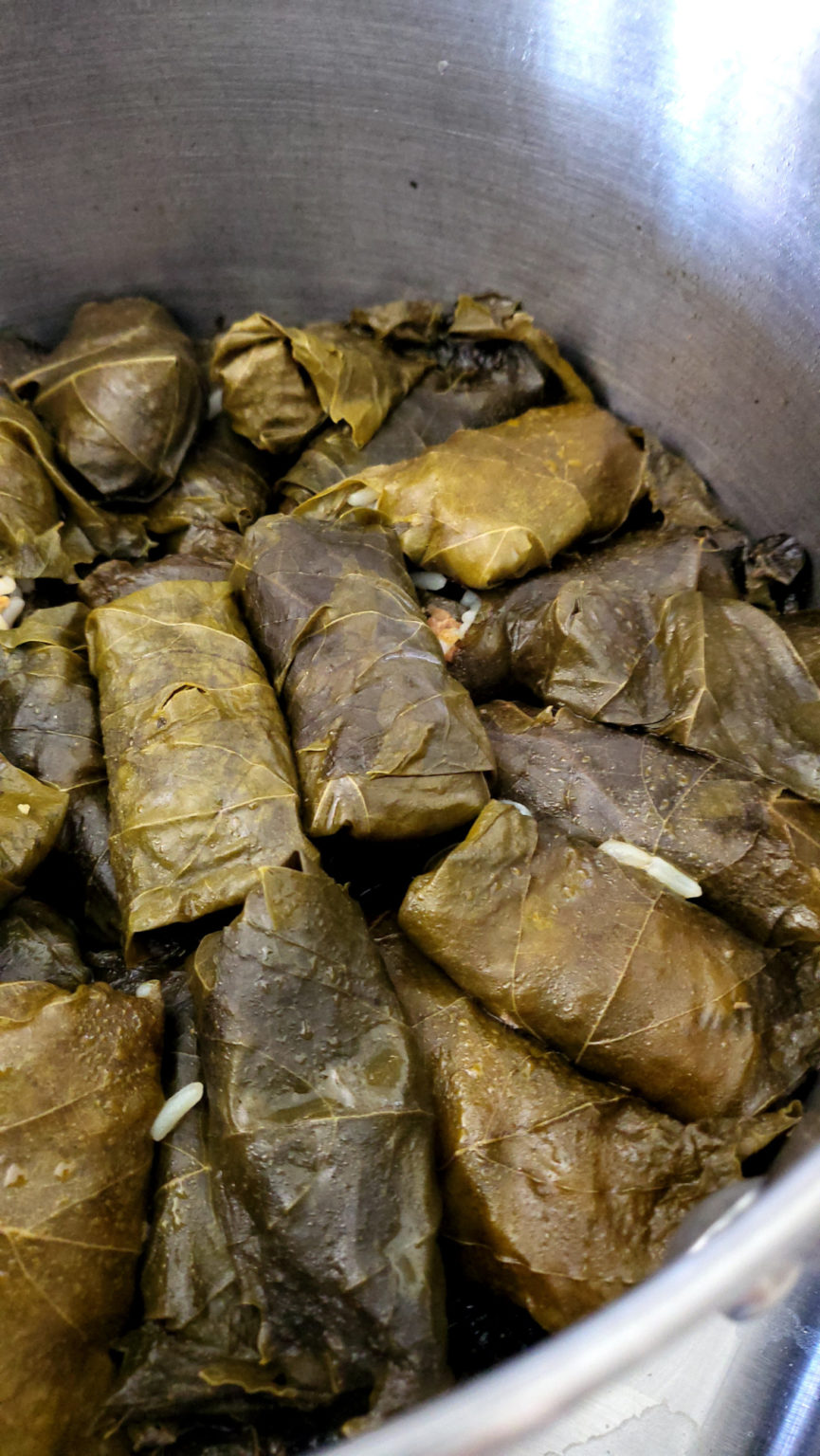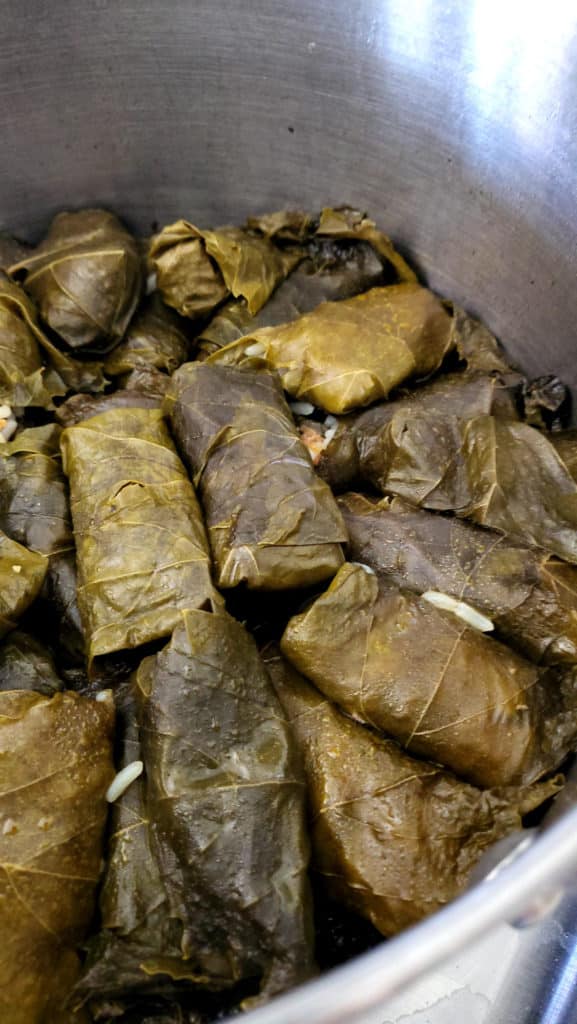 After you rinse the rice, its just a matter of mixing it with the lamb, onion, herbs and spices.
When rolling the meat inside the grape leaves, think of it as a burrito. I usually fold over the left and right sides onto the meat before folding the bottom upwards and rolling like a carpet. The first few may be a bit messy but I guarantee once you roll a few dolmas, you'll be a pro in no time.
Boiling the dolmas
When you have used up all the meat and are ready to cook – just place a layer of leaves onto the bottom of a large stock pot. This will allow it to be cooked without burning.
One traditional step that you CANNOT skip is that you need something to hold down the dolmas as they cook. Otherwise they float and reopen.
What is traditionally done is to use a plate and place it on the dolmas upside down. This will hold them in place as they cook.
Once done – you can enjoy with tzaziki or some mint yogurt – both absolutely delicious with dolma!
If you are looking for low carb dolmas – I have a recipe up on the Hungry Elephant that you may enjoy!
A favourite in most West Asian households - dolma is grape leaves stuffed with savoury meat, rice and zesty herbs.
Ingredients
500g grape leaves
1 cup rice
1 lb minced lamb
1 tbsp tomato paste
1/3 cup chopped dill
1/3 cup chopped mint
1 tbsp minced garlic
1/2 tsp cumin
1/4 tsp allspice
1/2 medium onion - chopped finely
Broth
3 cups water
2 chicken boullion cubes
1/4 cup lemon juice
Instructions
Prior to making this recipe, rinse off the rice through a fine colander and soak for at least 30 minutes.
Take out some grape leaves from the jar and rinse - set aside.
In a mixing bowl, place the lamb, garlic, tomato paste, cumin, allspice, dill and mint. Mix together.
Drain the rice and try to get most of the water out.
Pour the rice into the mixing bowl with lamb, herb and spices.. Mix together.
Take a grape leave and place it on the counter shiny side down. You should be able to feel the texture of the leaf on the side that is upwards.
If the leaf has a stem, remove it.
It depends on the size of the grape leaf but take about 2 tsp worth of lamb mix and place it just above where the stem would be. It should be kind of an oblong shape.
Take the left and right side of the leaf and fold it inwards over the meat.
Take the bottom of the leaf so and fold it inwards on top of the left and right side.
Roll the leaf like a carpet so that the top of the leaf folds over the bottom.
Set fully stuffed grape leave aside with the seam down. Continue to roll the rest of the meat into the grape leaves.
Once you have all your grape leaves stuffed or used all the meat, place a layer of grape leaves into a stock pot.
Place a layer of the dolma in the stock pot - seam side down. If you have extra dolma by the end of this step, place another layer.
If you have a circular plate that would fit inside the stock pot - place it upside down ontop of the dolma - this is to make sure they dont float and unroll.
In a measuring cup - mix the boullion cubes with very hot or boiling water.
Pour into the stockpot - it should cover most of the dolma - add some more water if needed.
Turn on medium heat and cover with a lid for 30 minutes.
After 30 minutes is over, remove the lid and plate.
Pour in the lemon juice and cover again for another 35-40 minutes.
Take the dolma out of the stockpot and let sit for 30 minutes before serving.
Serve with tzaziki or mint yogurt!