Pasta is the gift that keeps on giving. I mean there are so many different kinds, and so many different sauces. It's hard to pick a favourite but I think this one pot mushroom pasta is up there. It's creamy, yet not over powering, and fairly simple to make.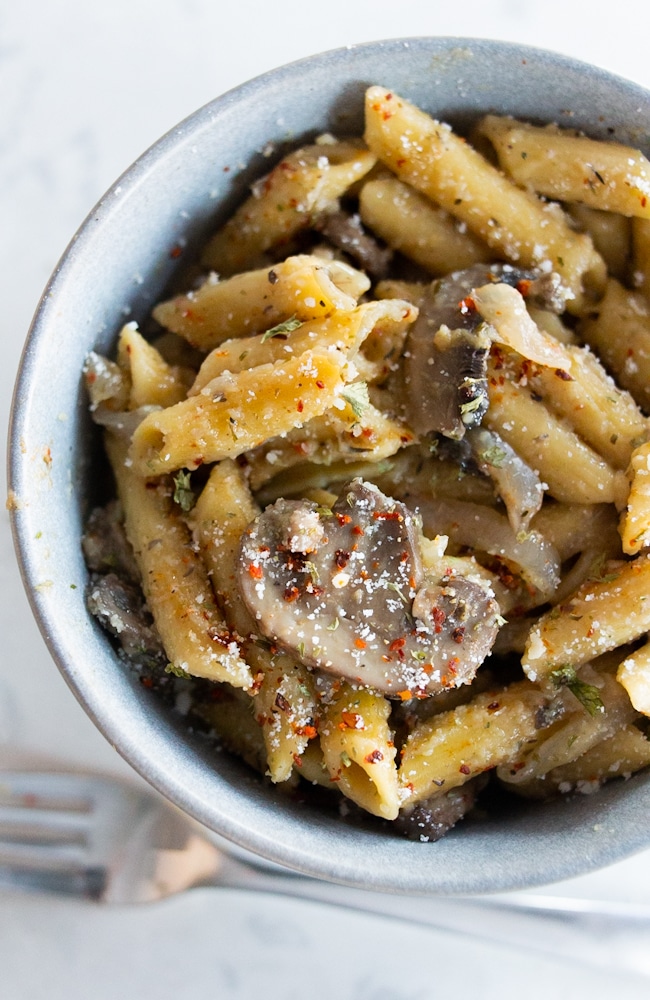 I think the best thing about this is that it is made in one pot – including the pasta. You don't need to boil it separately for this recipe.
What you will need to make one pot mushroom pasta
Butter
Vidalia onion
Mushrooms
Sugar
Garlic
Thyme
Parsley
Red Wine
Broth
Water
Flour
Penne noodles
Cooking sherry
Chili flakes
Salt & Pepper
Parmesan cheese
One mistake I made, and almost always make, when I cook a one-pot meal is that if it needs some flour for thickening, I ALWAYS forget to add it in before the liquid… and if you add it in after the liquid, it turns clumpy which is never fun.
However, I have a little trick for everyone – flour will dissolve smoothly in pure fat. If you need to make a roux, but already added the liquid to the pan, a tbsp or 2 of butter and whisk in 1-2 tbsp of flour. It will thicken up the butter nicely with no clumps. Just pour that into the liquid and it should begin to thicken up.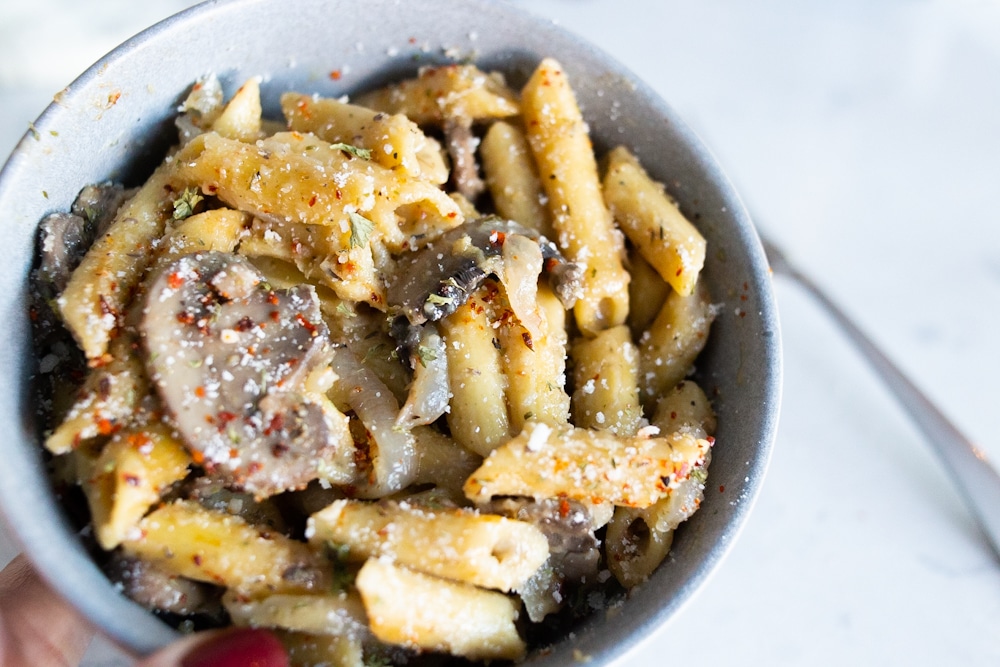 How to make one pot mushroom pasta
Begin by slightly caramelizing the onions. Add the butter and onions into a pot and cook on medium low until they are begin to turn brown.
Once they are a golden brown – add in the herbs, spices, garlic and mushrooms. Cook until the mushrooms are a darker brown and soft then add in the wine.
Whisk in the flour, then the liquid and cook until boiling. That's when you can add in the pasta noodles! Cook until soft (according to the bag) and voila! You're almost done.
You just have to pour in the cooking sherry, add some parmesan cheese, salt and pepper – DONE.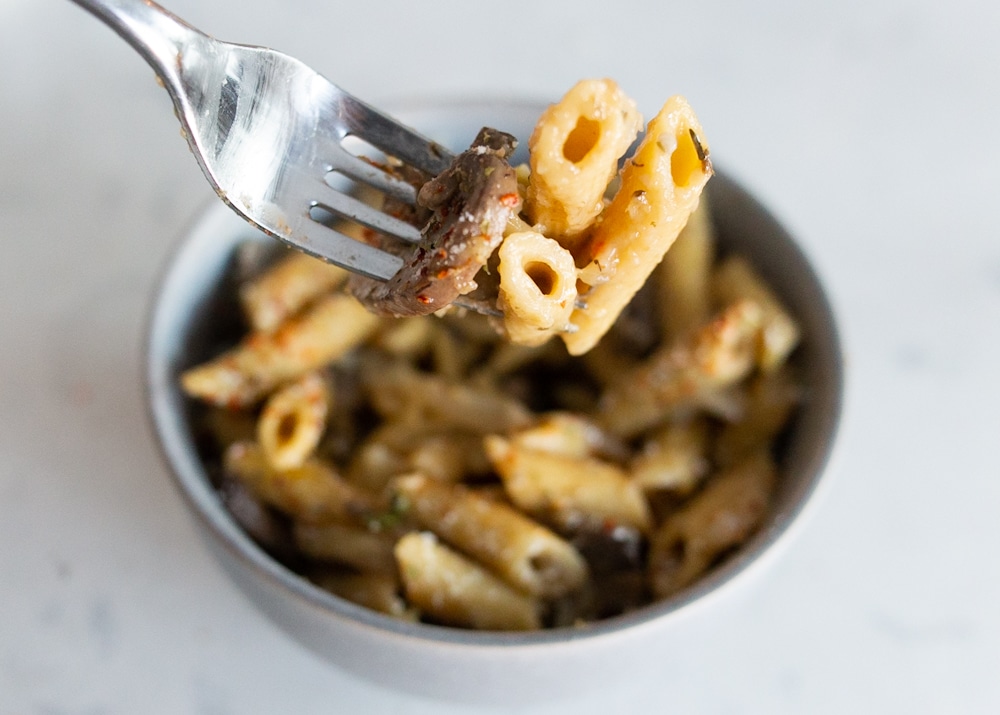 Omitting and Substitutions
So I understand, adding the wine and sherry might be a bit daunting, especially to those who either a) don't drink or b) can't drink. Don't worry – I gotchu. Replace the red wine with half red wine vinegar, half water. You can also omit the cooking sherry if needed.
If you like this recipe, make sure to check out my one pot orzo and sweet Italian sausage recipe.
I also have a ton of low carb pasta recipes on my other website The Hungry Elephant!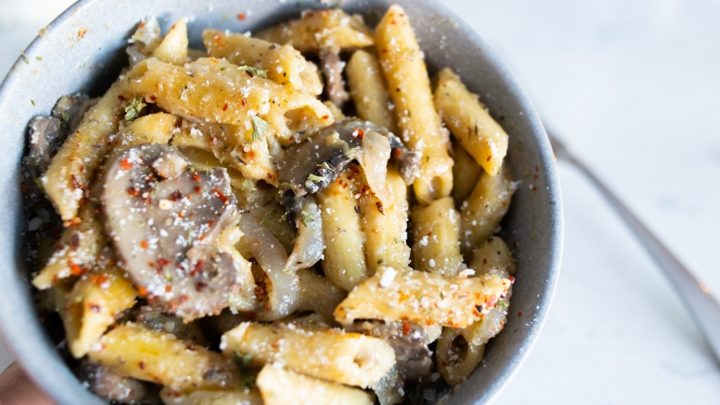 Yield:

6
One Pot Mushroom Pasta
Simple one pot mushroom pasta. Delicious and full of flavour! It could be on your list of favourite pastas!
Ingredients
2 tbsp butter
1 vidalia onion - chopped
1 tbsp sugar
2 tbsp minced garlic
1 package (approx 230g) mushrooms
1 tbsp dried thyme
1.5 tbsp dried parsley
2 tbsp flour
1/4 cup (60ml) red wine
3 cups (750ml) vegetable or chicken broth
1 cup (250ml) water
1 package (450g) penne noodles
Parmesan cheese to taste
Red chilli flakes
Instructions
In a deep pot over medium heat, melt the butter.
Add in the chopped onions and sugar.
Stir frequently until the onions become a golden brown colour. If you find the onions burn to the bottom, add a little water to keep them from sticking.
Once the onions are a golden brown colour, add in the mushrooms, minced garlic, parsley and thyme. Cook until the mushrooms are soft.
Pour in the red wine and stir.
Sprinkle the flour on top of the vegetables and stir in.
Add in the broth and water.. bring to a boil.
Once the liquid is boiling, pour in the noodles. The liquid should cover the most of the noodles.
Cook until the noodles are soft and some of the broth has boiled off and thickened up.
Spoon in the parmesan cheese to your liking. I used about 4-5 tbsp.
Season the pasta with salt, pepper and red chilli flakes.
Enjoy!