One pot. Super simple. Basically everything you want in an easy dinner, right? This chicken and potatoes is the perfect supper plus it's braised and cooked in red wine!
Honestly, I think this is one of the best chicken and potato recipes I've had!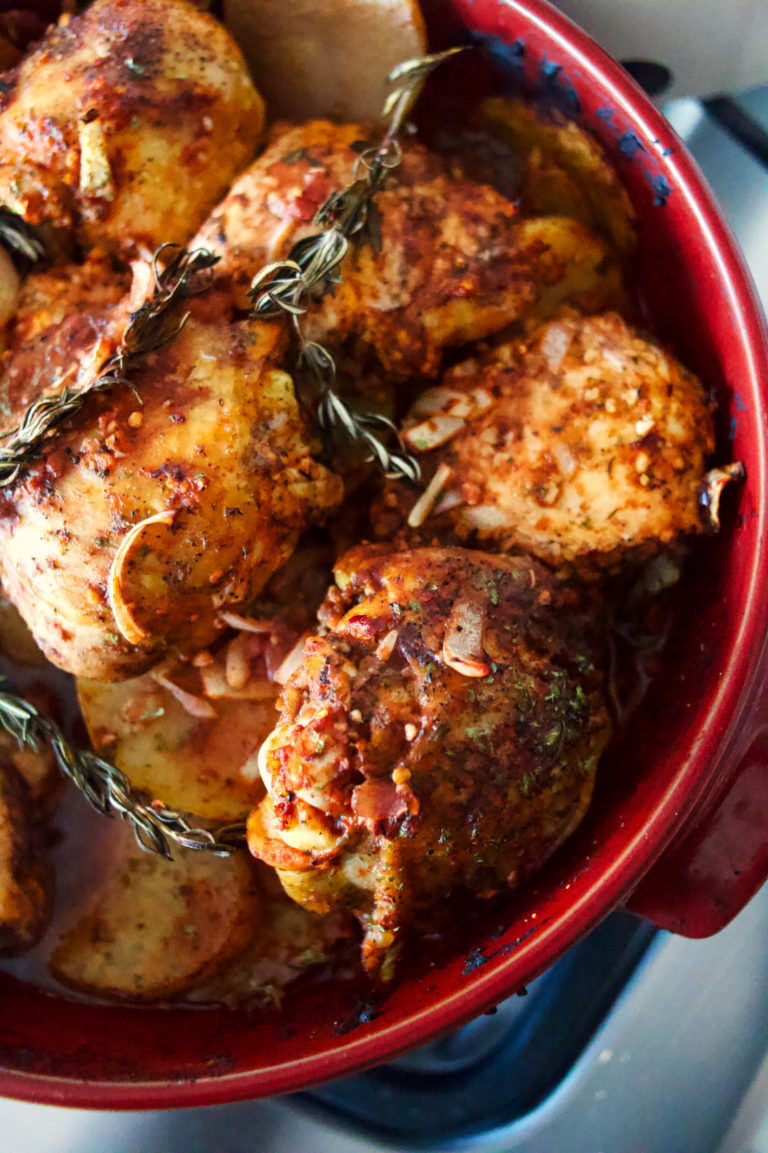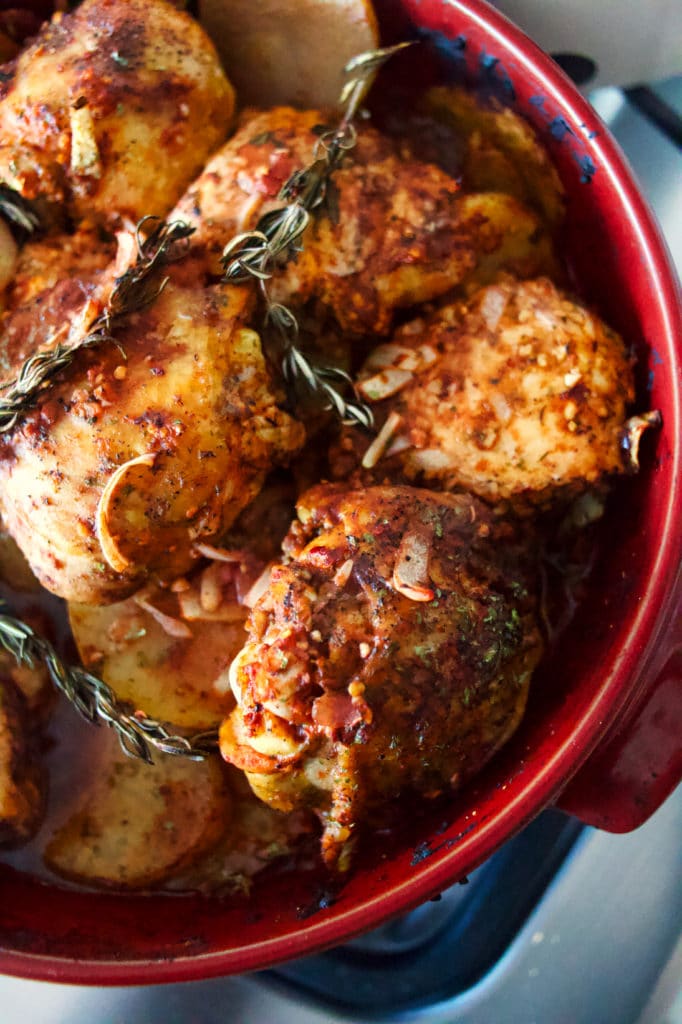 This dinner is actually inspired by one I found on Instagram, actually. From an Armenian cook with a blog named Mimosa's and Samosa's. (She doesn't have a website I don't believe, otherwise I'd link it.) Mary's recipe originally didn't include the onions, thyme, or sumac and I tweaked it a bit more for originality.. Just so very delicious.
What you will need to make this baked chicken and potatoes with red wine:
Chicken thighs
Medium sized potatoes
Medium onion
Thyme
Sumac
Parsley
Garlic
Tomato paste
Chilli flakes
Lemon juice
Parsley
Cumin
Salt & pepper
Red wine
How to make this delicious dinner:
This one pot chicken and potatoes is honestly so easy but it does require to get your hands a little dirty.
Once you cut up the onions and potatoes – place them into a Dutch oven. You can use a French oven but they are a bit taller and it's preferable to have a wider dish for even cooking.
Top the potatoes and onion with the chicken, garlic, thyme, sumac, chilli flakes, cumin, tomato paste, salt and pepper.. Here's the messy part. Use your hands, cleaned or with a latax/plastic glove, to make sure that all the veggies and chicken are coated in the tomato paste and seasoning.
Once it's all mixed, you add the red wine and lemon juice.
When you are putting this recipe together, it is important to make sure that after you mix it all together, make sure the potatoes lie flat and even. If they are too thick together, it might take a while longer to cook through!
After it's been fully cooked, there will still be some wine and chicken juice in the pot so time to take off the lid and let it the juices cook off.
Really really delicious and honestly such an easy chicken dinner!
If you like this chicken and potato recipe, make sure to check out my crockpot ribs that is on my other website – click here.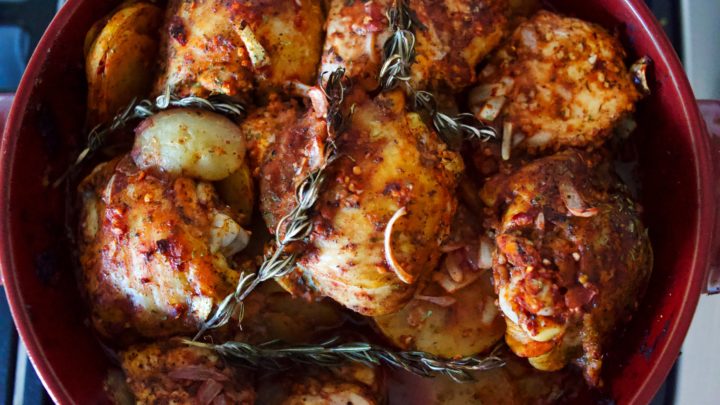 Yield:

6
One Pot Chicken and Potatoes in Red Wine
Ingredients
6 chicken thighs
2-3 medium potatoes - sliced
1 medium onion - chopped finely
1 tsp thyme
1 tsp cumin
1/2 tsp sumac (optional)
1 tbsp dried parsley
2 tbsp minced garlic
3 heaping tbsp tomato paste
1.5 tsp chilli flakes (or Aleppo
1/4 cup Lemon juice
1/2 cup Red wine
Salt & pepper
Instructions
Add all the ingredients except the wine and lemon juice to a wide Dutch oven.
Use your hands (gloved or cleaned) to cover all the potatoes, onions and chicken with the spices and tomato paste.
Once they are all coated, arrange it so that the potatoes are spread evenly across the bottom with the chicken on top.
Pour in the wine and lemon juice.
Bake at 375°F for 45 minutes to an hour. Check the potatoes to make sure they are nice and soft - if they are still tough, keep it in for an additional 15 -20 minutes.
Take the pot out from the oven and use a spoon to braise the chicken with the wine.
Place back in the oven at 400°F for an additional 20-25 minutes or until the chicken is nicely browned and the wine has been cooked down.
Enjoy!