I have a new found addiction to making pasta's in one pan. Spaghetti, penne, whatever it is – making it in one pan is just so much easier. So over the weekend, I made a fairly big batch of one pan spaghetti with meat sauce!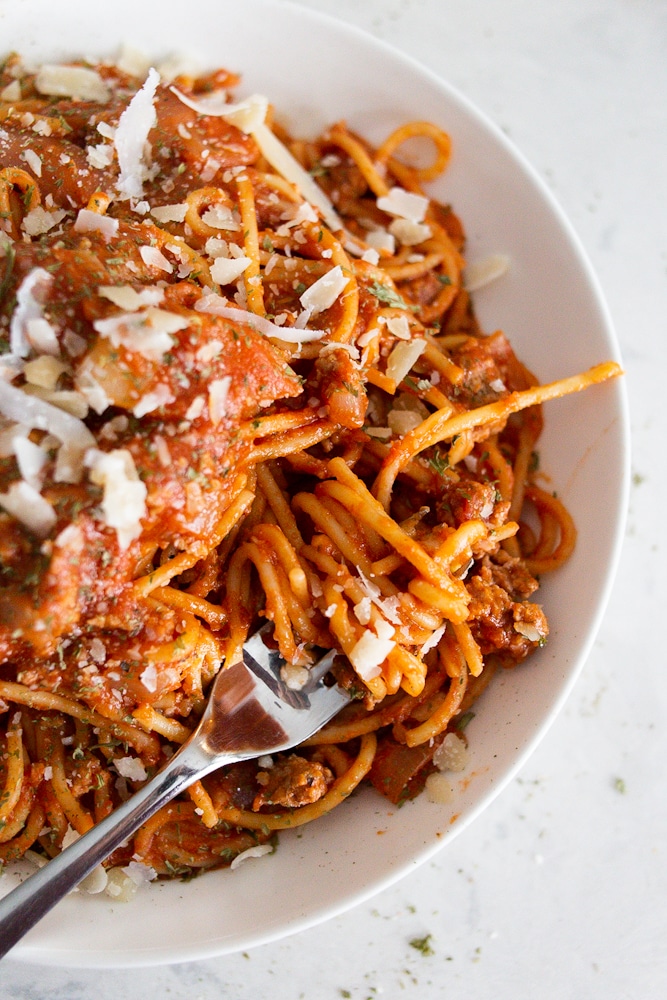 This recipe is great for families of four or five – or – a great way to meal prep for several days. I made this delicious dish on Sunday evening, my family and I had 4 servings, and I still had at least 3 servings left over on Monday. It is so simple, easy and it tastes amazing.
What you will need to make one pan spaghetti
Lean ground meat (any kind, I used veal)
Minced garlic
Italian seasoning
Chilli flakes
Sugar
Red onion
Olive oil
White wine
Crushed tomatoes
Beef/Chicken/Veggie broth
Parmesan cheese
Spaghetti noodles
Salt & pepper
Let's talk about the white wine in this recipe. I know there are some people out there that may not want to add the wine, dont have the wine, or just don't want to consume any sort of alcohol. If you want to replace it – try using either a 50-50 mixture of lemon juice and water – or – a 50-50 mixture of white wine vinegar and water. Since the recipe only calls for 1/2 cup of wine, you won't need much and it shouldn't overpower the recipe in any way!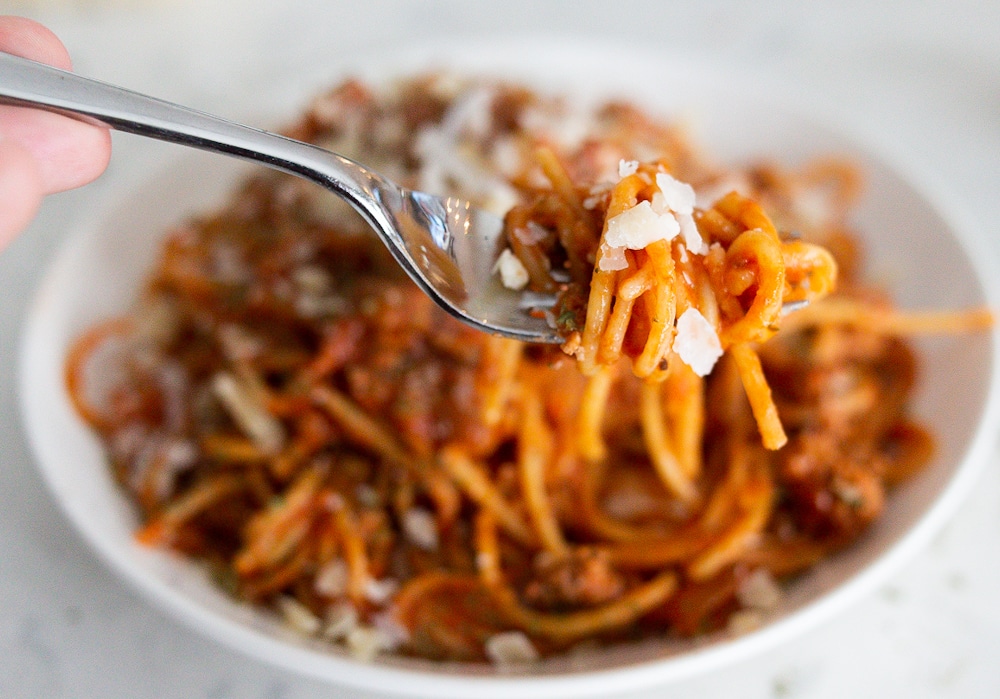 How to make this delicious recipe
All-in-all, this recipe takes about an hour to make from start to finish – the most time is spent cooking off the extra liquid at the end to make the sauce thicker.
The first thing you want to do is cook the meat, onions, garlic, sugar and seasonings until the meat is cooked. After that, add the wine and bring to a boil for 2-3 minutes – this will allow the wine to reduce a bit but still keep a little of that wine flavour.
Then it's time to add the crushed tomatoes and broth. Bring that to a boil before adding the spaghetti noodles and then turn the heat down.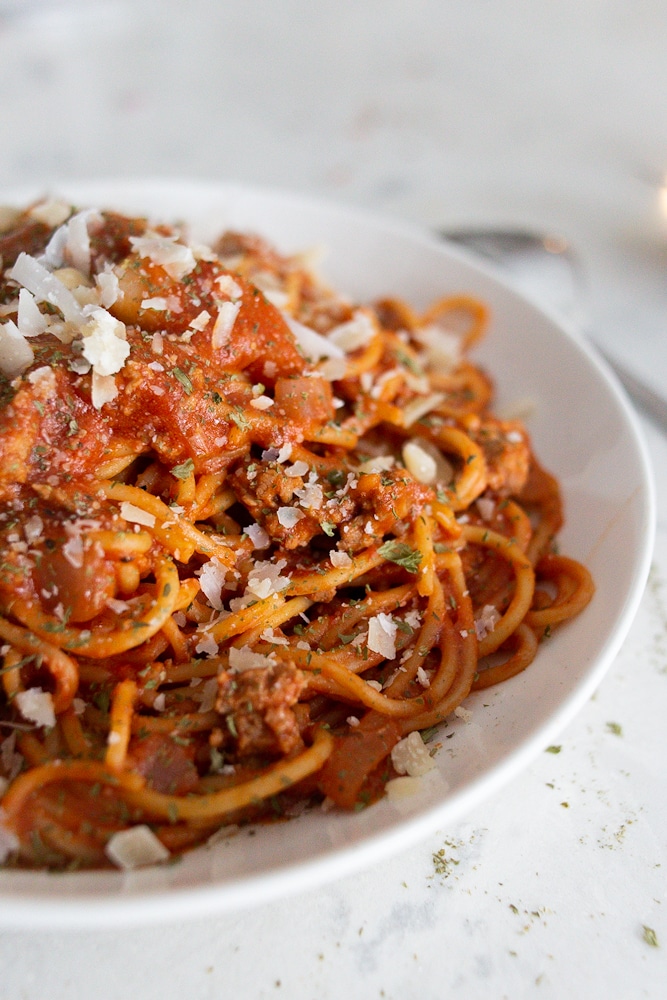 Now is the time to wait – the noodles will slowly cook as the extra liquid boils off. Stir occassionaly until you've noticed that the sauce has reduced and has begun to get a little thicker.
Season with salt, pepper and mix in the parmesan cheese – the cheese thickens it up a bit more to a perfect sauce.
That's it! seriously so simple! It's honestly one of my new favourite recipes!
If you like this one, make sure to check out my One Pan Mushroom Pasta recipe!!
If you're looking for low carb recipes – check out my other website The Hungry Elephant.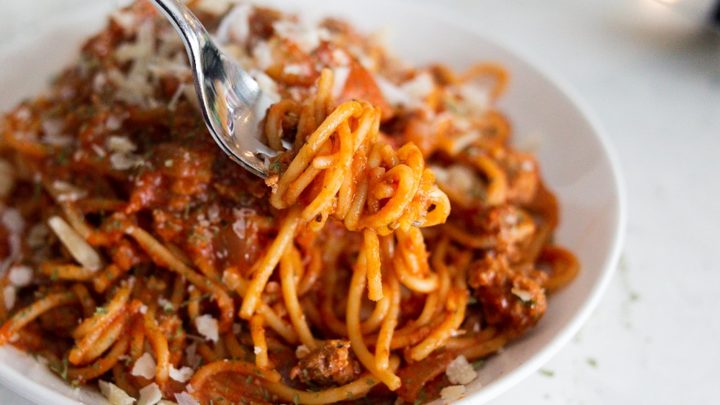 Yield:

7-8
One Pan Spaghetti with Meat Sauce
Easy and delicious one pan spaghetti with red sauce. This recipe makes a ton and is great for meal prep.
Ingredients
1 package (approx 454g)Lean ground meat
1 tbsp Minced garlic
1.5 tsp Italian seasoning
1 tsp Chilli flakes
1.5 tsp Sugar
1 Red onion - chopped
1 tbsp Olive oil
1/4 cup (60ml) White wine
1 can (796ml) Crushed tomatoes
3 cups (750ml) Beef/Chicken/Veggie broth
4 tbsp Parmesan cheese
11oz Spaghetti noodles
Salt & pepper to taste
Instructions
In a deep pan over medium heat, add the olive oil and meat.
Cook until the meat is cooked and uniform in colour with no pink or red.
Add in the garlic, onion, Italian seasoning, chilli flakes, sugar and white wine.
Stir and bring the wine to a boil. Cook for 3-5 minutes.
Pour in the crushed tomatoes and broth. Turn the heat up until medium high heat and bring to a boil - stir frequently so the sauce doesn't burn to the bottom of the pan.
Once boiling, add in the spaghetti noodles and turn down to medium heat.
The sauce should be somewhat too liquidy for a pasta sauce so stir occassionally and let it boil off the extra liquid.
The sauce should reduce and once the sauce has mostly thickened up, add in the salt, pepper and parmesan cheese. The cheese will thicken up the rest of the sauce.
Serve and enjoy!