Sometimes, there's nothing better than a one pan meal, where you basically just put everything into a pot and cook. This one pan Italian sausage and orzo recipe is just that – so simple!!!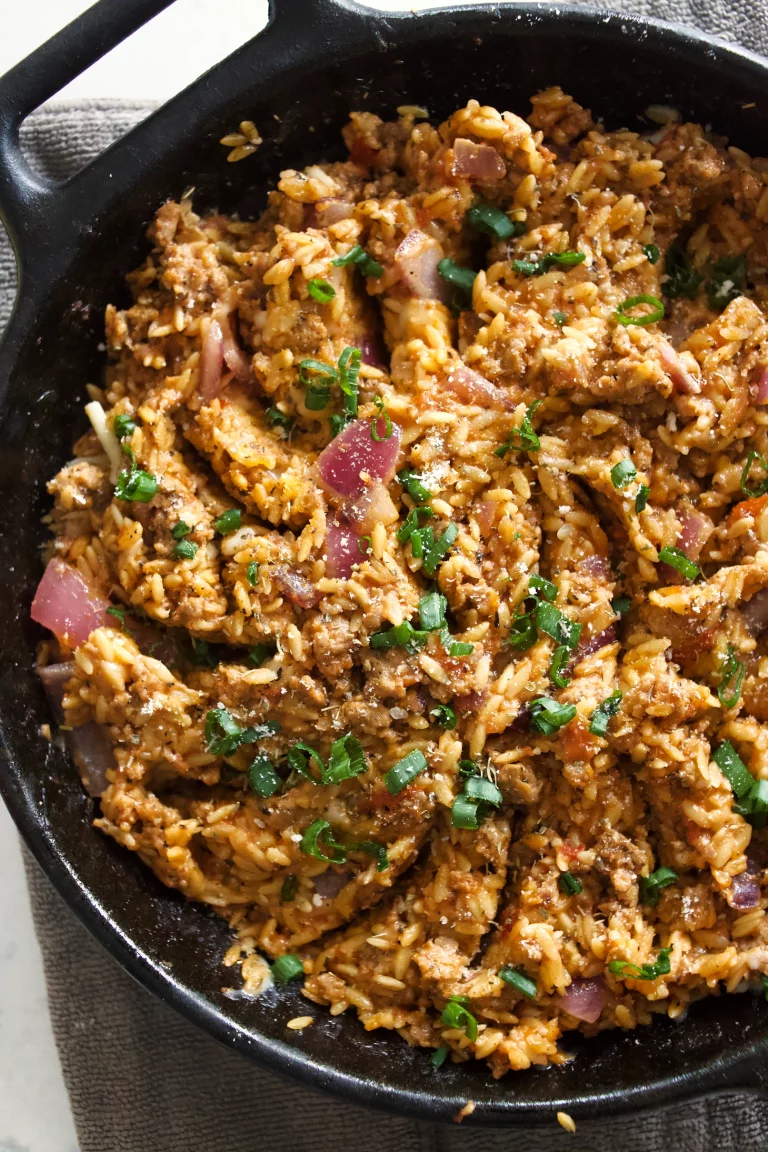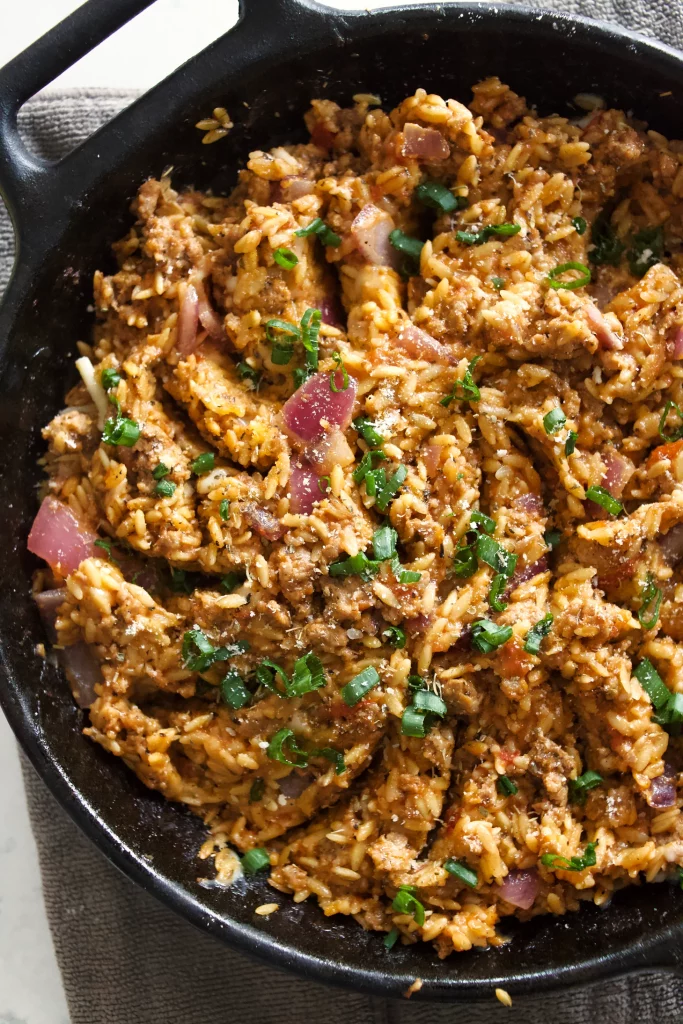 I originally tried this from a local grocery store called "Farm Boy" and it was actually one of my favourite meals that you can just pop in the oven.. However, it's around $16.99CAD so I decided to try to make a homemade version and honestly, this tastes the EXACT same.
What you will need to make this Italian sausage and orzo meal
Olive oil
Sweet Italian sausage
Orzo
Italian seasoning
Sugar
Red onion
Minced garlic
Chicken Broth
Tomato Sauce
Basil
Cheddar cheese
Parmesan cheese
Green onion
Salt/Pepper
Ok so it seems like a lot of ingredients but honestly, most of them already should be in your cabinet – hopefully.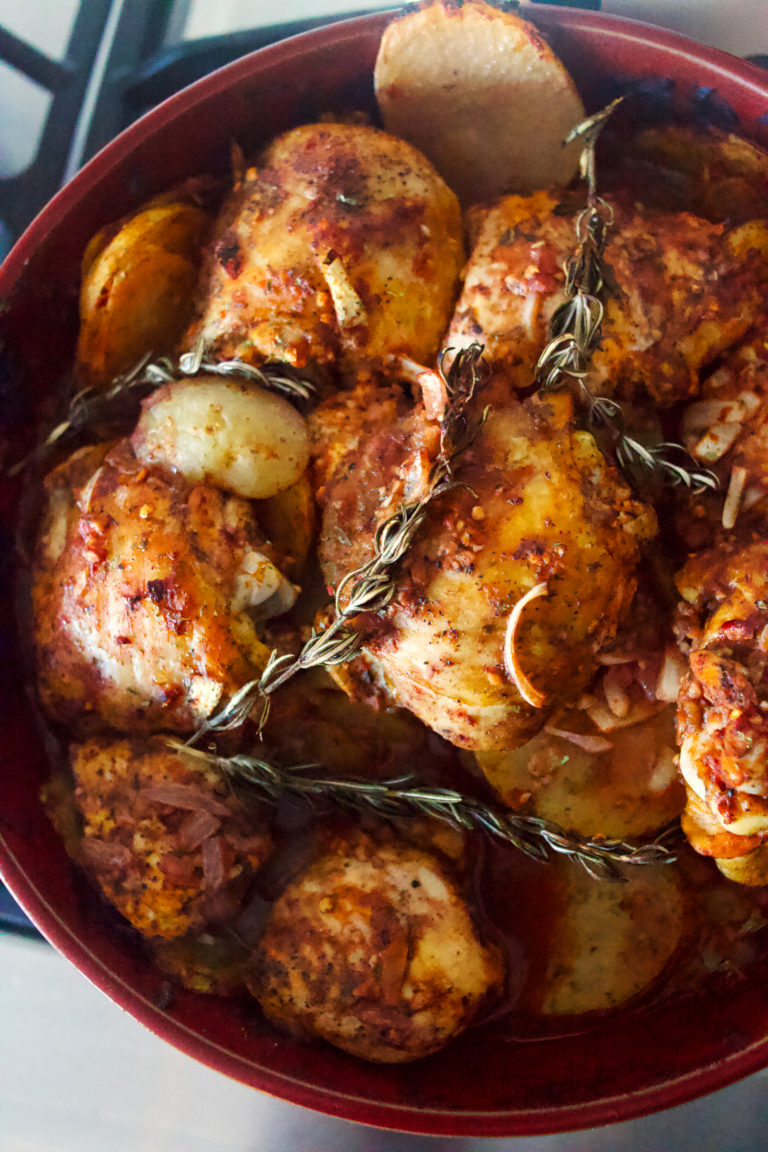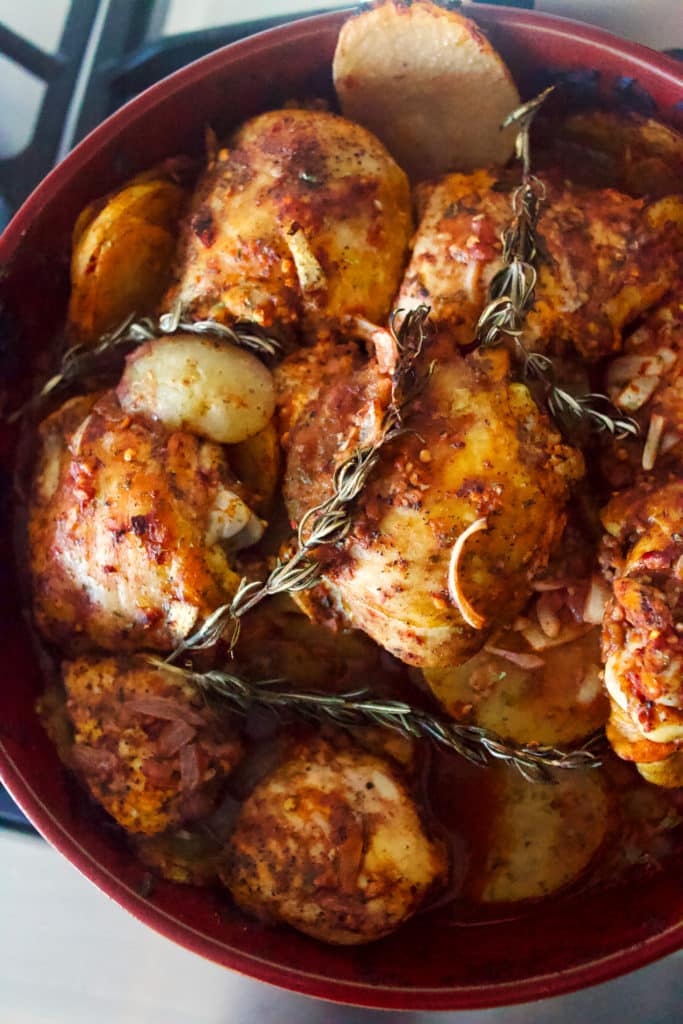 One note I will make is that I did end up buying 4 sweet Italian sausages – and you can either slice them, keep them whole or like I did, remove the meat from the casing.
---
How to make this Italian sausage and orzo casserole
The first thing you want to do is cook the meat in a non-stick or cast iron pan. Like I mentioned above, I removed the sausage meat from the casing but you can keep it whole, or chop the sausages up.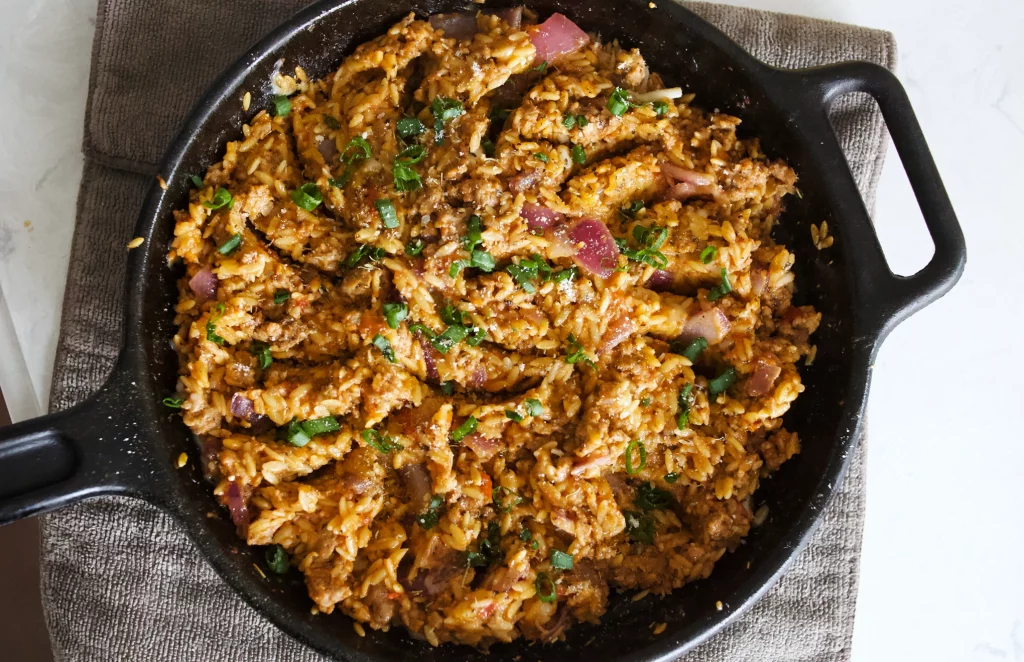 After the meat is cooked thoroughly, it's essentially time to dump in the rest of the ingredients – minus the cheese.
Once the chicken broth has been cooked off – time to add the cheese and serve.
---
I honestly, truly, highly recommend this recipe. It is so so good.
If you are looking or some lower carb recipes, feel free to check out my other blog The Hungry Elephant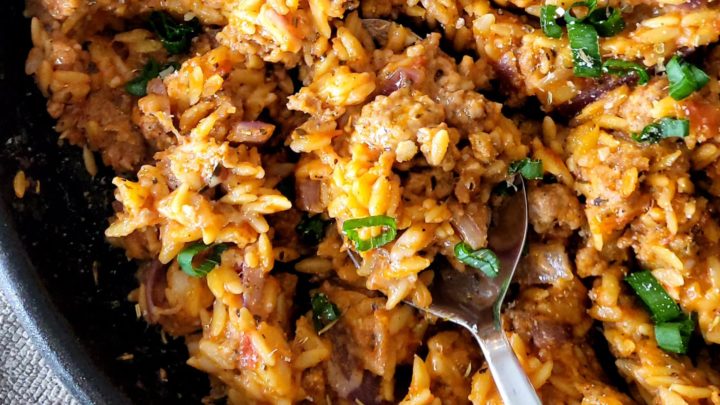 Yield:

6
Sweet Italian Sausage and Orzo
Super simple sweet Italian sausage and orzo. Made in one pot so minimal mess but optimal flavour!
Ingredients
1 tbsp olive oil
4 sweet Italian sausages
1/2 red onion - chopped
1 tbsp minced garlic
1 tbsp Italian seasoning
2 tsp dried basil
2 tsp sugar
1 can (approx 375ml) tomato basil sauce
2 cups orzo
3/4 cup chicken broth
3 handfuls (between 1/4 and 1/2 cup) shredded cheddar
2 tbsp parmesan cheese
Instructions
In a non stick pan or cast iron pan, heat up the oil over medium heat.
Add the sausages - they can be cut up, whole or removed from the casing. (I removed them from the casing)
Cook until the sausages are a brown colour and not red and raw.
Add in the onion, garlic, Italian seasoning, basil, sugar and tomato sauce.
Mix thoroughly and cook until the onions are translucent.
Add in the orzo and chicken broth.
Mix thoroughly and bring to a boil.
Turn the heat down until the chicken broth has been cooked off. Stir frequently so the orzo doesn't stick to the bottom of the pan.
Stir in the cheese and salt/pepper.
Turn off heat and enjoy!