Ever just want to make some soup from scratch? Sometimes Campbells is just not enough and you need to make something less salty or sweet – well that's how I was feeling when I made this homemade tomato soup.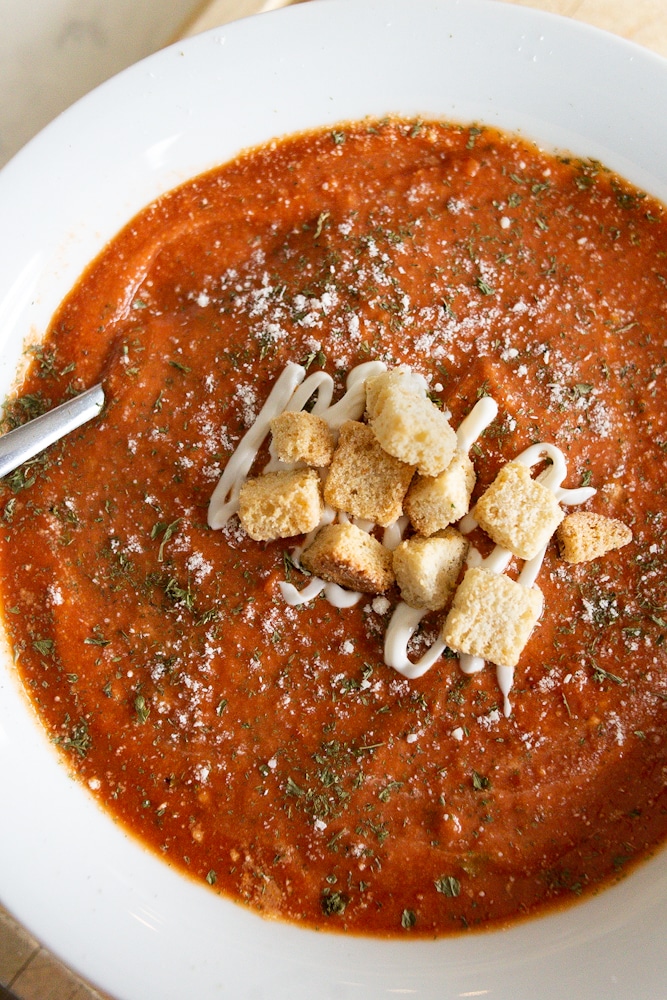 I figured, what could go wrong? It's tomatoes! Add some broth, cream and spices – voila! …
Well I wasn't wrong! It's actually so so easy to make.. but half way threw I knew there was something missing. It needed a bit of oomph.. some salty cheese perhaps.. like parmesan!
The parmesan cheese added a burst of flavour and I knew it was for the best.
One thing I will say about this recipe is that it is PERFECT to make a day ahead of time. If you can. Honestly, giving the soup an extra day to just soak up all the flavours – it really is wonderful.
What you will need to make homemade tomato soup
Crushed tomatoes
Vegetable broth
Onion
Butter
Sugar
Cream
Garlic
Parsley
Basil
Parmesan cheese
Salt & pepper
Croutons for topping
No wild ingredients needed here and you don't even need any flour to thicken it up. The parmesan cheese really helps thicken it without adding any extra carbs or grains.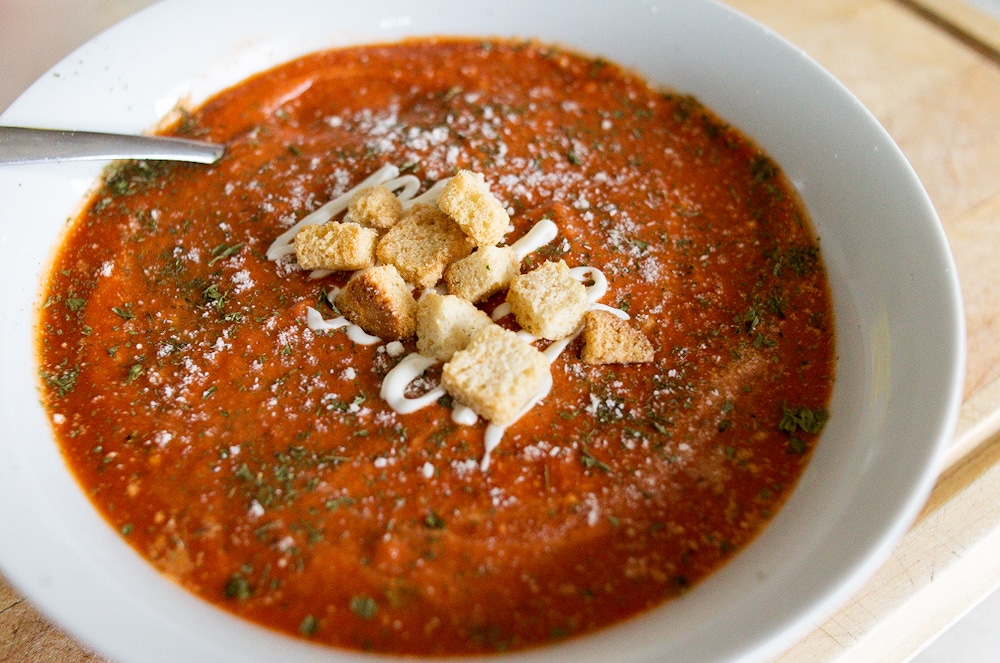 How to make homemade tomato soup
As for making this soup – truly easy. Once the onions are cooked in the butter, garlic, herbs and spices, you just need to add the tomatoes, broth and cream. Stirring until it is nice and hot.
Once hot, blend with an immersion blender until smooth. Add the parmesan cheese, salt and pepper and serve!
So simple.
I made a low carb homemade tomato soup, feel free to check it out here.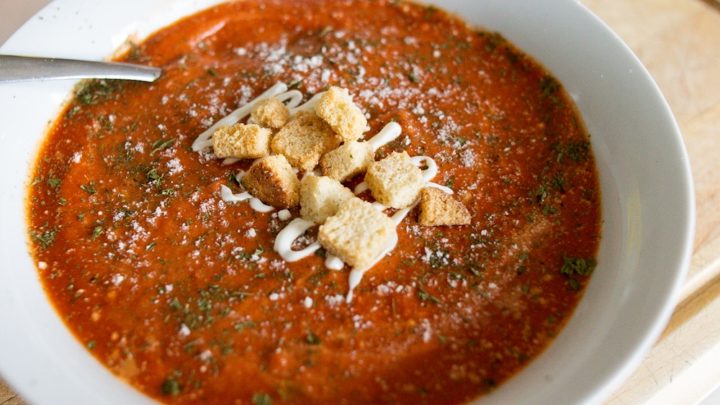 Yield:

10+
Homemade Tomato Soup
Creamy, cheesy and totally delicious. Perfect homemade tomato soup for a winters night.
Ingredients
1 tbsp butter
2-3 tbsp minced garlic
2 tbsp sugar
2 tbsp parsley
1 tbsp basil
1 medium onion
2x 798ML canned crushed tomatoes - no sugar added
3 cups (750ml) vegetable broth
1 cup (250ml) cream (I used 10% fat)
1/2 cup parmesan cheese (or more depending on taste)
salt and pepper
Instructions
In a deep pot over medium heat, saute the onions along with the butter, garlic, sugar, herbs and spices.
Once the onions are translucent and fragarant, pour in the crushed tomatoes, vegetable broth and cream.
Stir frequently as the soup warms up.
When the soup is hot, add in the parmesan cheese tbsp by tbsp. Mix thoroughly before adding in the next batch of cheese.
Once the cheese is melted in, season with some salt and pepper.
Serve now or cool and refridgerate until serving time. \
Top with some croutons and enjoy!