Wow! A totally delicious quinoa salad with avocado! It's bursting with flavour – a little sweet – a little sour. It's such a good salad for any occasion. Plus it's entirely vegan!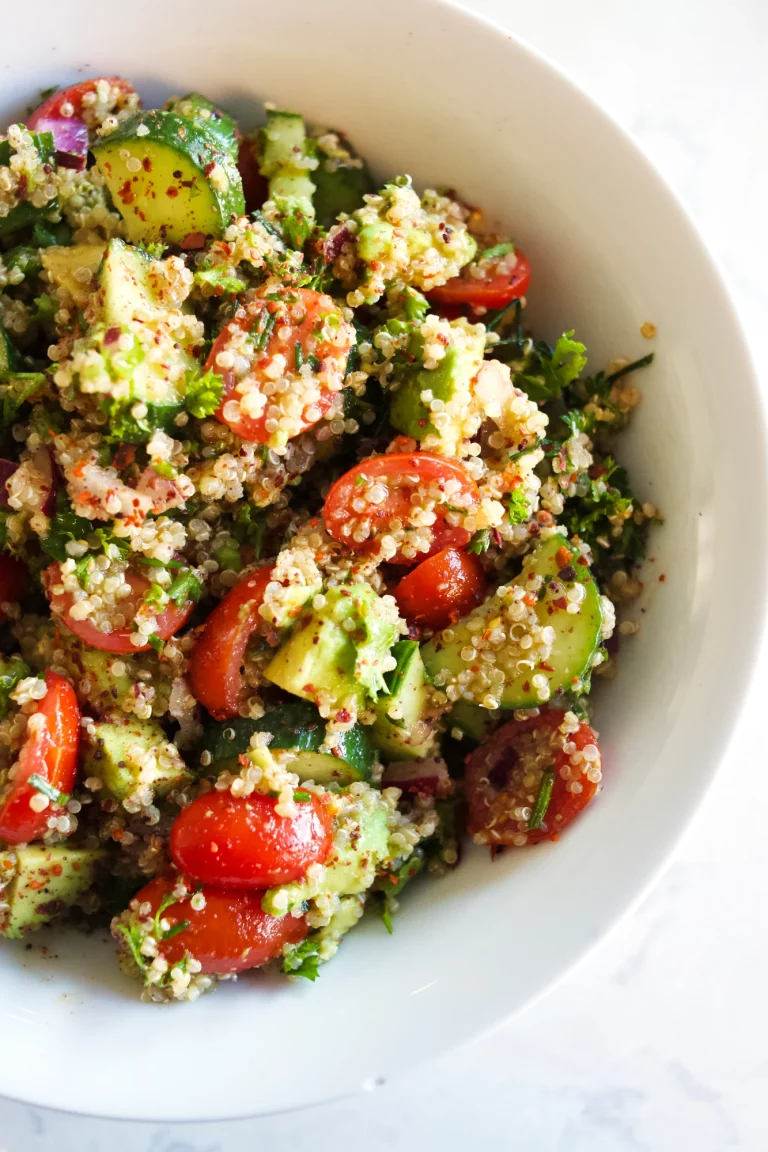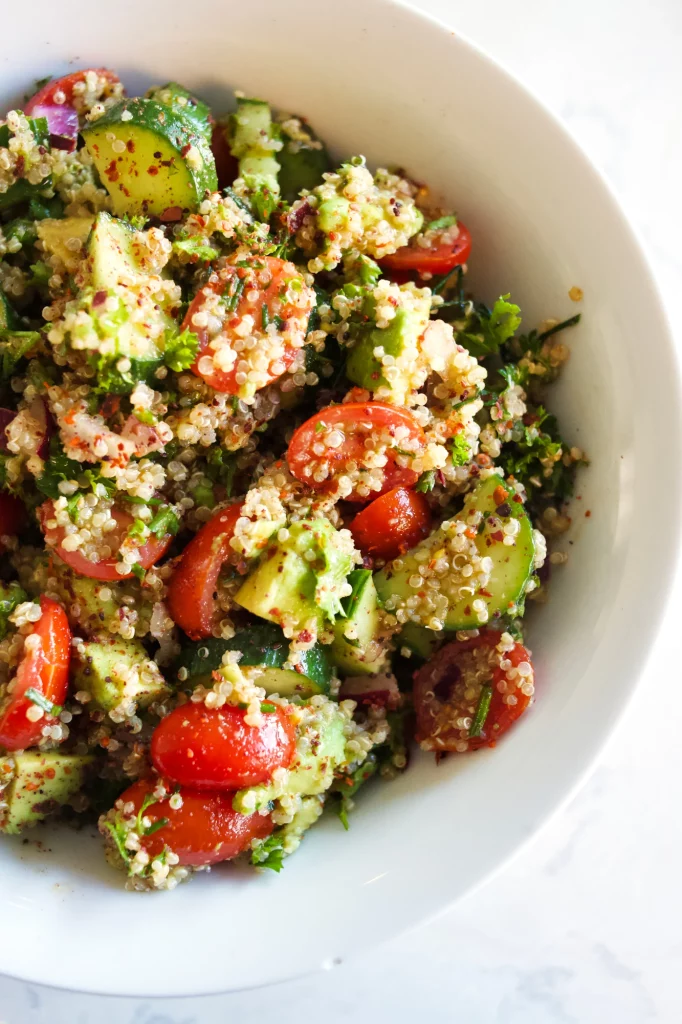 Making this salad is a bit tedious, as you have to cook the quinoa and chop the vegetables.. but it makes so many servings, you'll be able to eat this a few more times throughout the week. I made this on a Saturday and I know I'll still have some left on Tuesday and possibly Wednesday!
What you will need to make this quinoa salad with avocado
Quinoa
Chicken broth
Water
Red Onion
Cucumber
Cherry tomatoes
Avocado
Chives
Parsley
Olive Oil
Balsamic Vinegar
Red pepper flakes
Sumac (optional)
Maple syrup
Lime juice
Salt
The first thing we need to make is the quinoa. Now a lot of people have a different water-quinoa ratio.. but I like to use 1 cup water to 1 cup chicken broth to 3/4 cup water. (So 1 3/4 cup of liquid in total). The broth adds a little extra flavour and some saltiness to the quinoa that really helps later on in the salad.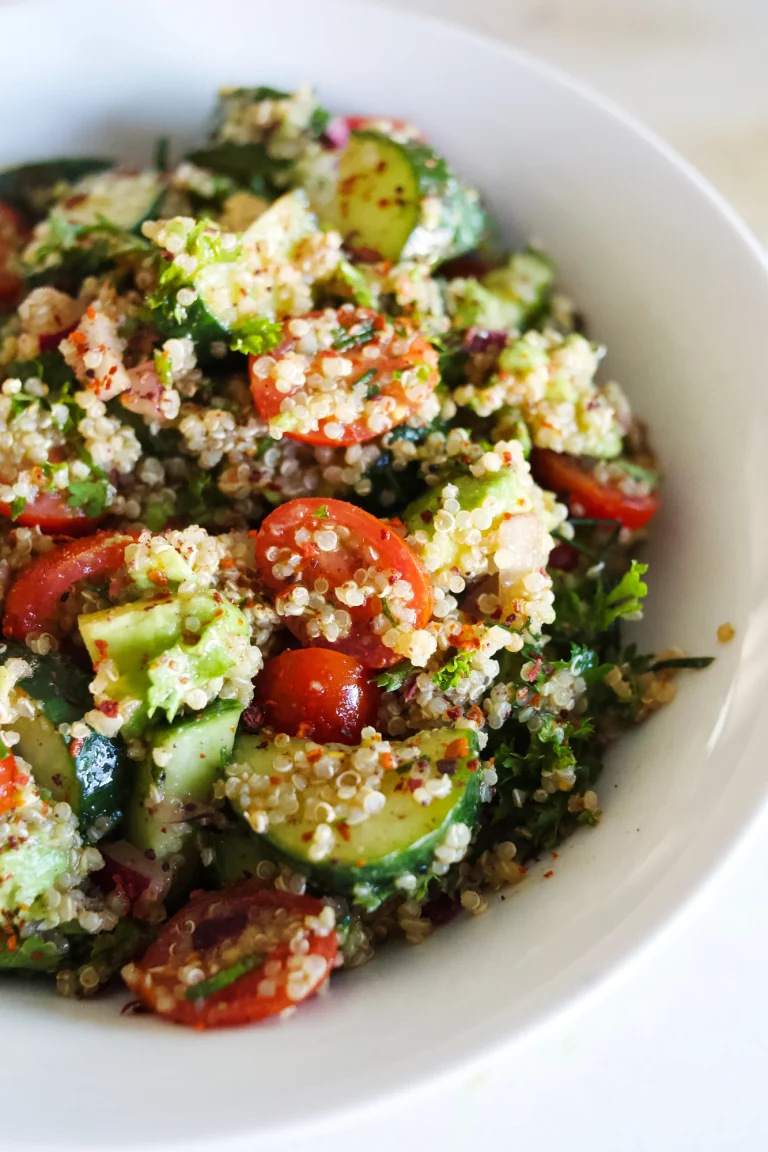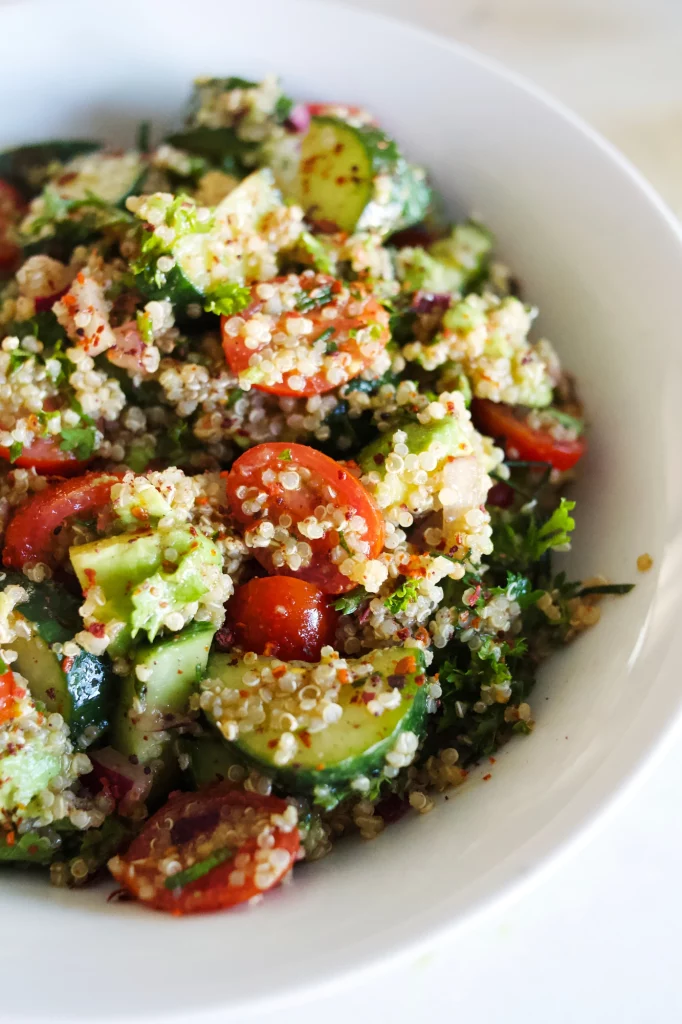 Place the water, broth and quinoa in a pot and bring that to a boil. That is when you want to cover it and turn it down to low for 15 minutes. This will make PERFECT quinoa that is fluffy and delicious. I like to make this salad during the morning or afternoon – this will allow it to sit in the fridge to cool down for dinner time.
While the quinoa is cooking, I chop up the rest of the vegetables and make the dressing. It may seem like a lot of dressing but honestly that what makes it good. It's not overpowering at all but each bite has an amazing taste.
Now when I made this recipe, I used measured everything by sight (except the quinoa) so these measurements below are approximate. Give it a taste to see if you think it needs a bit more salt or balsamic vinegar.
Hopefully you really like this quinoa salad with avocado. I know I truly did!!
If you want to try some low carb food ideas – check out my other website The Hungry Elephant
Quinoa Salad with Avocado
Refreshing quinoa salad with avocado. Really easy to make and full of flavour!
Ingredients
Quinoa
1 cup quinoa
1 cup chicken broth
3/4 cup water
Salad
Cooked quinoa
2 English cucumbers - chopped
2 pints (approx 300g each) grape tomatoes - halved
1/2 red onion - diced
1/2 bunch parsley - chopped
1 bunch chives - chopped
2 avocados - cubed
1/4 cup lime juice
Dressing
1/2 cup olive oil
1/4 cup lime juice
1/4 cup balsamic vinegar
2 tbsp maple syrup
1/2 tsp sumac (optional)
1/2 tsp aleppo pepper (or red pepper flakes)
1/2 tsp salt
Instructions
Add the quinoa, chicken broth and water to a pot.
Bring to a boil.
Once it is boiling, cover and turn the heat down to low for 15 minutes.
Take off heat and let cool.
Chop the herbs and vegetables. Once you chop the avocado, place it in a small bowl and add the lime juice. This will stop the avocado from browning too quickly.
Place the cucumbers, tomatoes, red onion, parsley, chives and avocados into a salad bowl.
In another small bowl, mix the olive oil, lime juice, balsamic vinegar, sumac, red pepper flakes, salt and maple syrup.
Pour onto the salad and toss to coat the vegetables evenly.
Refrigerate until needed.
Enjoy!