Ever see a recipe that pops up on your TikTok 'for you page' that looks really good and you just have to give it a try? That was me with this French onion pasta. It looked incredibly easy and sooo yummy.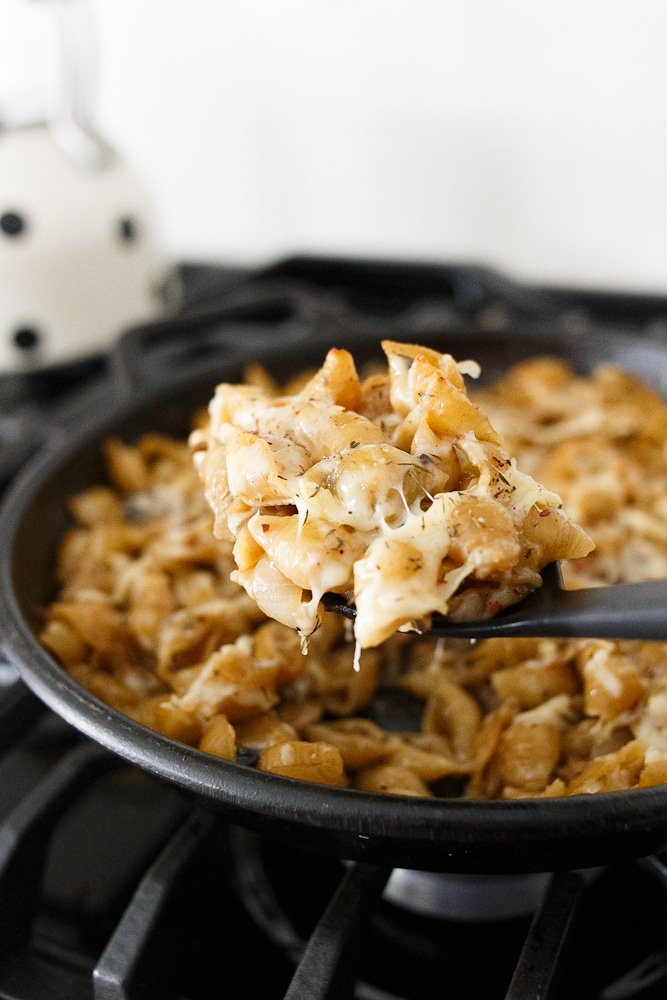 While it was an easy recipe, it was kind of tedious, so if you don't have a lot of time then it is probably not the recipe for you.. but if you want to spend around an hour making this delicious dish – it's worth it!
The majority of the time I spent caramelizing the onions. It's a slower process and takes about 30-40 minutes to get them a nice brown colour. You can quicken the process(slightly) by adding the sugar onto the onions.
What you will need to make French Onion Pasta
Medium sized shell noodles
Butter
Flour
Sugar
Vidalia onions
Thyme
Garlic
Cooking wine
Chicken, beef or vegetable broth
Cremini mushrooms
Water
Cheese to top
Salt and Pepper
When you are making the caramelized onions – it's important to make sure that you stir it frequently.. otherwise the onions will burn to the bottom of the pan. If you get a little burning – that's not a big deal as the cooking wine will take off any of the burnt bits on the pan.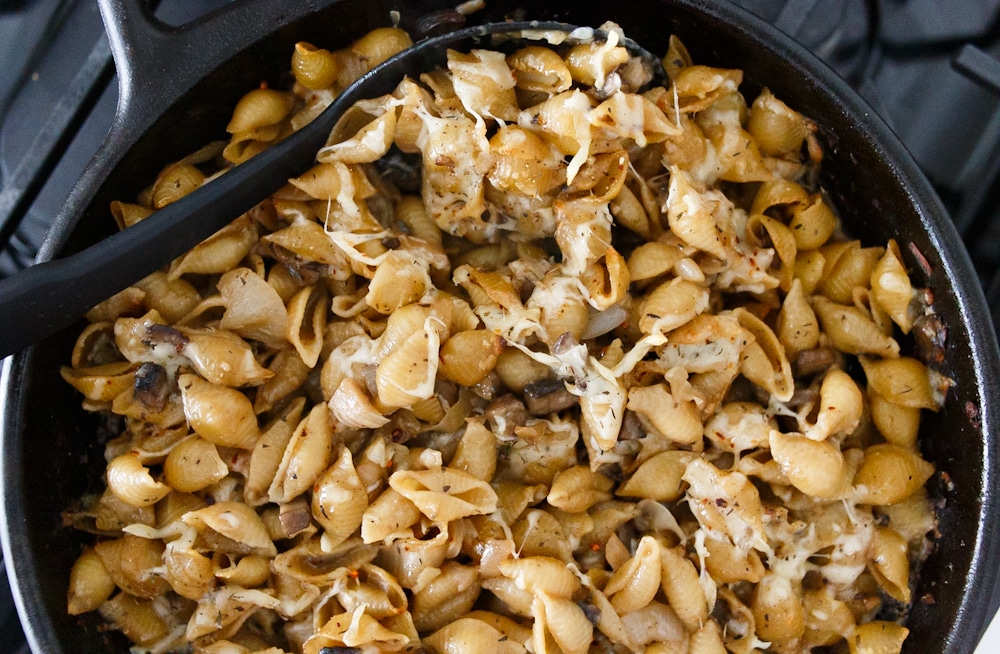 Other than waiting for the onions to caramelize, the rest of the recipe is fairly simple. You just have to add the rest of the ingredients to the pan (make sure you add the flour BEFORE any of the broth and water) and cook until you have a nice thick creamy sauce coating the shells.
If you want a delicious recipe for French Onion Soup – make sure to check out my other website The Hungry Elephant.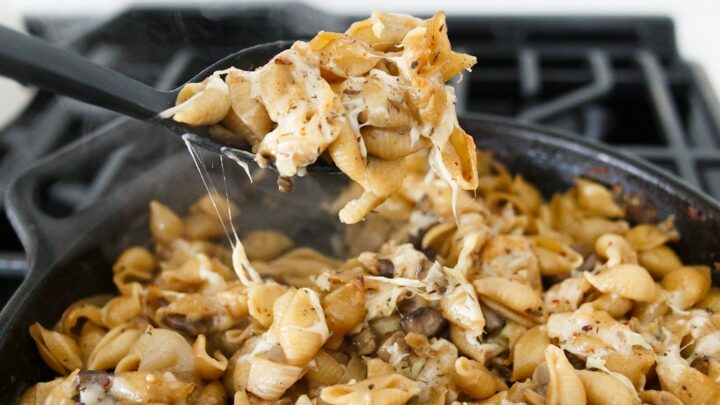 Yield:

6-8
French Onion Pasta
Full of flavour, like French onion soup but with noodles! This French Onion Pasta is perfect for a quiet night in or a date night!
Ingredients
1 tbsp butter
2 Vidalia Onions - loosely chopped
1 tsp sugar
1/4 cup (60ml) cooking wine
1 tsp thyme
1 tbsp minced garlic
1 package - cremini mushrooms (approx 230-300g)
2 tbsp flour
2 cups (500ml) chicken, beef or vegetable broth
1.5 cups (354ml) water
4 cups medium sized shell noodles
salt/pepper
Cheese to top
Instructions
In a pan over medium low heat, melt the butter and add in the sliced onions.
Sprinkle the sugar and stir into the onions.
Cook on medium-low for 30-40 minutes until a caramel colour. Stir frequently so the onions do not burn.
Once the onions are a brown colour, pour in the cooking wine and stir in the thyme, garlic and mushrooms.
Cook until the mushrooms are soft
Scoop in the flour and mix thoroughly before adding the broth and water.
Raise the heat to medium and bring to a boil.
Pour in the shells and stir so that most of the liquid covers the noodles.
Turn down to medium low again and boil off the water until it becomes thick and can easily cover the noodles in a sauce.
Take off heat and top with cheese!
You can either enjoy it as it is - OR bake in an oven safe dish for 20 minutes at 450*F.