Who doesn't love macaroni and cheese? Whether it's made from scratch or boxed Kraft Dinner, it's a staple not only in my house, but in so many others. Today I am revealing how I make my favourite homemade mac and cheese and why it's the BEST.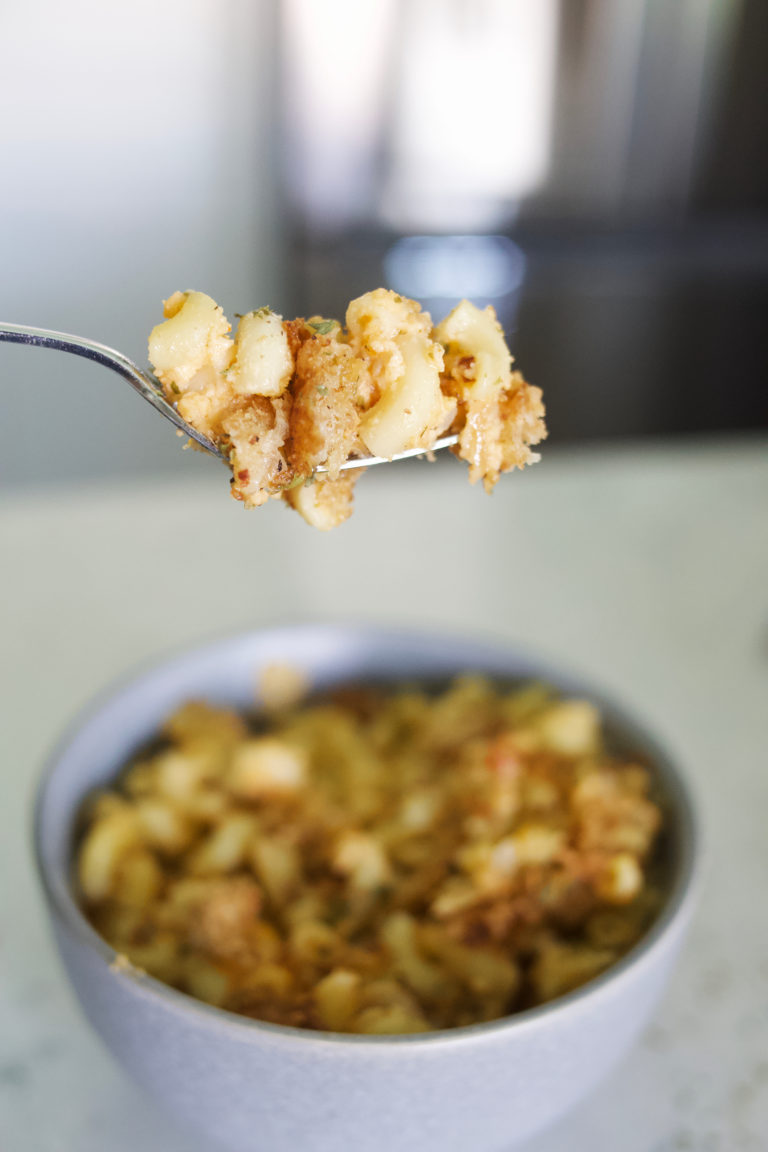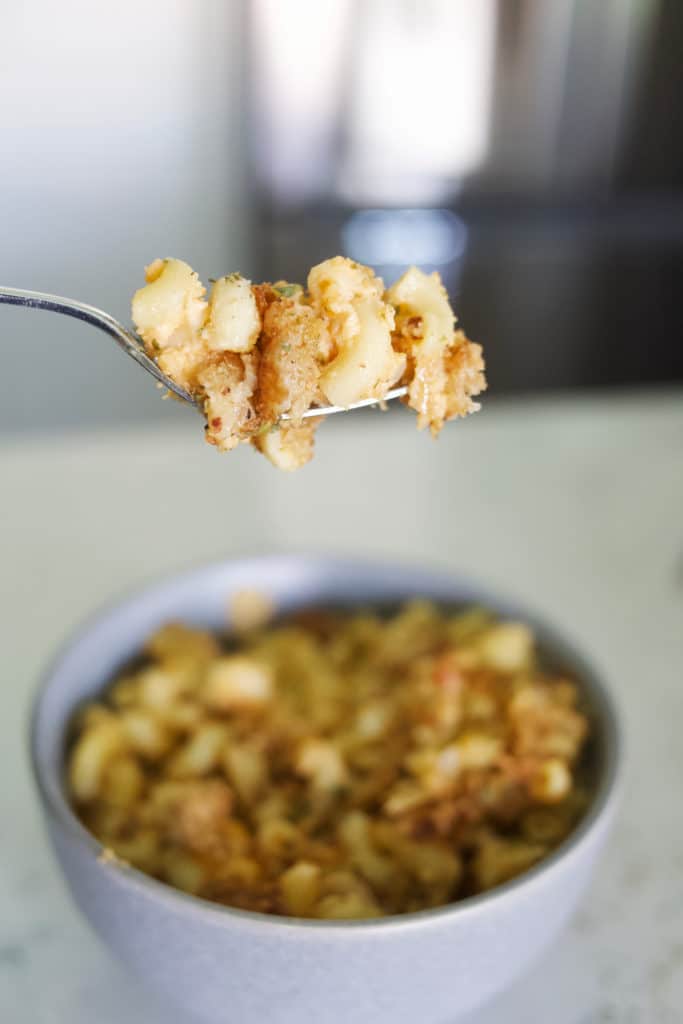 How I make homemade mac and cheese
The preparation is simple – cook and drain your noodles while you heat up some butter over the stovetop. I like to add some onions into my macaroni and cheese so I saute them up before making the sauce.
One big question will probably be on everyones mind – what kind of cheese do I use? I always use a sharp cheddar as my base cheese.. it's easy to melt and it adds a ton of flavour… but I almost always use a second cheese. Most of the time it's parmesan, but Gruyere is a game changer if you can find it. It's very sharp and so so yummy.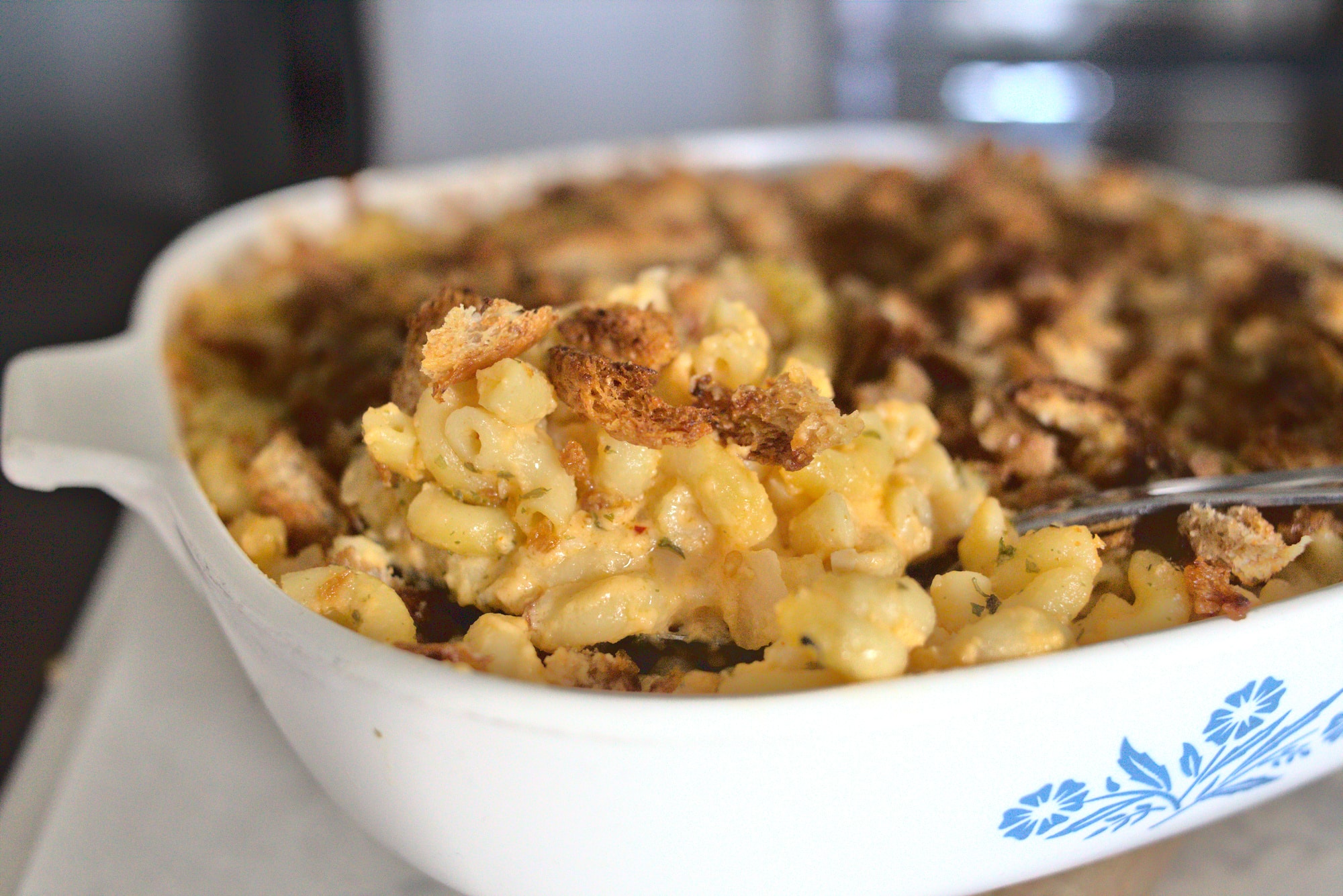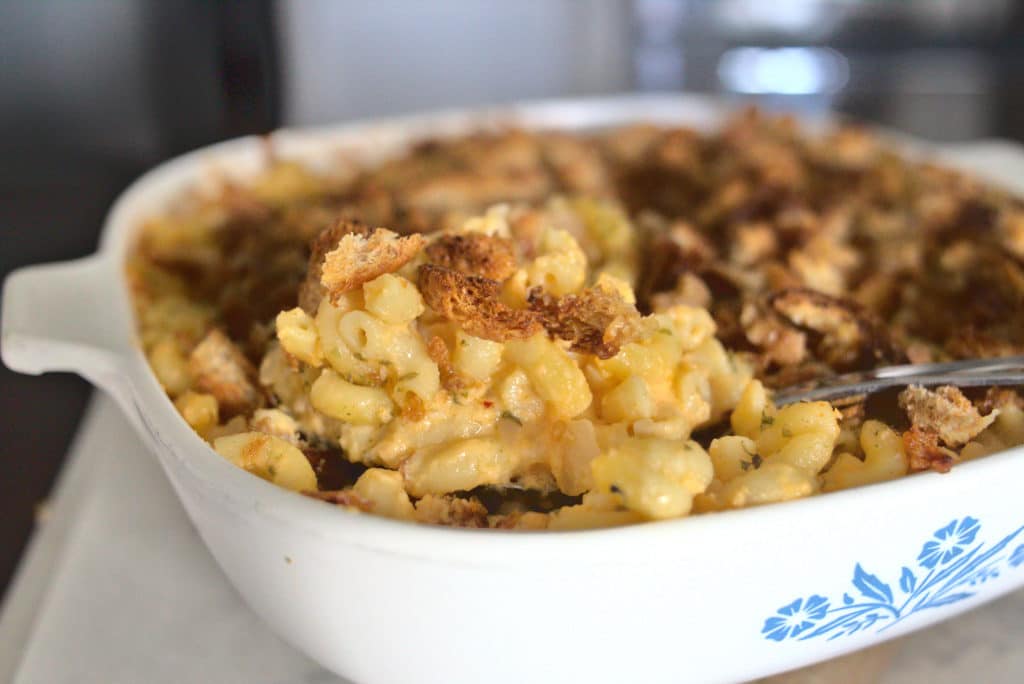 One simple trick will take your mac and cheese from basic to enhanced
YES!! Sour cream. I use it for several reasons – the first is that there is a high enough fat content in the cream that melting the cheese is so easy. Sometimes if there's not enough fat, the cheese turns into a globby mess. It needs fat to melt properly into a sauce.
Secondly, using sour cream means it's thick enough that you won't have to use flour as a thickener. It's perfect for those who have a gluten intolerance or celiac disease, or those who are just watching their carb intake (cauliflower anyone!?). No flour!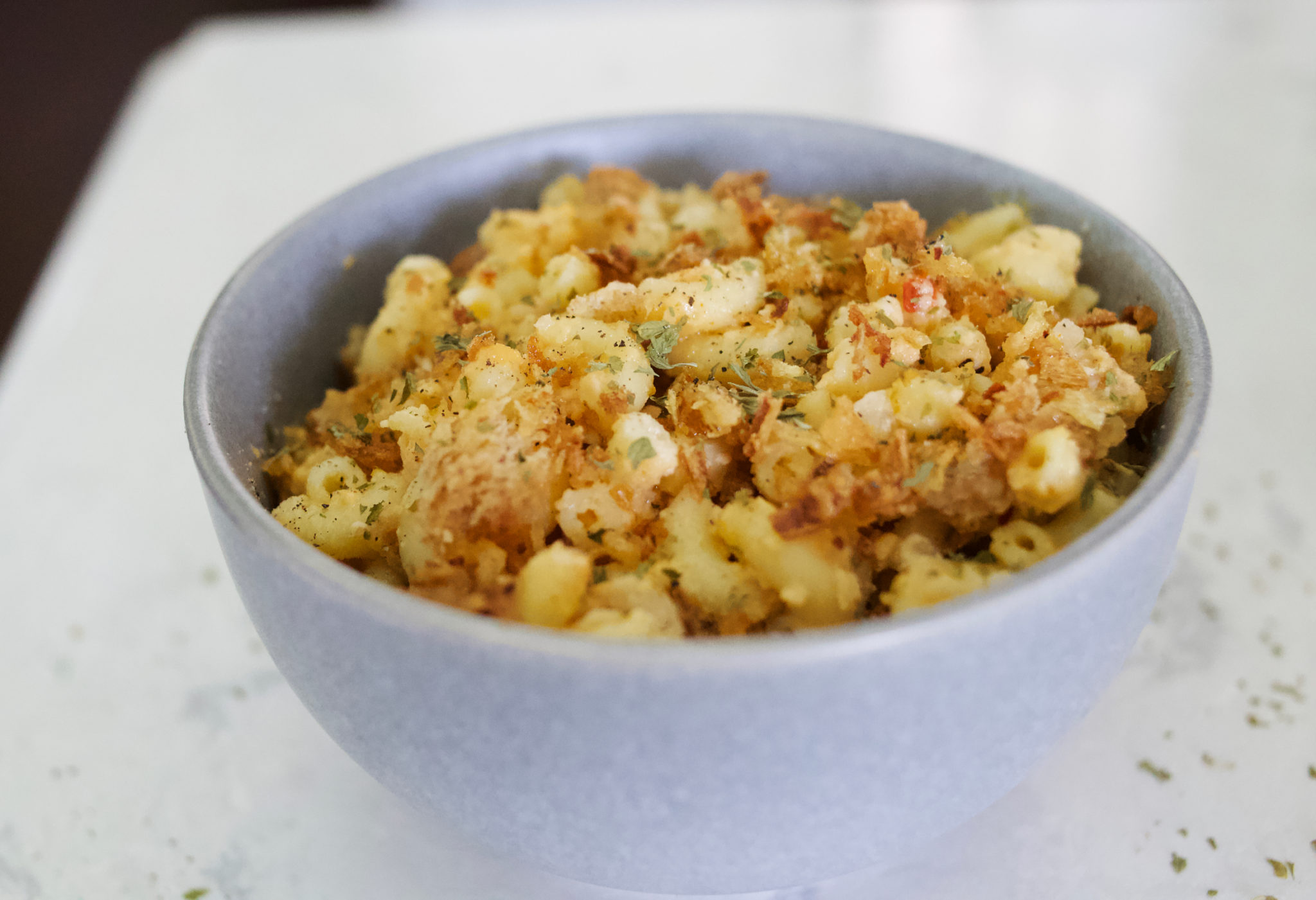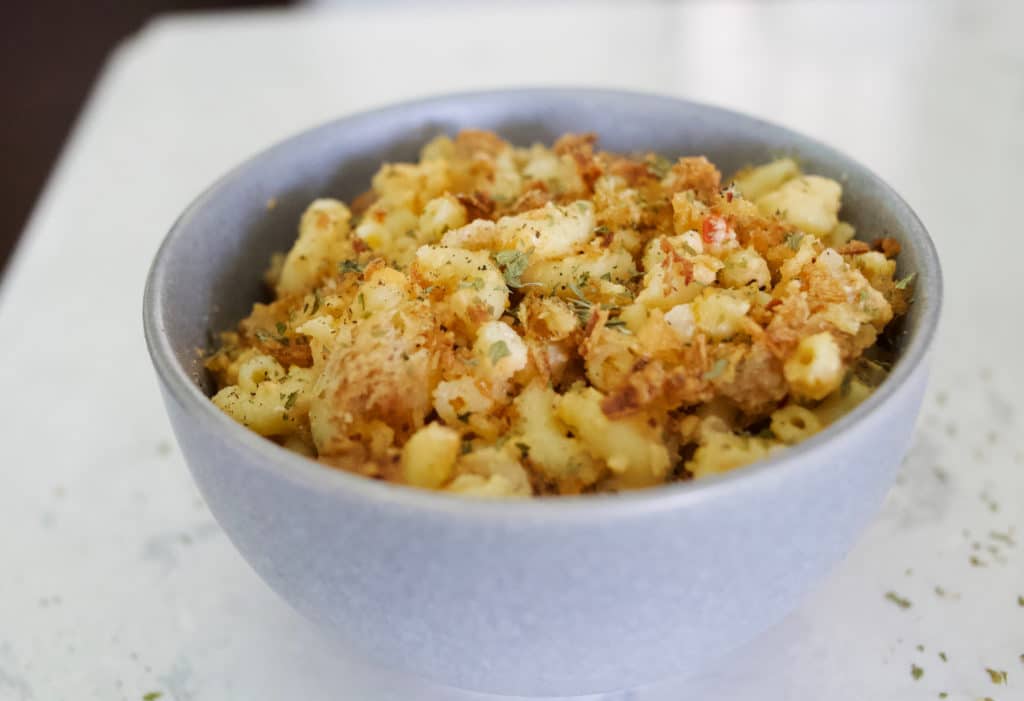 Thirdly and lastly, fat adds flavour. I know not everyone is going to enjoy the fat content.. Truthfully, I don't either which is why I make this dish rarely. It's more of a special occasion/picnic/BBQ type dish – you know!?
How to make the sauce
Once you have sauted the onions and added the seasonings – it's all a matter of heating the rest of the ingredients and melting the cheese. You just have to add the sour cream and milk, heating until it's nice hot.
Then fold in the cheese little-by-little until it has melted into the sour cream.
At this point, you can either pour it ontop of the cooked noodles and eat – or – how I like to do it – mix it in with the cooked noodles and top with some bread crumbs before throwing it in the oven to crisp up.
Honestly, this homemade mac and cheese is so so easy to make and truly full of flavour.
If you're looking for a low carb version – check out my spaghetti squash macaroni and cheese on my other website The Hungry Elephant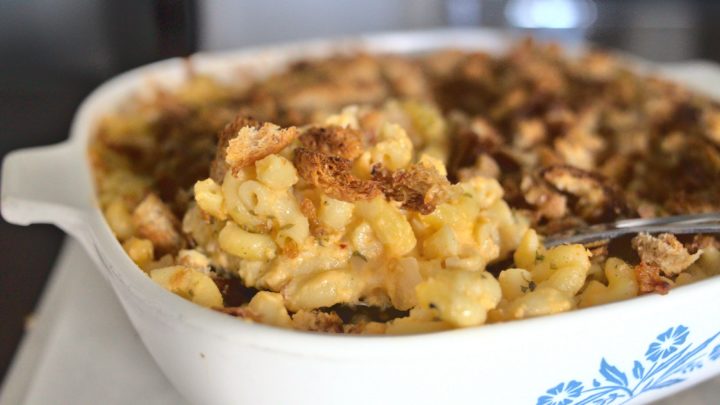 The Best Homemade Mac and Cheese Recipe
The best homemade macaroni and cheese! One simple ingredient will enhance your dinner and make it thick enough you don't need flour for the sauce!
Ingredients
2 tbsp butter
1/2 onion - chopped
1 tbsp garlic
1/2 tsp paprika
salt/pepper to taste
1 tsp red pepper flakes
1 cup sour cream
1/4 cup milk
2 cups shredded cheddar cheese
1/4 cup parmesan
2 slices - toast (or breadcrumbs)
2 cups dry macaroni
Instructions
Cook your macaroni noodles per the instructions on the package.
While your macaroni cooks, heat up 1 tbsp butter over medium heat.
Add in the onion, salt, pepper, garlic, red pepper flakes.
Once the onion is translucent, spoon in the sour cream and pour in the milk.
Cook on medium heat until it begin to bubble then turn to low heat.
After about 5 minutes, take your cheese and add a small handful to the sour cream/onion mixture.
Stir until the cheese melts into the sour cream.
Continue to stir in the cheese little by little - then move onto the parmesan. It is important to do little by little.
Drain the macaroni noodles and pour into a casserole dish.
Pour the sauce onto the noodles and mix thoroughly.
Top the macaroni with bread crumbs or you can toast some chopped bread in the 1 tbsp butter and place on top of the macaroni.
Bake at 400°F for 20-25 minutes.
Serve and enjoy!