Still perusing through some Armenian recipes and so many of them take quite a while to make. So while I wait for days where I have enough time, today I thought I'd make a simple vegetable salad: Lebanese sumac salad.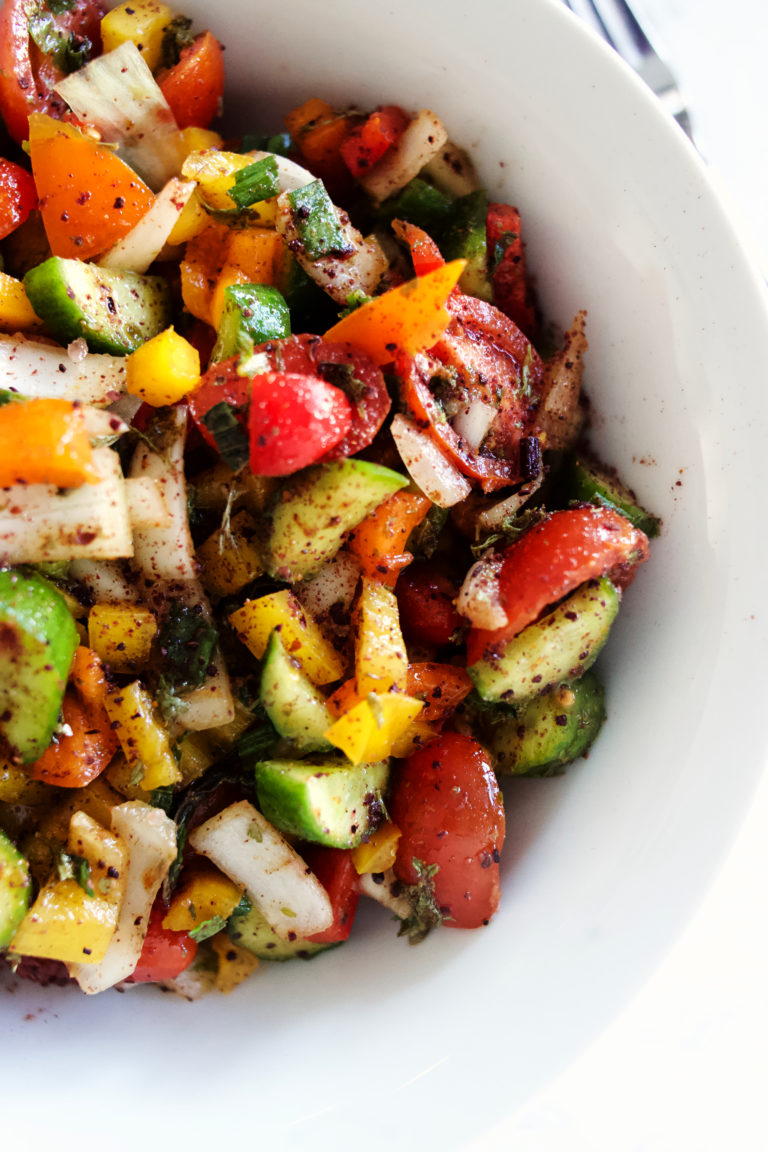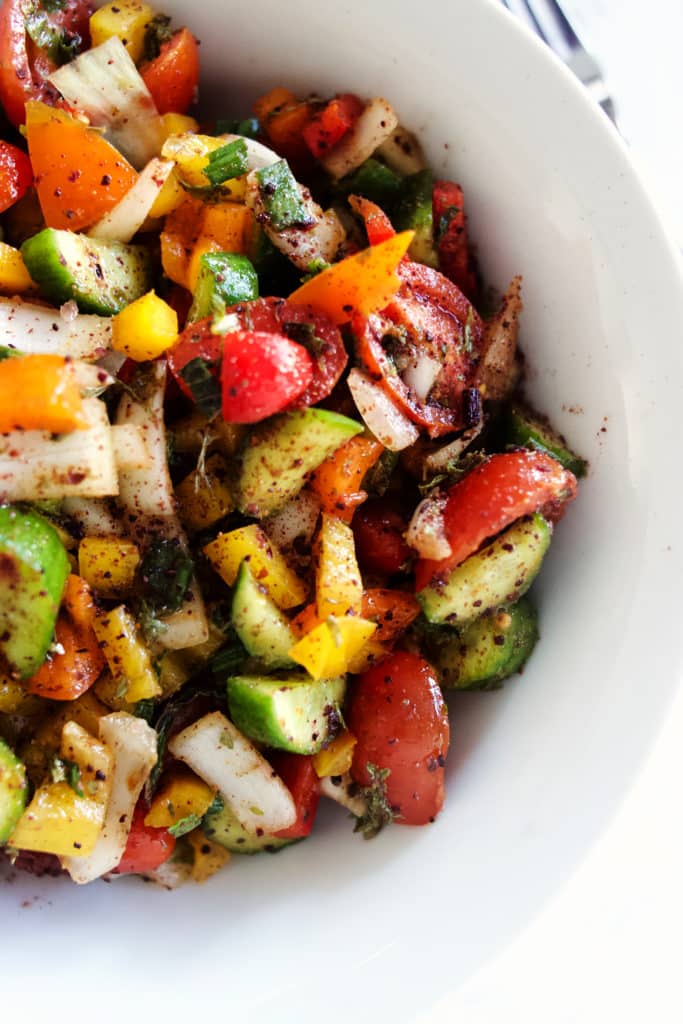 Like the title says, this side dish is seasoned with sumac. If you haven't had sumac before, it has a bit of a sweet taste as it is made from the sumac berry. Don't worry – it's not overly sweet but it adds a little extra flavour and the colour is divine!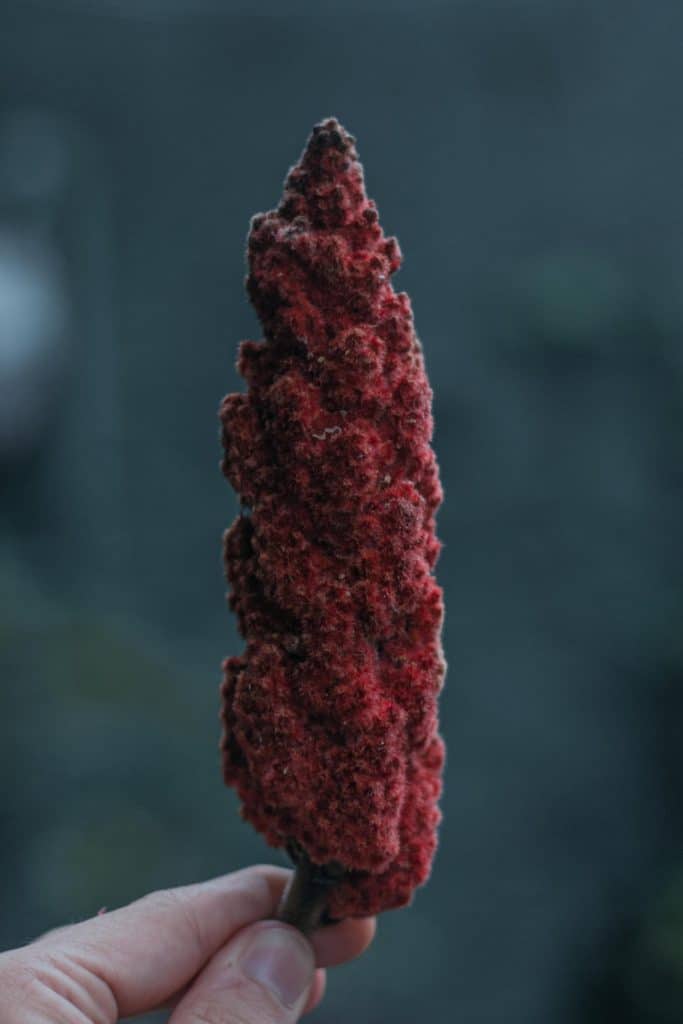 Prepping your vegetables
Before you begin putting this salad together, I do recommend dicing & chopping up the cucumbers and tomatoes and leaving them rid of any excess moisture. A way to do this is to sprinkle some salt on the vegetables. This will draw out any excess moisture. I usually put them in a colander in the sink.
That first step is not super necessary, in fact if you want to omit it entirely – you can! However once you put the salad together, you may find that some excess water remains in the bottom of the salad bowl. That's totally fine – but it's something that annoys me to no end! haha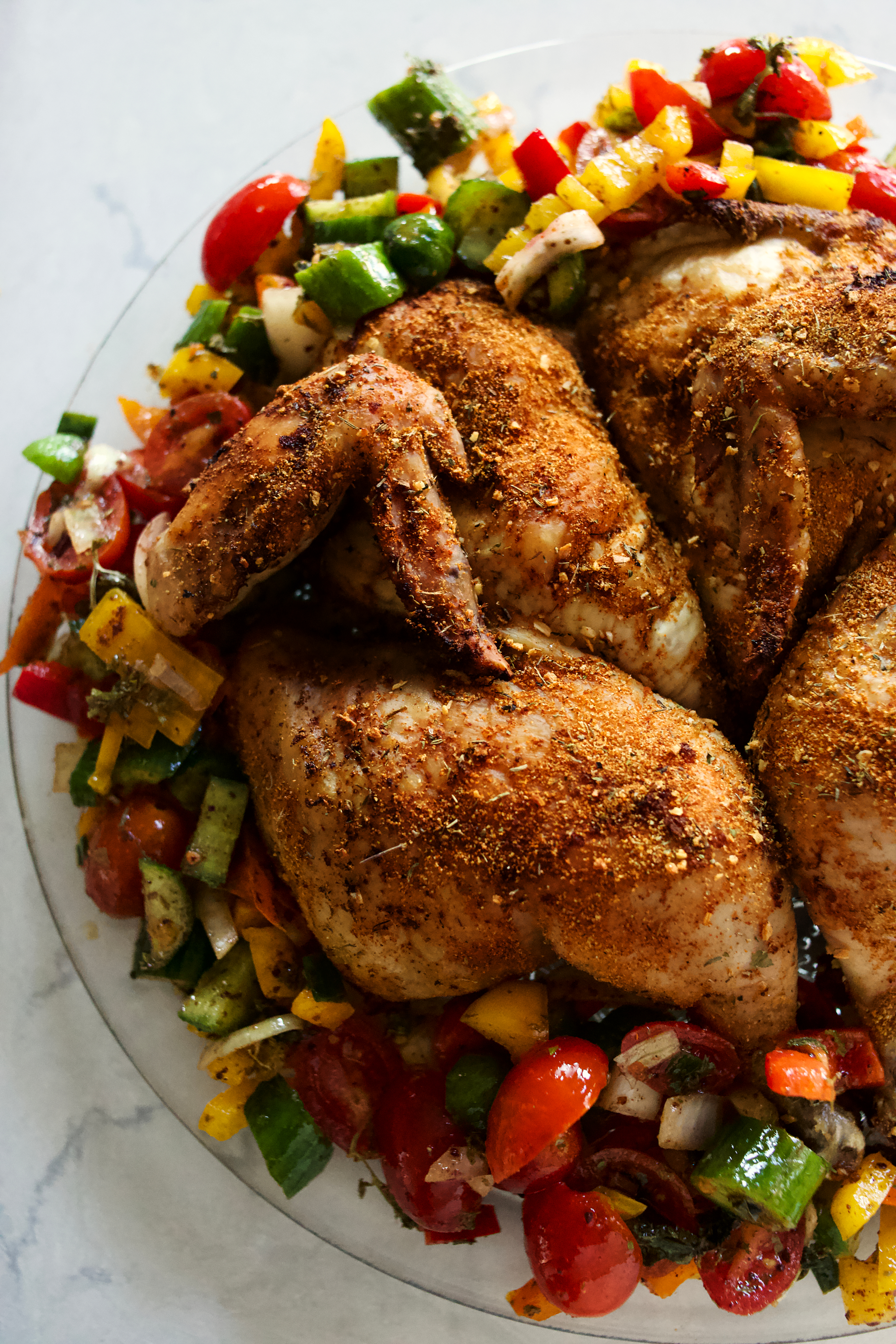 What you will need to make Lebanese Sumac Salad:
Cucumbers
Cherry Tomatoes
Onion (red preferably)
Red & Orange peppers
Green onion
Mint
Parsley
Olive oil
Lemon juice
Sumac
Chilli powder
Salt & pepper
When making this salad, I like to soak the onions in half the dressing before I add it to the rest of the vegetables. I do this so that the lemon juice might calm any strong onion taste. However using a red onion might be helpful in this situation. I used white onion for this recipe.
In one of the pictures above, I paired it with a delicious roast chicken – you can find that recipe here.
Super simple sumac salad. A hearty vegetable filled side dish perfect for any occasion.
Ingredients
4 medium peppers - orange, red and yellow
2 packages of cherry tomatoes (1 pack=300g)
6 mini cucumbers
1 medium red onion
1/4 cup chopped mint
1/4 cup chopped green onions
1/2 cup olive oil
1 tbsp sumac
1/2 tbsp chilli powder
4 tbsp lemon juice
salt/pepper
Instructions
Chop the cucumbers and tomatoes and place them into a colander in the sink.
Sprinkle them with salt and let it sit for about 10-15 minutes while you chop the rest of the vegetables.
Cut the onion, place it into a small bowl. Add half the following ingredients: olive oil, lemon juice, sumac and chilli powder. Let it sit.
Place the cucumbers, tomatoes, peppers, mint and parsley into a large salad bowl.
Add in the onion/sumac mixture.
Finally mix together the remaining olive oil, lemon juice, sumac, chilli powder, salt and pepper.
Add it into the salad bowl and toss!
Enjoy!