If you've ever had cuisine from West Asia or the Middle East, you may have come across manakish (or manakeesh as it's also spelt in English). It's basically a flat bread type pizza that is topped with spices, beef, lamb or even cheese. You may have seen my lamb manakish (called lahmajoun in Armenia – recipe here) but today I am making za'atar manakish.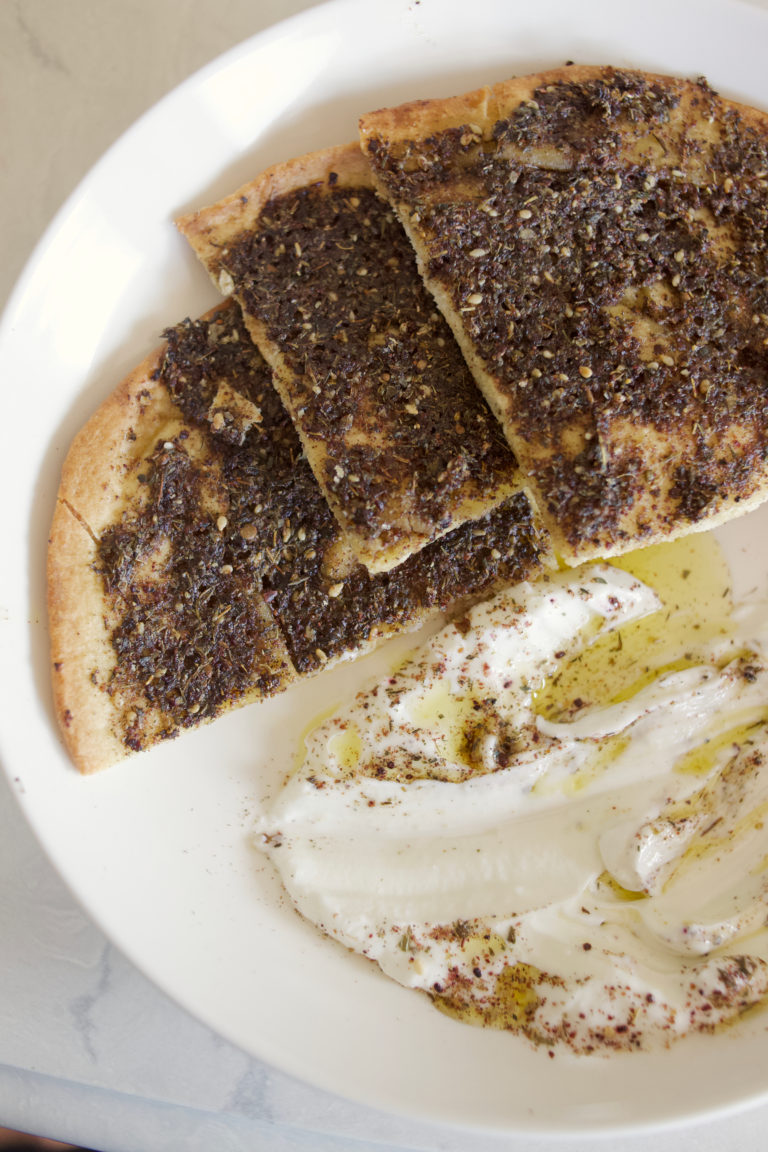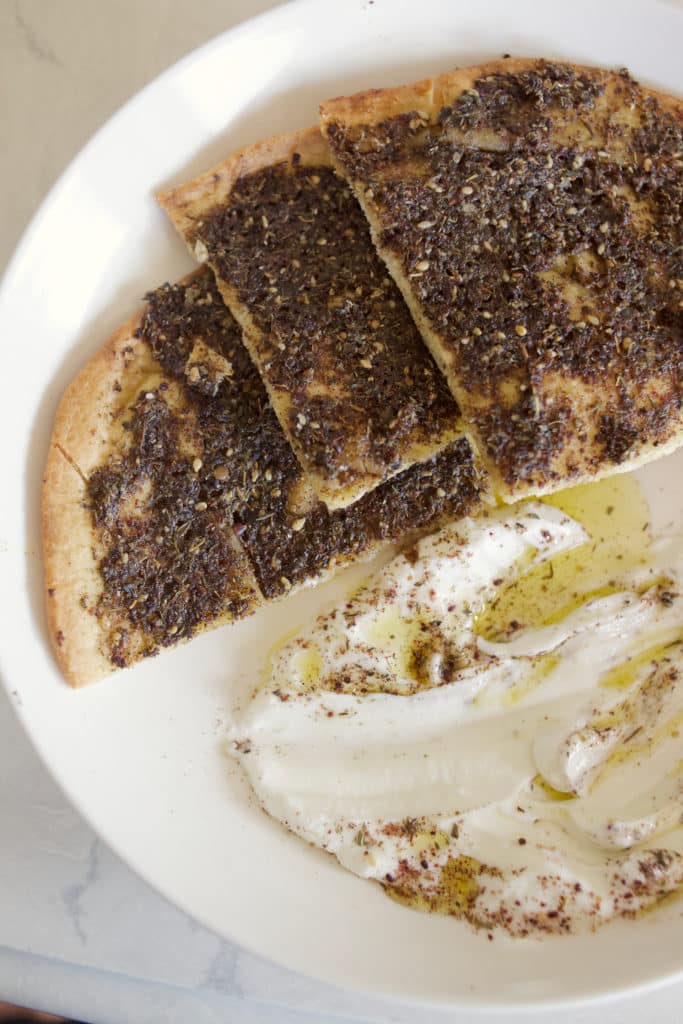 This is very much a 'lazy recipe'. I used pre-made Lebanese bread instead of making my own. You can make your own however it is time consuming, which is why I prefer to use store bought. Some people use tortilla's which also works really well (especially when you're making dozens!).
Now for people who don't know – za'atar is actually a plant and that is what is used in za'atar spice mix. However it's mostly grown in Syria and the Levant so it's very hard to come by outside of the Middle East – which is why this spice mix is actually other common spices that can be found in Europe, North/South America and other parts of Asia.
What you will need to make Za'atar Manakish
Sumac – this bright red powder is actually dried berries that are found in the Mediterranean. It tastes tart and slightly sweet. Sumac also provides antioxidants that has anti-inflammatory properties. It can be found in 'foods of the world' type grocery stores and Middle Eastern stores. Sometimes you may be able to get it in a regular grocery store.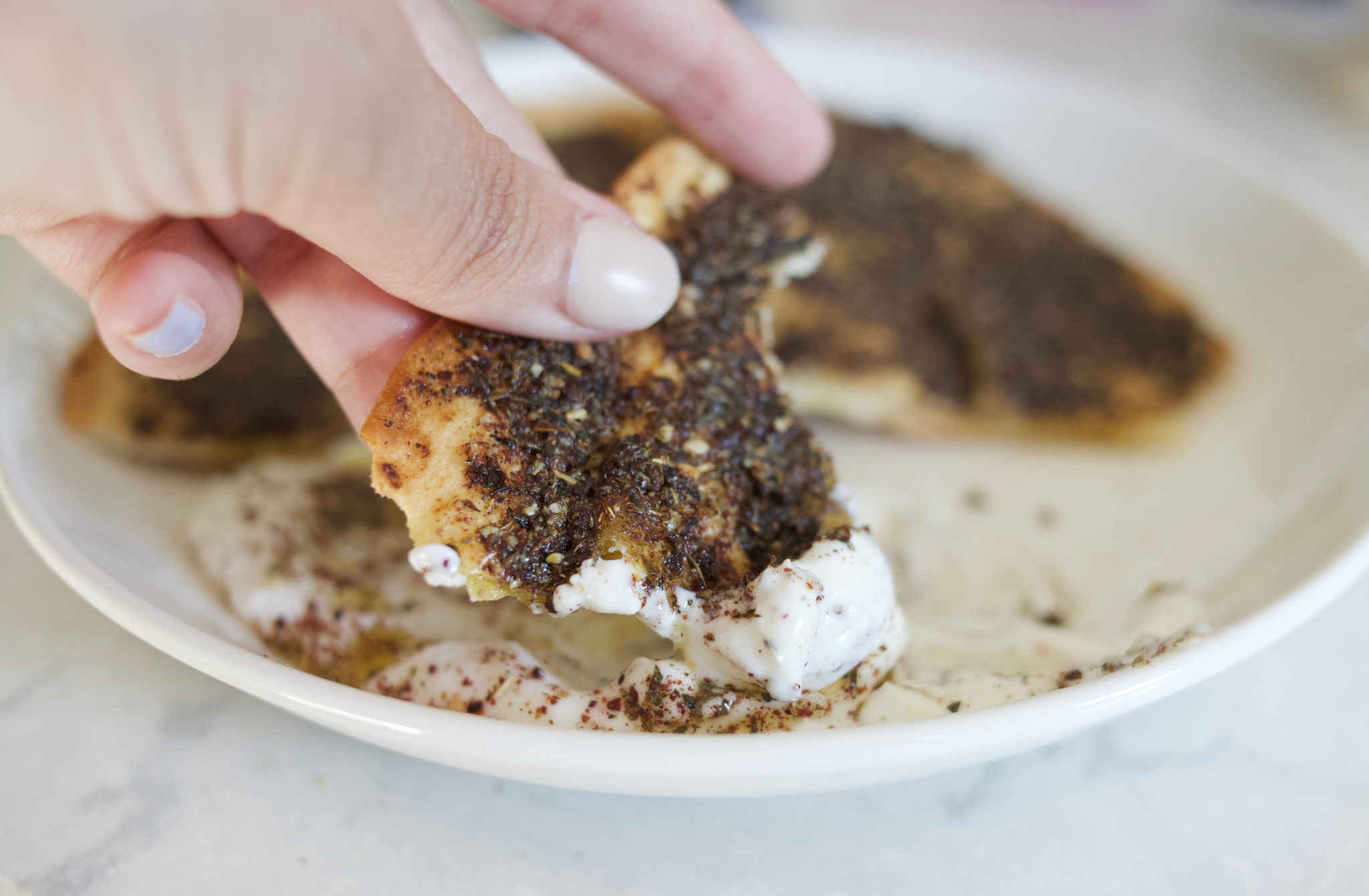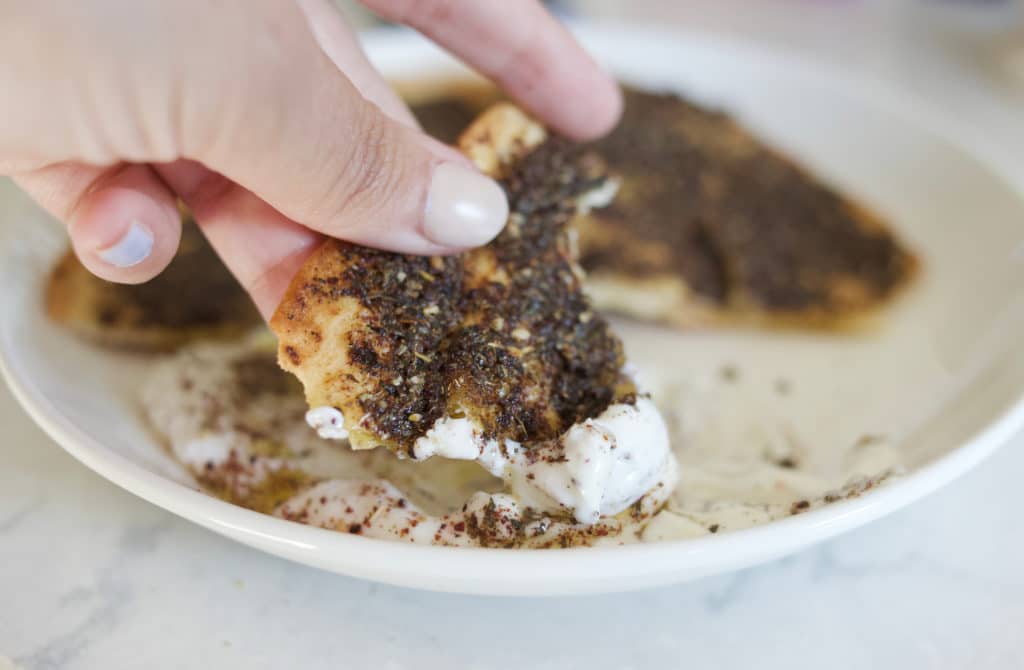 Thyme – This versatile herb can be found around the world. It's easy to grow both outdoors and indoors and has been used since ancient times! It can be found in the herbs and spices section of a grocery store.
Marjoram – Who knew that marjoram was part of the mint family? I sure didn't! You can use marjoram both in food and as a medicine – often used for coughs and runny noses. You can find it in the herbs and spices section of a grocery store.
Oregano – Native to the Mediterranean and West Asia, oregano is also part of the mint family! It has been used since way back in Ancient Greece. Also easily available in the herbs and spices section of a grocery store.
Salt – I think we all know a lot about salt and it should be in your kitchen!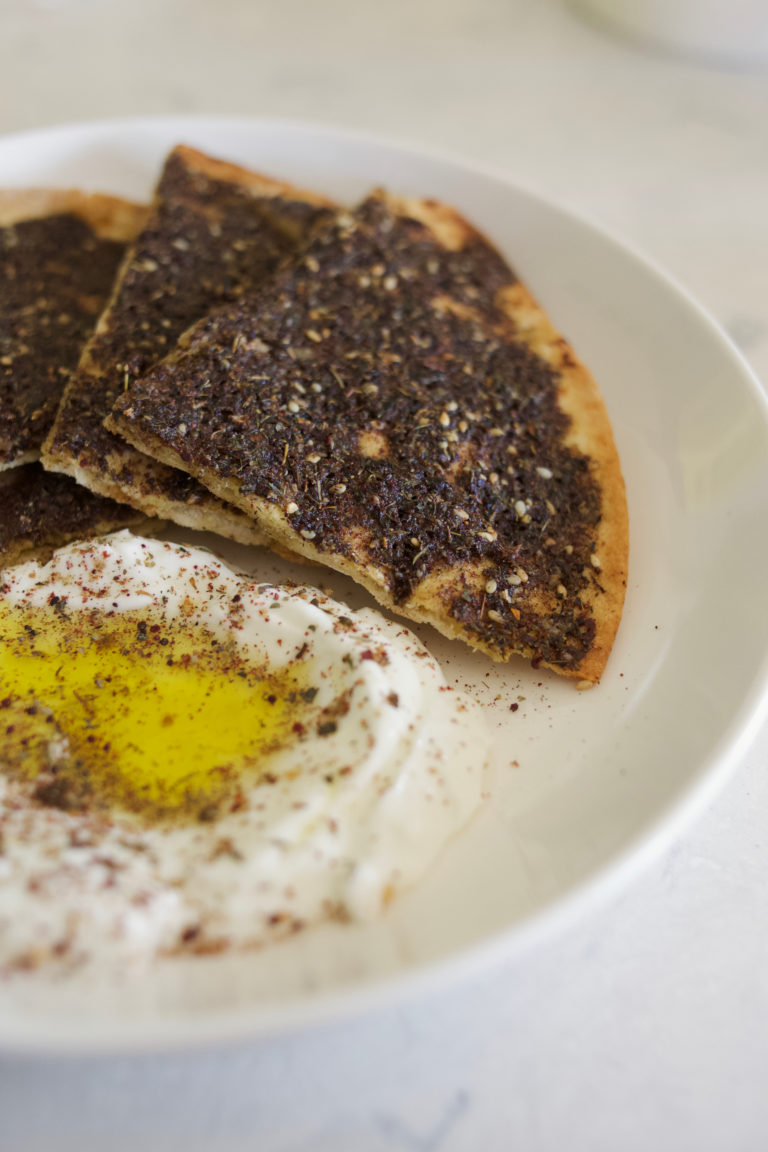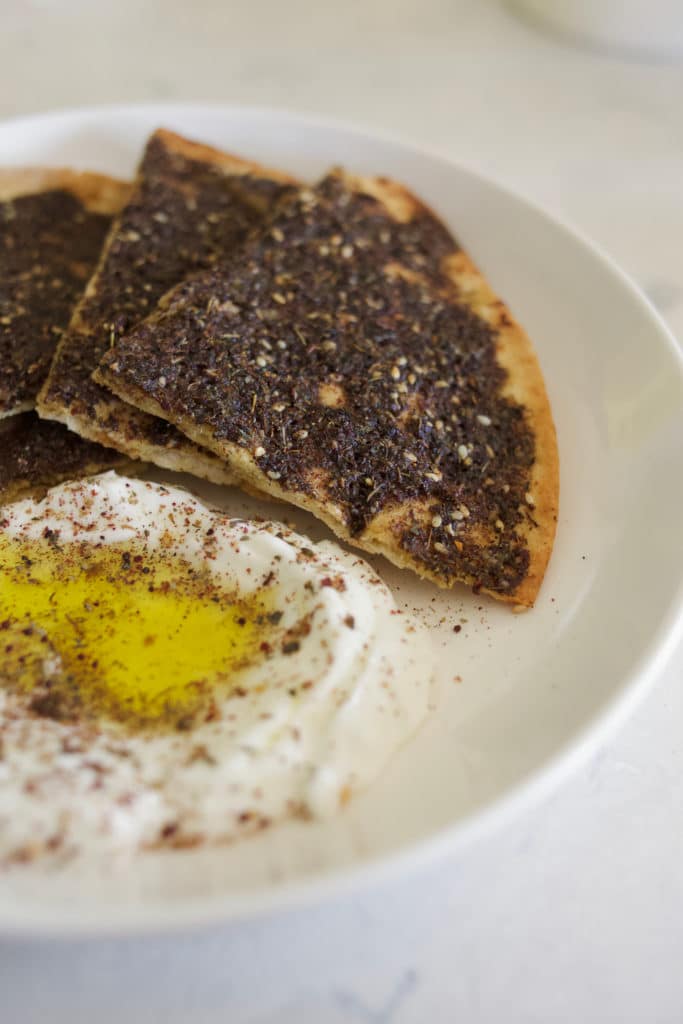 I hope you all enjoy this delicious zatar manakeesh | za'atar manakish. If you want to try a beef or lamb flavoured one – take a look at my delicious lahmajoun recipe. If you would like to check out my low carb version of lahmajoun – click here.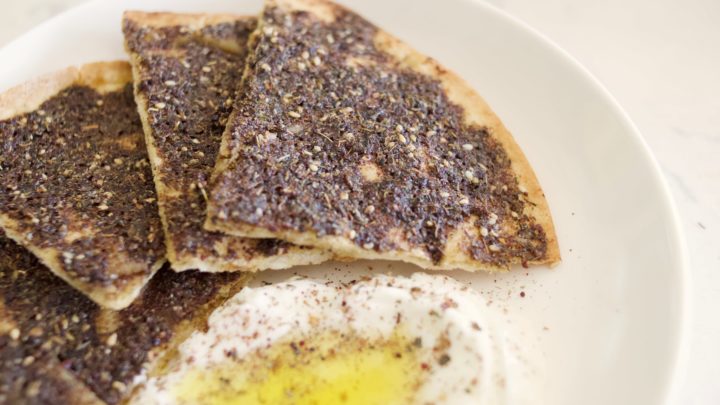 Yield:

1
Za'atar Manakish
Ingredients
Za'atar mix
1 tbsp sesame seeds - toasted and ground
3 tbsp sumac
1.5 tbsp dried thyme - ground
2 tbsp dried oregano
1.5 tbsp marjoram
3/4 tsp salt
Manakish
1 Lebanese flatbread
2 tbsp Za'atar
1.5 tbsp olive oil
1/2 tbsp water
Instructions
In a pan over medium heat, stir your sesame seeds until fragrant and golden brown.
Using a mortar and pestle, grind the sesame seeds into a powder.
Place the sesame seeds in a small bowl along with the thyme, sumac, marjoram, oregano and salt. Mix thoroughly.
You can save the za'atar mix by placing it in an old spice can or jar.
To make the manakish, place 2 tbsp of the za'atar mixture into a bowl.
Add the olive oil and water.
Mix until it becomes a paste. it shouldn't be thick, but a somewhat thin consistency that is easily able to be spread.
Spoon half of that on top of the Lebanese flatbread and spread around the whole bread. Add more if needed, but if not, place on a second piece of flatbread.
Place the za'atar flatbread onto a piece of parchment paper on a cookie sheet.
Bake at 400°F for 10 minutes.
Enjoy with some labneh!