Whether you like to be fancy and make a delicate 'herb garden' or an easy olive bread, this simple focaccia recipe is the perfect go-to.
Mix, rise, bake. It's that easy!
If you don't know what focaccia is – it is basically a flat bread with dimples in the top. Olive oil is drizzled over it along with some other herbs and spices before baking in the oven. The finished bread should have the 'dimples' remaining.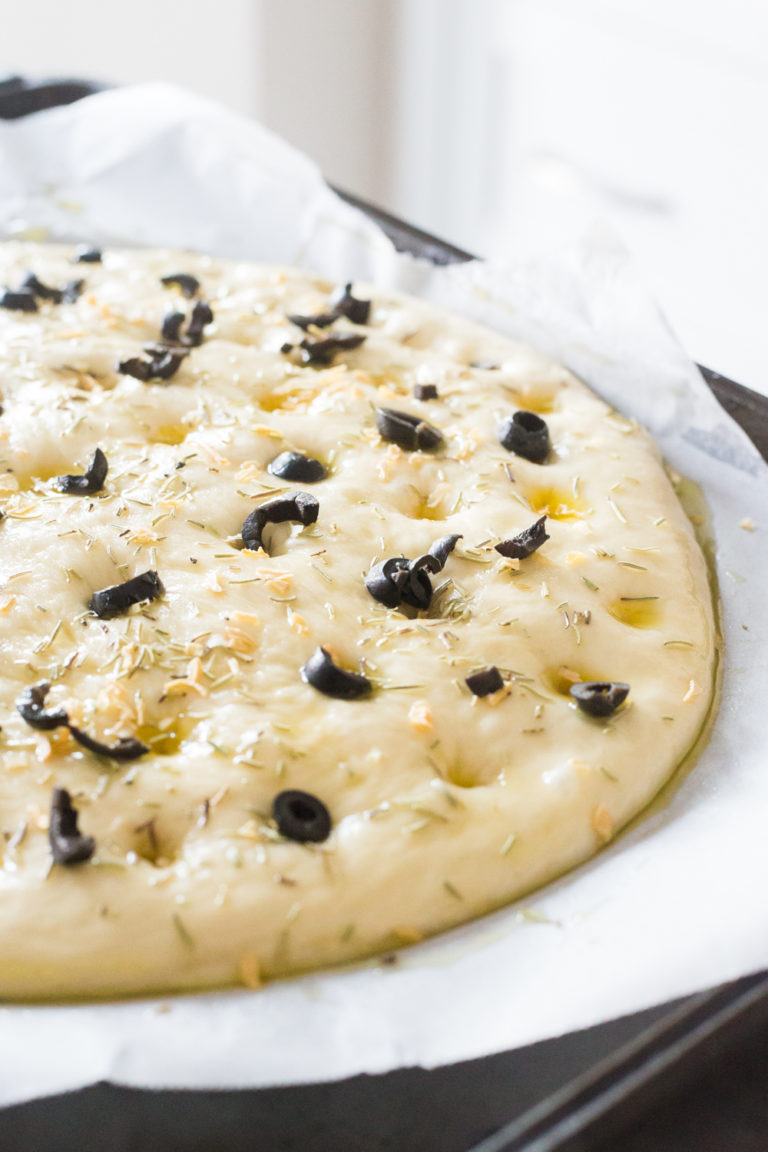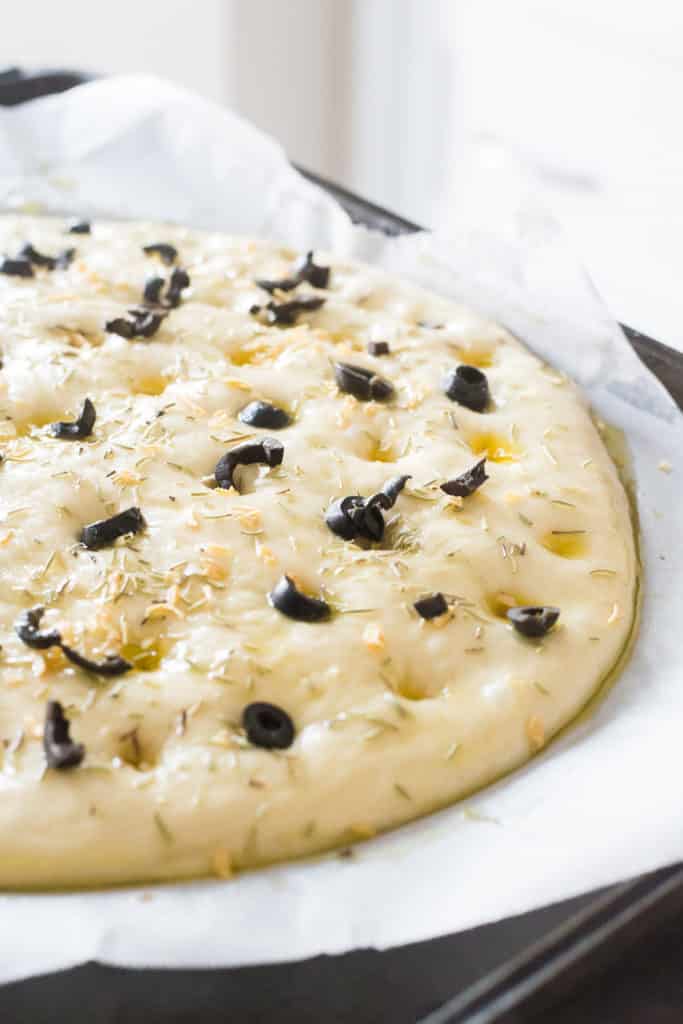 Now you can style this bread anyway you want. I prefer mine with some olives on top with a little salt and dried onion but garlic, caramelized onions, tomatoes, rosemary – those are also delicious things to top your focaccia with and most commonly used.
Making the focaccia is actually pretty simple. I like to use a hand mixer to knead all the dough and liquid together – it's easier on the hands and doesn't take as long as hand kneading. All you have to do is add the bread ingredients to a stand mixer and turn on to low, to begin, and then up to medium. Once the dough is stretchy and smooth, you can set it aside to rise.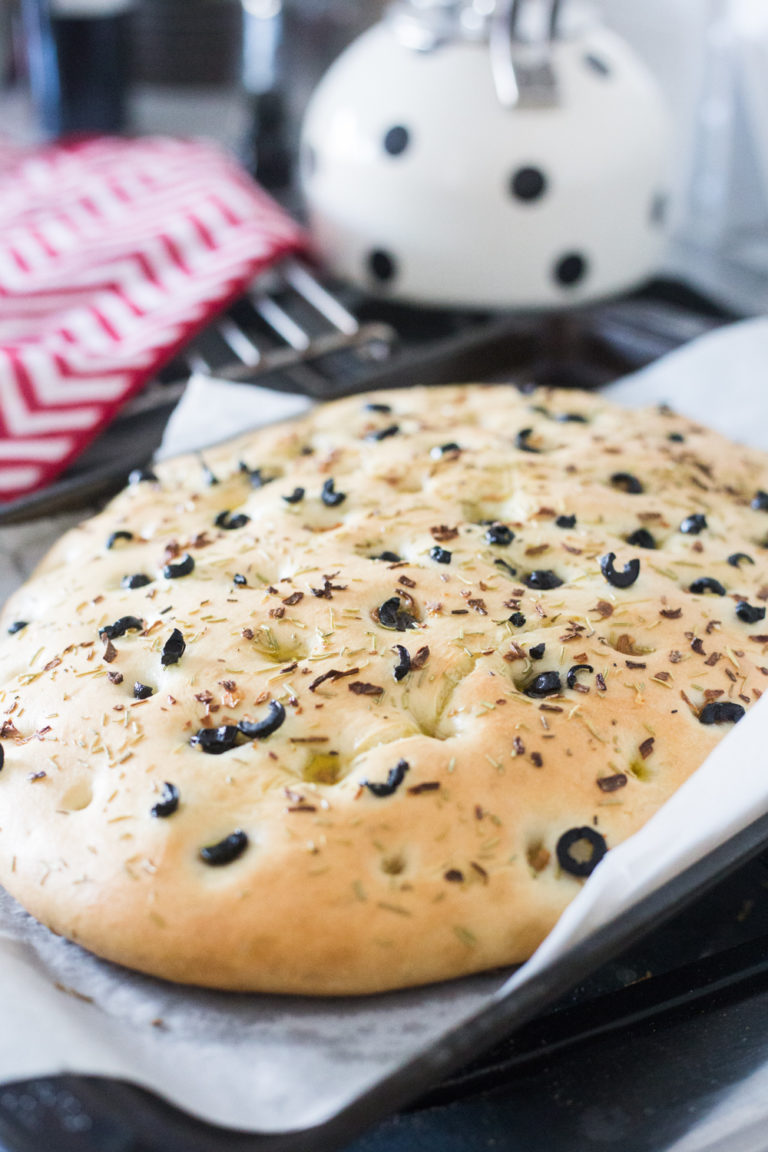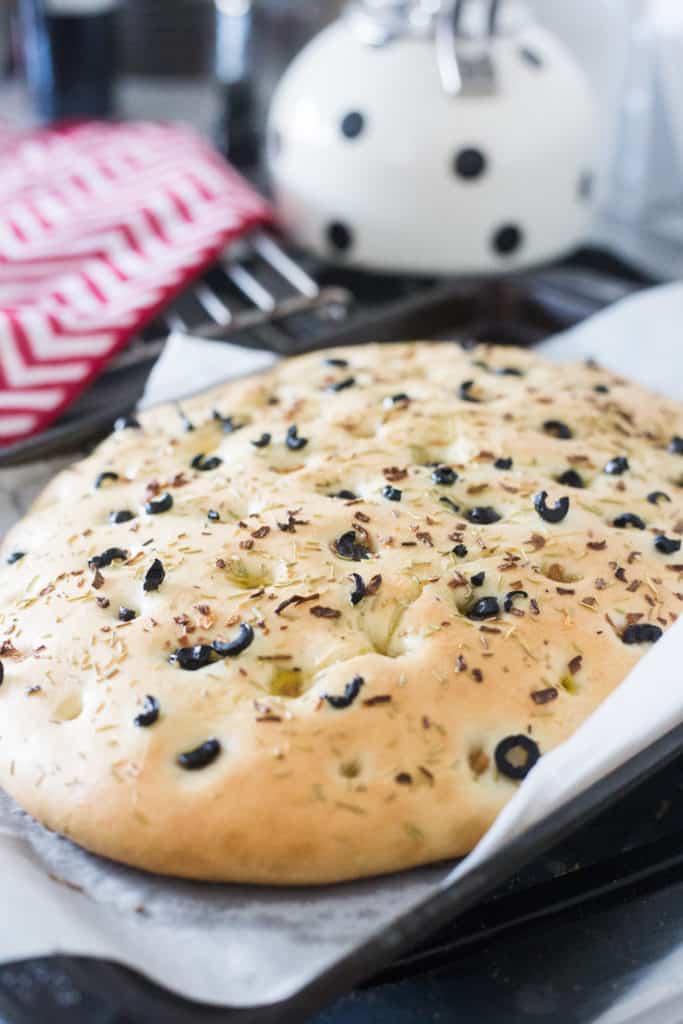 Also – to simplify the recipe – I use instant or quick yeast. This yeast should be added to the flour and doesn't need to be proofed in water. However, if you want to use traditional yeast, you just have to place it in a cup of luke warm water with 1 tbsp of sugar and wait for it to become fizzy. About 15 minutes.
If you're interesting in trying more break to make, check out this quick ciabatta recipe!
Total Time:
2 hours
45 minutes
A super simple focaccia recipe. Mix, rise, bake, eat. It's that easy!
Ingredients
BREAD
3 1/2 cups flour
3 tbsp olive oil
2 tsp quick yeast (or 1 package traditional)
1 tbsp sugar
1 1/3 water
1/2 tsp salt
TOPPING
2-3 tbsp olive oil
minced onion
black olives
salt
Instructions
In a stand mixer bowl, add the flour, instant yeast and sugar. Stir quickly to mix the ingredients.
Add in the salt and mix again.
Pour in the water and olive oil. Turn the mixer on low.
Once all the water is incorporated into the dough, turn your mixer onto medium.
Mix for about 5-10 minutes OR until the dough is smooth and stretchy.
Place the dough into an oiled bowl and cover with cling wrap and a towel.
Set aside and let rise for around 1 hour OR until it has doubled in size.
Place a piece of parchment paper onto a cookie sheet and then roll and stretch the dough to cover the baking tray. The dough should be somewhat thin. Use a rolling pin to roll it flat if you have to.
Using your fingers, press down on the dough making dents all around the top of the dough.
Cover with a towel and let sit for another 30 minutes while you preheat the oven to 400°F.
Drizzle some olive over the top of the dough and into the dents/dimples.
Top with a hefty amount of dried onion and black olives. Sprinkle some salt on top as well.
Once the oven is up to temperature - bake for 20-25 minutes until a nice golden brown.
Take out of the oven, let sit to cool and enjoy!