Ever want to make ciabatta but realize that making the starter takes over a whole day? Sometimes I just don't want to wait an entire day to throw the dough together, let it rise and then bake. SO, here comes this quick ciabatta recipe with NO starter. (So I guess it's not a traditional ciabatta but it still tastes AH-MAZING.)
I adapted this recipe from HolyCowVegan but I tweaked a few things and changed the way it was mixed so the holes are large and irregular. Let me tell you, this worked out perfectly.
I highly recommend using a stand mixer for this because it will be incredibly hard to mix it by hand due to the high hydration of the dough. It will stick to your hands and just be overwhelming. Using a stand mixer will work a LOT better.
The original recipe calls for it to be risen for around 1 1/2 to 2 hours. I know that when left to sit, the gluten also strengthens, so I decided to only half "knead" in the mixer and let it strengthen for a few hours as it rises. During those times, I will do a traditional stretch and fold with the dough every 45 minutes to strengthen the gluten even more. I gotta admit, it worked really well! Just look at those holes!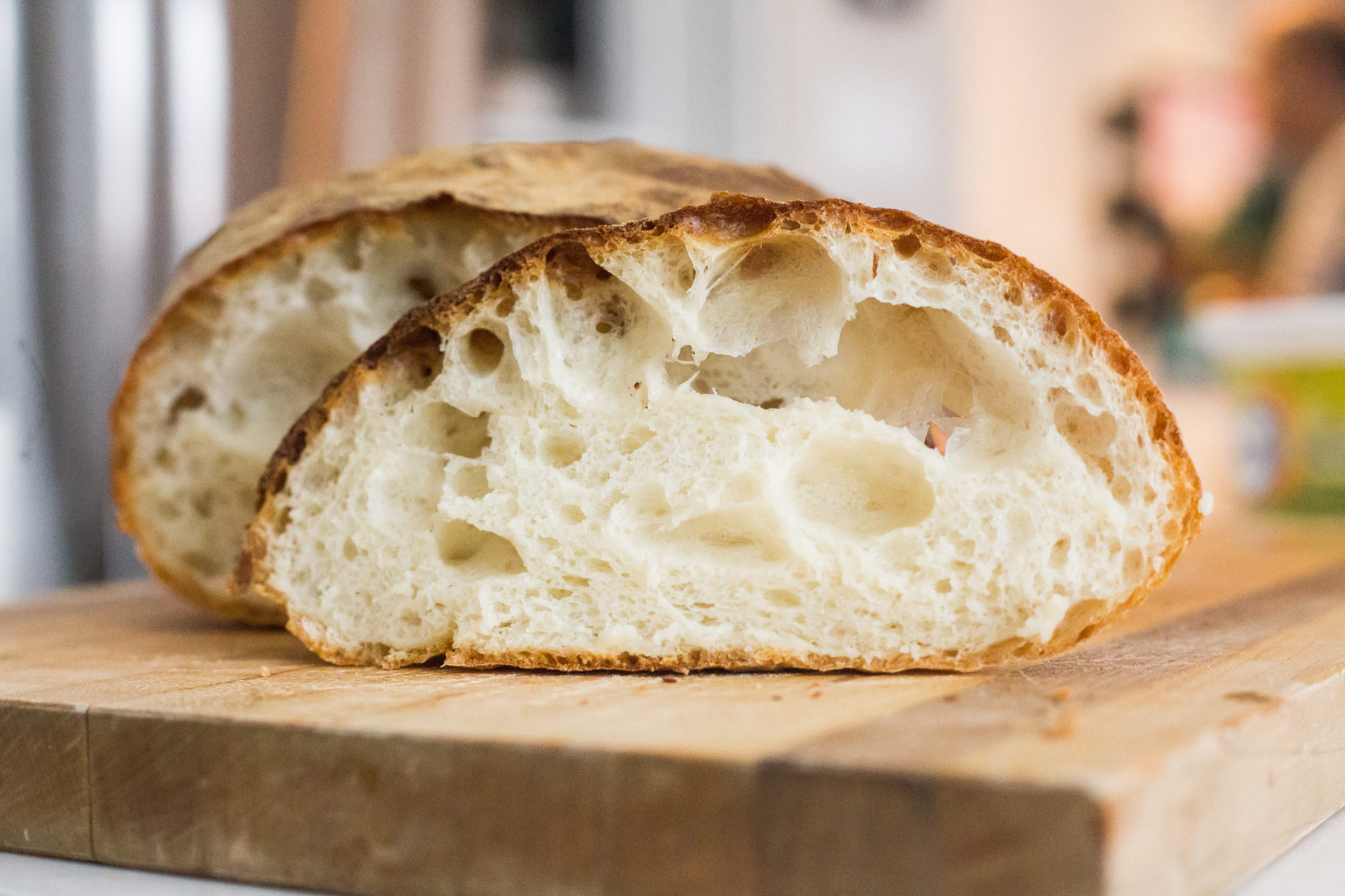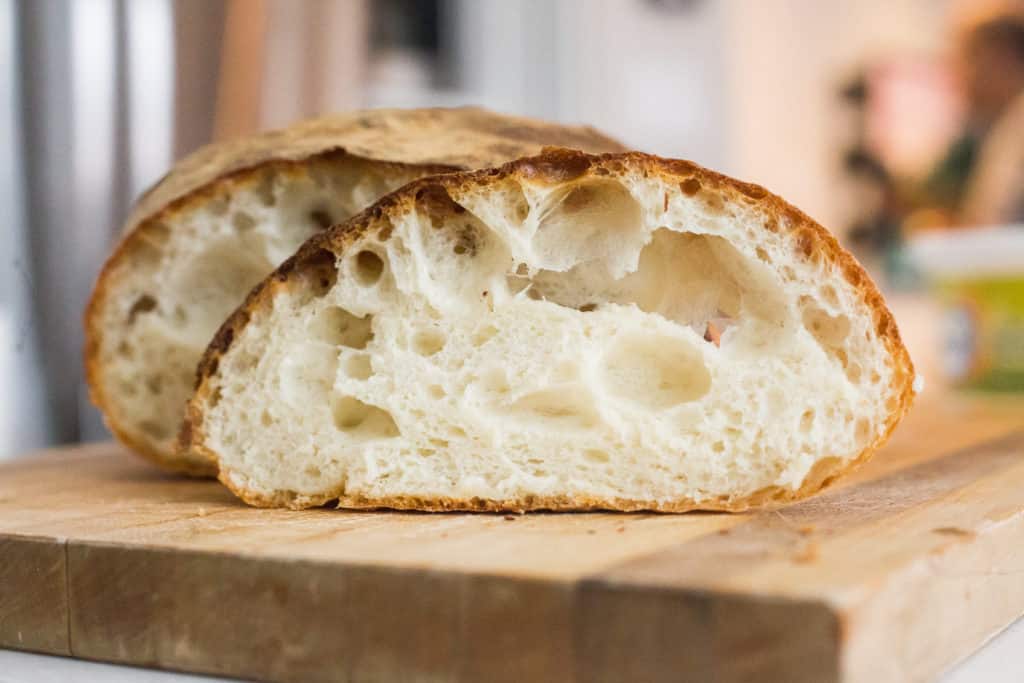 I will say that the first one that I put in the oven baked a little darker than I intended. Don't get me wrong. This quick ciabatta still tasted great, but I wanted that golden brown colour mixed with flour. So the second ciabatta I turned down the oven by 15° and covered the bread with foil once it started to brown and the results were perfect.
Isn't that a beaut? This loaf rose SO much in the oven. I separated the dough into 2 but you can separate it into 4 for smaller loaves or even more to make ciabatta buns! This is what my loaf looked like before the oven:
Also – this ciabatta freezes really well! So if you find that you made too much bread – throw a loaf in the freezer!
Super simple quick ciabatta recipe. No waiting around for your starter. Perfect for a toasted sandwich or with butter.
Ingredients
4 cups flour
2 1/2 tsp dry active yeast
1 tbsp sugar (or honey)
1 tsp salt
2 1/4 cups warm water
Instructions
In the bowl for the mixer, whisk together the warm water, sugar and yeast.
Let it sit for 15 minutes until the top has become bubbly and the yeast activated.
Pour in the flour, followed by the salt.
Mix on low until the flour has mostly been incorporated, then turn it up to medium.
Once the dough begins to pull off the side of the bowl, turn off the machine.
Cover the top with cling wrap and then cover with a towel. Set aside to rise for 2 hours.
After 30 minutes, grease your hands with olive oil and do a 'stretch and fold' - take handful of dough from one side of the bowl, stretch it above the bowl and place it back down in the bowl but on the opposite side you stretched it from.
Move around the bowl so you stretch a lot of it.
Do 2 more 'stretch and folds' 30 minutes apart.
Flour your countertop and tip the bowl over, letting the dough slide out.Add some flour to the outside of the dough so it won't stick but don't knead it in.
Use a knife (not serrated) or dough scraper to cut the dough in half.
Place in a proofing bowl or on a piece of parchment paper and cover for another hour.
After 30 minutes, place your baking stone or cookie sheet in the oven and an empty oven safe pan right below it.
Preheat the oven to 500°F.
Once the oven is up to temperature, add about 1-2 cups of water into the empty pan and immediately transfer your dough to the baking sheet, parchment paper and all.
You can do 1 at a time or both at the same time, just keep in mind they will rise a LOT.
Bake for 25 minutes. I covered my loaf with foil when it began to brown.
Take out and let cool before slicing!